Home
-
Car Comparison
-
Renault Triber RXZ vs Hyundai Venue S - Price, Specs, Features & Dimensions Comparison
Renault Triber RXZ vs Hyundai Venue S - Price, Specs, Features & Dimensions Comparison
Comparing the Renault Triber vs Hyundai Venue, looks like comparing chalk and cheese but value hunters take notice when the prices get close enough. In this case, the top-spec Renault Triber and the base-variant of the Hyundai Venue cost the same at Rs. 6.5 lakh (ex-Delhi). Adding another Rs. 70,000 could fetch you the Venue S petrol. It gets a respectable number of features. It is the one we'd recommend if you want the Venue and are on a tight budget. Let's see which one comes out on top in this comparison.
---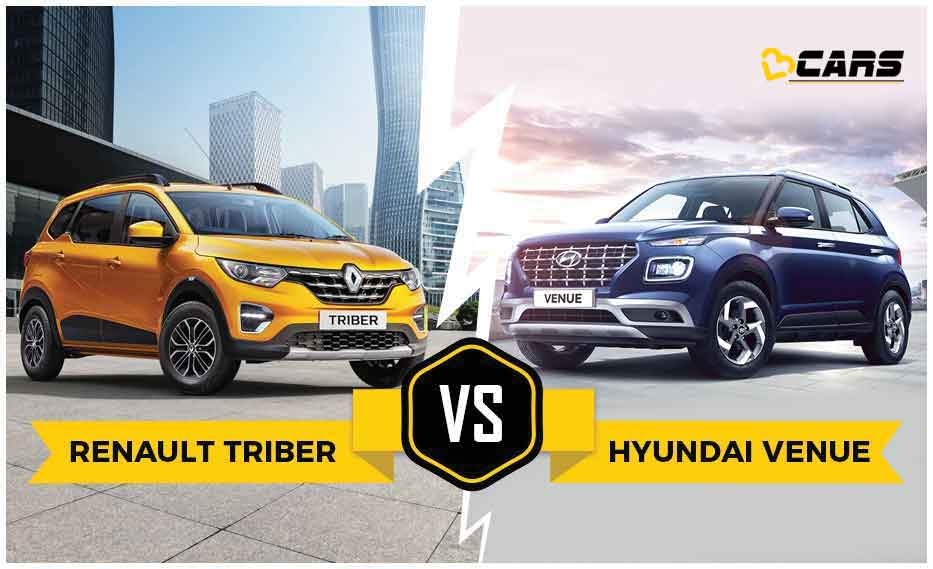 Renault Triber RXZ vs Hyundai Venue S - Price Comparison
Hyundai Venue Variants Prices

Variants

Price (Ex-Delhi)

Petrol Manual Transmission

E 1.2

Rs. 6.5 Lakh

S 1.2

Rs. 7.2 Lakh

S 1.0 Turbo

Rs. 8.21 Lakh

SX 1.0 Turbo

Rs. 9.54 Lakh

SX (O) 1.0 Turbo

Rs. 10.6 Lakh

Petrol Automatic Transmission

S 1.0 Turbo

Rs. 9.35 Lakh

SX Plus 1.0 Turbo

Rs. 11.1 Lakh

Diesel Manual Transmission

E 1.4 Turbo

Rs. 7.75 Lakh

S 1.4 Turbo

Rs. 8.45 Lakh

SX 1.4 Turbo

Rs. 9.78 Lakh

SX (O) 1.4 Turbo

Rs. 10.84 Lakh

Renault Triber Prices
Renault Triber Variants Prices

Variants

Price (Ex-Delhi)

Petrol Manual Transmission

RXE

Rs. 4.95 lakh

RXL

Rs. 5.49 lakh

RXT

Rs. 5.99 lakh

RXZ

Rs. 6.49 lakh

The Renault Triber already has this fight in its court. Calling the Triber's price tag attractive would be an understatement. It's downright mouth-watering. Meanwhile, Hyundai Venue's barebones E variant starts where the Triber tops out with all that it has to offer. The cheapest variant you can live with has to be the S, which is a fair bit expensive compared to the Triber RXZ.
Winner: Renault Triber RXZ
Renault Triber RXZ vs Hyundai Venue S - Dimensions Comparison
| | | |
| --- | --- | --- |
|   | Renault Triber | Hyundai Venue |
| Length | 3990mm | 3995mm |
| Width | 1739mm | 1770mm |
| Height | 1643mm | 1605mm |
| Wheelbase | 2636mm | 2500mm |
| Ground Clearance | 182mm | 190mm (est.) |
| Boot Space | 84 - 625 litres | 350 litres |
| Fuel Tank | 40 litres | 45 litres |
| Tyre Size | 165/80 R14 | 195/65 R15 |

The Hyundai Venue is bigger and better in all respects. Except - wheelbase. A longer wheelbase typically liberates more knee room in the cabin. So, the Renault Triber would be better suited for you if you like to occupy or have your loved ones take the second-row seats. (The sliding and reclining second-row further make it a pleasant place to be in.) For one or two occupants, the Hyundai Venue can also do the job.
Real Also - Renault Kwid RXT Vs Maruti SPresso VXI - Which Car Should You Buy?
The dimensions battle was set to go in Renault Triber's favour because of its substantially longer wheelbase. It results in significantly greater cabin space for the second-row occupants. After all, a larger body counts for nothing if it can't result in a roomy cabin.
Winner: Renault Triber RXZ
Renault Triber RXZ vs Hyundai Venue S - Engine Spec Comparison
| | | |
| --- | --- | --- |
|   | Renault Triber Engine | Hyundai Venue S |
| Fuel | Petrol | Petrol |
| Displacement | 1.0-litre | 1.2-litre |
| Max Power | 72PS @ 6250RPM | 83 @ 6000 |
| Max Torque | 96Nm @ 3500RPM | 115Nm @ 4000RPM |
| Transmission | 5-Speed MT | 5-Speed MT |
| Fuel Efficiency | 20kmpl | 17.5kmpl |

Just like the comparison of the dimensions, comparing the engines also feels like a one-sided battle. The Hyundai Venue has a larger engine and the receipts to prove it. But Renault seems to have tweaked the 1.0-litre engine that we first saw in the Kwid. In the Triber, this engine makes 4PS of additional power and 5Nm of extra torque. More importantly, that peak torque comes in 750RPM lower in the rev band. Thus, it should be an easier car to drive in the city with better pulling power than the Kwid. However, with a full load, it still might feel underpowered.
The Hyundai Venue, on the contrary, has at most 5 occupants to haul and has a larger engine too. There are no two ways about it. The Venue will be the better engine to drive - in the city and on the highway.
Winner: Hyundai Venue S
Renault Triber RXZ vs Hyundai Venue S - Features Comparison
First, let's talk about the features common to both the cars - the Renault Triber RXZ and the Hyundai Venue S:
Chrome on the front grille

Manual day/night inside mirror

Manual air conditioner and heater

Bluetooth

Aux and USB

Cooled glovebox

Tilt steering

Front accessory socket (first row)

Rear accessory socket (second row)

Front power windows

Rear power windows

Vanity mirror for the driver

Remote central locking

Reverse parking sensors

ABS

2 front airbags

Faux skid plates (front and rear)

Rear defogger

Roof rails

Multi-info display in driver's console

Second-row air conditioning vents

Power-adjustable outside mirrors

Foldable second-row seats
The following features are exclusively available in the Hyundai Venue S:
Halogen Reflector headlamps

Adjustable front-row headrests

Follow me headlamps

Front armrest

ISOFIX child seat mounts

Steering-mounted controls

Illuminated boot

Seatbelt pre-tensioners

Wheel covers

2-din music system
Here are the unique features of the Renault Triber RXZ:
Halogen projector headlamps

Wheel arch cladding

LED daytime running lights

Faux alloy-style wheels

Vanity mirror for the front passenger

60/40 split second-row seats

50/50 split third-row seats

Cooled storage in center console

8-inch touchscreen infotainment system

Android Auto and Apple Carplay

Separate air conditioning and controls for second and third rows

Keyless entry and push-button start

Rear accessory socket (third row)

Rear washer and wiper

Discreet storage under driver's seat

Rear parking camera

Driver seatbelt with pre-tensioner and force limiter

2 extra airbags (2 front and 2 side/thorax)

Foldable and removable third-row seats
The Renault Triber RXZ seems to get a lot of features - especially considering the price tag. The biggest draw of the Triber being the third row of seats, which can fold and also pop out for additional space. With that in mind, the Renault Triber also makes a lot of sense even if you're not considering buying an MPV. You can look at it as a hatchback with a huge boot. Plus, physically, it's not that big. It's just as long as the Maruti Suzuki Baleno, even if a quick glance leads us to believe that it may be bigger.
Mind you, that the third-row seats, because of a shorter overall length, is not that spacious. So, it's only suitable for kids, shorter adults or for quick runabouts in the city.
Once you accept these shortcomings of the car, you will start to notice how good it is for 5 passengers. Just like the front row seats, second-row seats also slide and recline for additional comfort. Speaking of comfort, missing first and second-row armrests do make their absence felt. Additional holes left in the otherwise loaded feature list of the Renault Triber are missing steering-mounted controls for the music system. It seems that Renault might add them later with a facelift. The Hyundai Venue gets both, the front armrest and steering mounted controls.
Winner: Renault Triber RXZ
Renault Triber RXZ vs Hyundai Venue S - Comparison Verdict
Picking a winner is quite difficult in this situation. It all depends on your usage and budget. Let's break it down depending on various use cases.
If you wish to occasionally have more than 5 occupants in the car, then the Renault is your companion.

Even if you don't have 6 or 7 people to ferry, but quite often end up utilizing the second row of seats for passengers, then the Renault Triber's sliding and reclining rear seats will be more comfortable than the Venue's fixed rear seats.

If you intend to carry quite a bit of luggage in the car and do frequent trips picking up or dropping off people at the airport/railway station, then consider the Triber. Its bigger boot will be a boon.

If you want more features, then the Renault Triber is your best bet. Even the S variant of the Venue is not that feature-rich.

Look closely and you'll notice that most of these are fantastic traits of a cab. So, we're expecting the Triber to become quite popular in the commercial segment. If you do not like to be seen travelling in a car that looks like a cab, then pick the Hyundai Venue. It's certainly the more stylish option compared to the Renault Triber.

If you can't foresee using the rear seats of the car all that often then the Venue will do the job just fine but at a higher cost.

If you value the fit and finish and the premium feel of the cabin more than the features, then the Hyundai Venue will suit your personality more than the Triber.

If you like to drive a car even a little enthusiastically, then the Hyundai Venue's bigger engine will be better suited. It'll close the gaps better than the Renault Triber, whether you're driving on the highway or in the city.

If you value reliability more than everything else, then you need to take note that Renault's 1.0-litre engine hasn't been around for much longer. Less so in its reworked avatar. The Hyundai Venue's 1.2-litre engine will probably give you greater peace of mind than the Renault Triber's 1.0-litre engine.
As you can see, this is not an easy comparison. Picking a car between the two is a tall task and you'll have to imagine beforehand, how you intend to use the vehicle. For what it's worth, we'd pick the Renault Triber as we find the features more valuable than the Venue's (slightly) higher ground clearance and better styling. Sure, it's underpowered. But it does what no other car with a similar price tag can do.
Winner: Renault Triber RXZ
Previous
Next

---
---
Related Car Comparison