2022 Mahindra Scorpio-N Expected Prices | V3Cars
Mahindra's latest SUV, the 2022 Scorpio-N, is set to arrive on June 27. While Mahindra is expected to reveal the prices at the unveiling event, we try to estimate the ex-showroom prices of the Scorio-N using several parameters. Before we take a look at our expected prices, it is important to go through the price of the current-gen Scorpio to set a base line.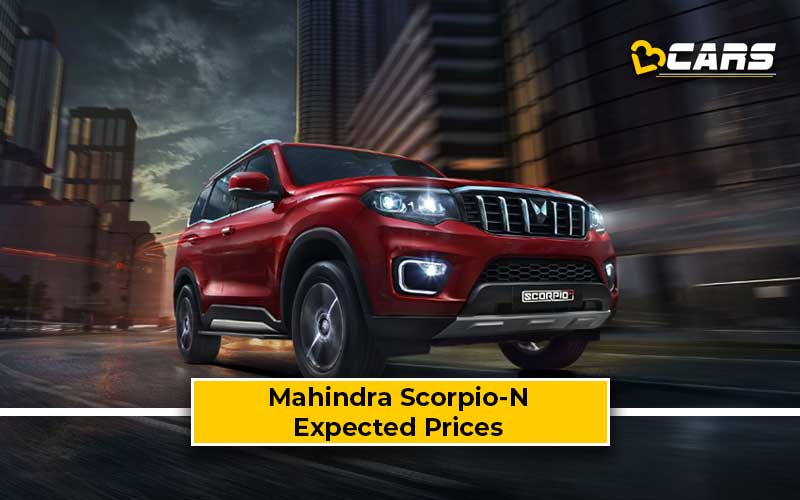 The current-gen Scorpio, which is only offered with a 2.2L turbo diesel engine, is priced from Rs. 13.67 lakh to Rs. 18.85 lakh ex-showroom. The 2022 Scorpio-N, on the other hand, will be sold with both turbo petrol and diesel engines.
Note: Check your Car EMI with our - Car Loan EMI Calculator
When Mahindra launched the XUV700, the lower variants were priced lesser than the outgoing XUV500. We can expect Mahindra to do the same with the new Scorpio-N as well. However, while Mahindra discontinued the XUV500, they have stated the current-gen Scorpio will continue to be sold alongside the new one as the Scorpio Classic. While the new Scorpio-N will be sold in several variants with varying levels of features, the Scorpio Classic is likely to be offered in one or two mid-level variants only.
Note: Check your car's fuel cost with Fuel Cost Calculator in India
Long story short, we expect Mahindra to price the Scorpio-N between Rs. 11.99 lakh and Rs. 19.99 lakh (introductory prices). Like in the case of the XUV700, Mahindra may increase the prices of the Scorpio-N two to three months down the line. Speaking of the Scorpio Classic, we expect Mahindra to pick a mid-trim of the SUV with all the necessary features in a bid to attract buyers from Tier-II and Tier-III cities. However, we do not expect Mahindra to keep the Scorpio Classic on sale for long as it will soon need a thorough update to keep in line with the upcoming safety and emission norms.
Also Read: Mahindra Scorpio-N Reveal On June 27