April 2022 Cars Sales Analysis - B2-Segment Hatchback YoY, MoM Change | V3Cars
In this April 2022 cars sales analysis article, we'll look at the YoY and MoM change in sales figures of all B2-segment hatchbacks in India. We'll also include our observations based on the sales data and possible reasons behind a massive increase or drop in sales, where applicable.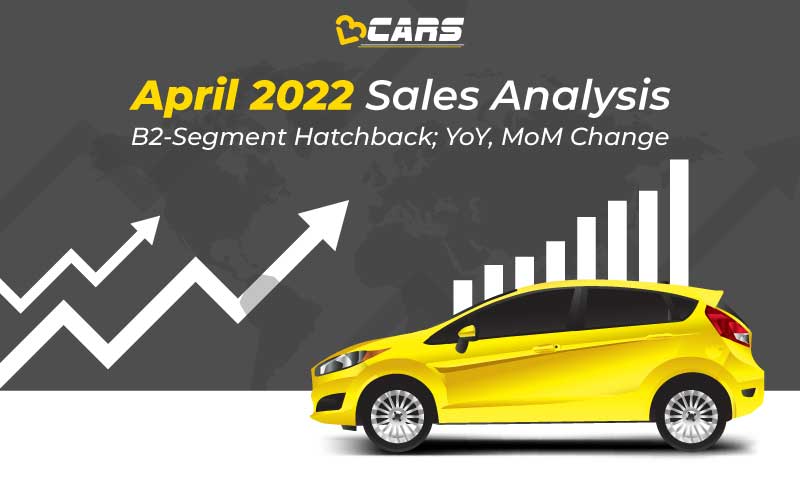 B2-Segment Hatchback April 2022 Car Sales - YoY Change
Just like April 2021 sales, among the B2-segment hatchbacks, Baleno is the only car with a 5-figure sales in April 2022
All cars except for the Glanza witnessed a drop in YoY sales figures in April 2022
The Toyota Glanza was the biggest gainer with 21.25% improvement in YoY sales
The Honda Jazz saw the biggest decline in sales with a 43.13% drop in YoY sales in April 2022
The Figo and Freestyle's sales are down to zero as Ford have withdrawn from tieh Indian car market
Among the YoY losers, Hyundai i20's decline was the least at only -5.9%
B2-Segment Hatchback April 2022 Car Sales - MoM Change
In terms of MoM sales figures, almost all cars witnessed a decline
The Baleno is the only B2-segment with a consistent 5-figure sales in March and April 2022
The Jazz was the biggest MoM gainer in April 2022 with an increase of 277.6%
Volkswagen Polo was the biggest loser in April 2022 MoM sales figures as its sales dropped by almost 33%
It's worth noting that the Volkswagen Polo is on its way out
Also read: Volkswagen Polo Legend Edition Launched To Mark End Of Production
Note: Check your Car EMI with our - Car Loan EMI Calculator
You can use our Fuel Cost Calculator to see how any petrol, diesel or CNG car will cost to run based on the latest fuel price in your city.