Audi Starts Production Of Q5 SUV In India | V3Cars
Audi has recently started local production of the Q5 luxury SUV. they'll make it at the VW Group plant in Aurangabad. Local production of the vehicle could help Audi price the Q5 aggressively.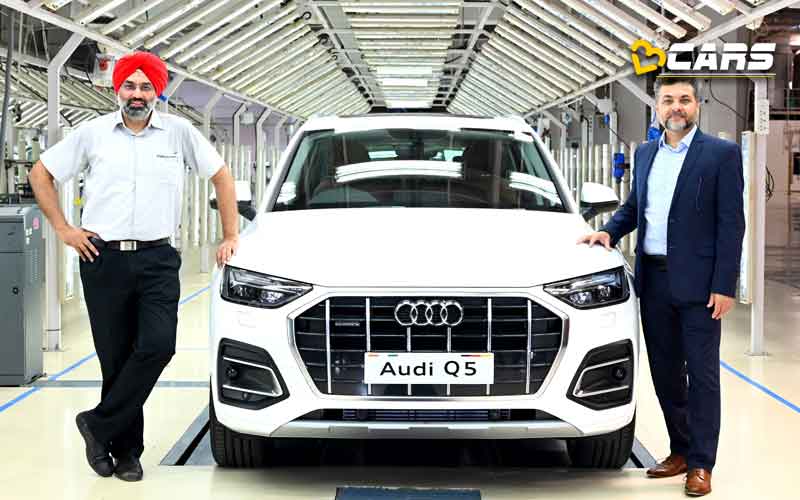 Q5 was earlier sold in India, but its production stopped after the implementation of BS6 norms came into effect. Now, after more than a year, Audi Q5 is back in production. Audi also sell this same Q5 facelift in international markets. It is likely to go on sale in November 2021.
India has a constantly rising demand for SUVs in the market, even in the luxury segment. Amid this, Audi have only 3 petrol-powered and 1 electric SUV currently in their portfolio. Q5 facelift will help Audi in filling the massive gap between Q2 and Q8 for SUV buyers. Right now, we only have the option of an electric SUV from Audi in this price range. Hence, Q5 will become an option for petrol-powered luxury SUV buyers.
The new Q5 is a subtle cosmetic facelift. Primary changes on the exterior include vertical chrome strips on the grille and redesigned bumpers and headlights. It might also get a new set of alloy wheels. Inside, the car will get a full-colour LCD instrument cluster.
The Q5 will come only with a petrol engine as Volkswagen Group have stopped selling diesel-powered cars in India. The Q5 could come with a 2.0-litre 4-cylinder turbo petrol engine producing 245PS and 370Nm torque. This will come with a 7-speed dual-clutch transmission and a 4-wheel drive. Audi could launch the car in November or late October ahead of the festive season to enjoy the positive sales momentum of the festivities. The Audi Q5 will compete with BMW X5 and Mercedes-Benz GLE.