Audi e-tron And e-tron Sportsback EV India Launch Confirmed
Audi first showcased the etron SUV in India back in June 2019 and it was expected to go on sale in 2020 but the launch was delayed due to the covid-19 outbreak in the country. Now, the carmaker has confirmed it will launch the etron SUV in India by June 2021. Along with the etron, Audi will launch the etron Sportsback SUV in India. While the etron is an electric SUV, the etron Sportsback, as the name suggests, is a coupe-SUV version of the etron.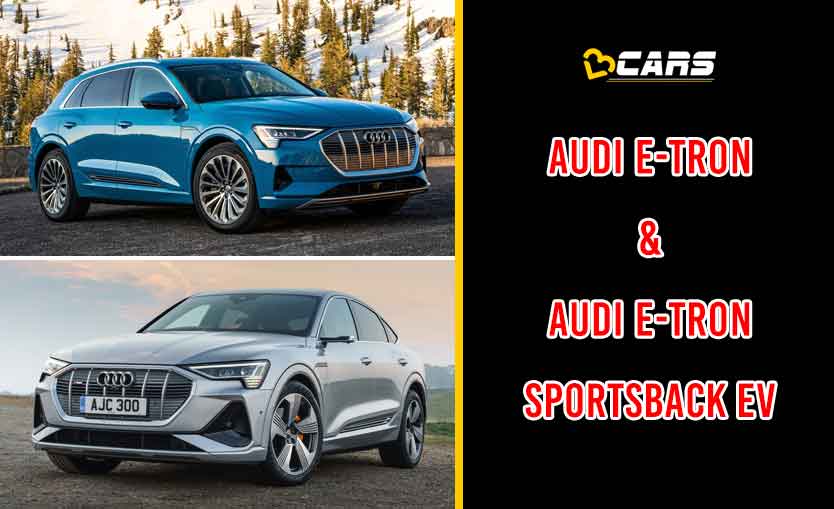 Both the electric SUVs will be brought to India as a CBU unit to expect them to be identical to the global spec model. Both these SUVs are available with the same three powertrain options globally. Here is a look:
 



50 Quattro




55 Quattro




S

 

etron

etron Sportsback

etron

etron Sportsback

etron

etron Sportsback

Power

313PS

313PS

408PS with boost

408PS with boost

503PS with boost

503PS with boost

Torque

540Nm

540Nm

664Nm

664Nm

973Nm

808Nm

0-100kmph

6.8 seconds

6.8 seconds

5.7 seconds

5.7 seconds

4.5 seconds

4.5 seconds

Top speed 

190kmph

190kmph

200kmph

200kmph

210kmph

210kmph

Battery pack

71kWh

71kWh

95kWh

95kWh

95kWh

96kWh

Range (WLTP)

284-341km

287-349km

370-441km

373-450km

343-374km

347-380km

Audi is expected to launch both the SUVs in 50 Quattro trim only. In this trim, both the SUVs makes 313PS and 540Nm but while the etron has a range of up to 341km, etron Sportsback can go a bit further upto 349km. 
On the inside, both the SUVs get a similar layout and feature a similar feature list. Features on offer include a 12.3-inch digital instrument cluster, dual central touchscreens, four-zone climate control, a panoramic sunroof, a wireless charger and rearview cameras in place of ORVMs. 
Prices of both SUVs are likely to be priced over Rs 1 crore. They will take on likes of the Mercedes Benz EQC and upcoming EVs like the Jaguar I-Pace and Tesla Model X.

ABOUT THE AUTHOR

He is an automobile engineer who likes to write. A born Tifosi, he follows Formula 1 and likes to keep up with upcoming technologies in the world of cars. 
Previous
Next