December 2022 Cars Sales Analysis - C-Segment Sedan YoY, MoM Change, 6-Month Trend | V3Cars
In this December 2022 car sales analysis article, we'll look at the YoY and MoM change in sales figures of all C-segment sedans in India. Where applicable, we'll also include our observations based on the sales data and possible reasons behind a massive increase or drop in sales. Lastly, the table with monthly sales of all C-segment sedans for the last 6 months will give you an idea about the 6-month sales trend.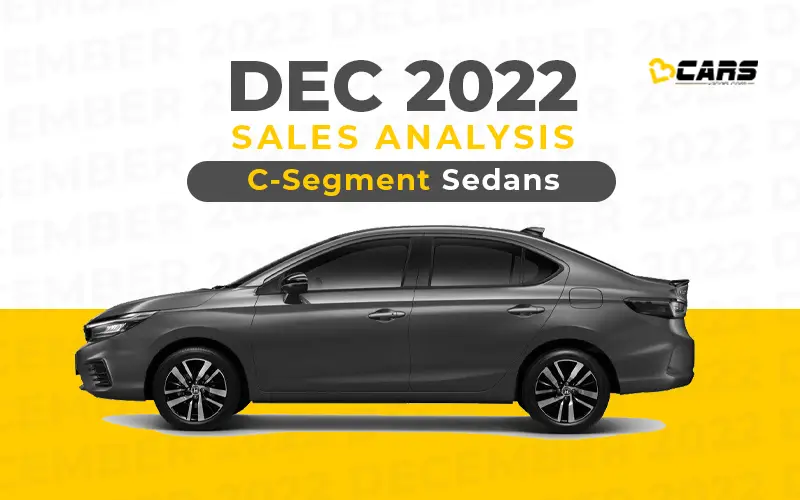 C-Segment Sedans December 2022 Car Sales - YoY Change
There are only 3 cars in continuous production since December 2021 — Honda City, Hyundai Verna and Maruti Suzuki Ciaz.
Out of the above 3 cars, only Verna reported a YoY growth in dispatches, of 56% in YoY comparison analysis for December
Although the Honda City was the top selling car in the category, it was the top loser with 17% YoY decline
The Skoda Rapid and Volkswagen Vento were discontinued.
The Slavia and Virtus are still recent enough to not warrant a YoY comparison.
C-Segment Sedan December 2022 Car Sales - MoM Change
In terms of MoM comparison, Virtus was the top gainer with 25% MoM gain in the month of December 2022
The Virtus was followed by the City with 14% MoM growth in December comparison analysis
The Ciaz and Verna were the top losers, both with a MoM decline of around 25%
C-Segment Sedan — 6-Month Sales Trend (July 2022 - Dec 2022)
Note: Check your Car EMI with our - Car EMI Calculator
You can use our Fuel Cost Calculator to see how much any petrol, diesel or CNG car will cost to run based on the latest fuel price in your city.