December 2022 Cars Sales Analysis - MPV YoY, MoM Change, 6-Month Trend | V3Cars
In this December 2022 car sales analysis article, we'll look at the YoY and MoM change in sales figures of all MPVs in India. Where applicable, we'll also include our observations based on the sales data and possible reasons behind a massive increase or drop in sales. Lastly, the table with monthly sales of all MPVs for the last 6 months will give you an idea about their 6-month sales trend.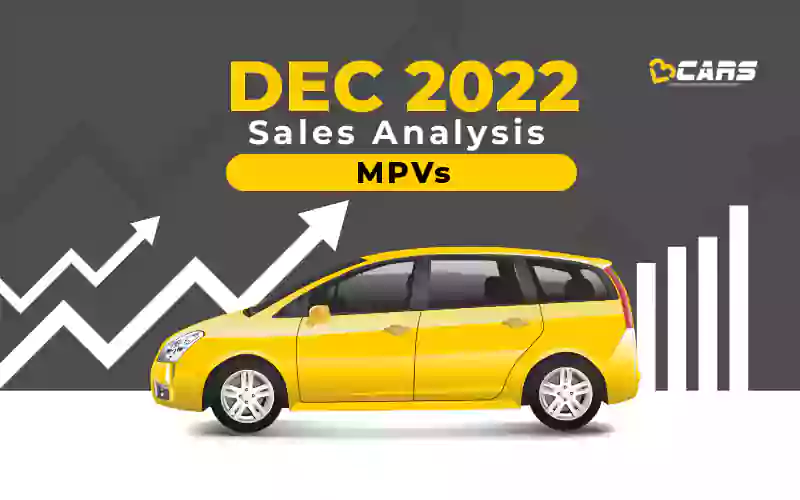 MPV Segment December 2022 Car Sales - YoY Change
Most cars in the segment saw a YoY decline in December, with Innova Crysta emerging as the top losing car amongst the high-volume cars with a 99% YoY decrease in December
Innova Crysta was followed by Triber with a 24% drop in the YoY comparison analysis in December
While XL6 saw a drop of 18%, its sister Ertiga saw a YoY growth of 3.66% in December.
Eeco was the top YoY gainer amongst the high volume cars with 15.5% increase in December 2022 as compared to December of 2021.
Also Read: Kia Carnival Diesel Variants Explained - Which One To Buy?
Maruti Suzuki Ertiga Facelift Petrol, CNG Variants Explained - Which One To Buy?
MPV Segment December 2022 Car Sales - MoM Change
Among MPVs, the Maruti Suzuki Ertiga and Eeco were the top 2 performers in December. The Eeco, which fell short of even 11,000 dispatches in October, saw 13,800+ monthly dispatches in December 2022., which was a growth of almost 32%
On the other hand, Eeco, while second place in sales, is far behind Ertiga with just over 7,000 dispatches in December, which is a decline of 19% from 8,861 in October.
Innova Crysta dispatches declined further in December, by 46%, and it became the top loser for December.
Second on the list of losers was Renault Triber with 20.29% decline in dispatches in December.
MPV Cars — 6-Month Sales Trend (July 2022 - Dec 2022)
Note: Check your Car EMI with our - Car EMI Calculator
You can use our Fuel Cost Calculator to see how much any petrol, diesel or CNG car will cost to run based on the latest fuel price in your city.