December 2022 Cars Sales Analysis - SUV YoY, MoM Change, 6-Month Trend | V3Cars
In this December 2022 car sales analysis article, we'll look at the YoY and MoM change in sales figures of all SUVs in India. We'll also share our observations based on the sales data and possible reasons behind a massive increase or drop in sales, where applicable. Lastly, the table with monthly sales of all SUVs for the last 6 months will give you an idea about their 6-month sales trend.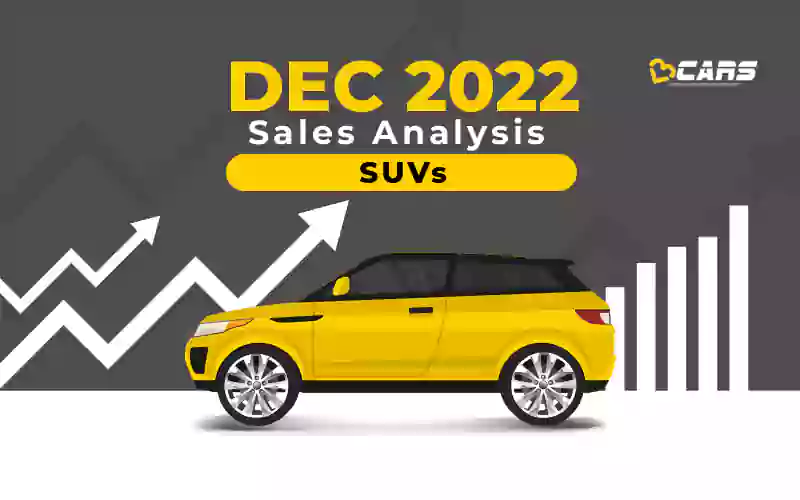 SUV Segment December 2022 Car Sales - YoY Change
Among the SUVs, the Tata Nexon and Maruti Suzuki Brezza were the top 2 performers in December. They were followed by the Tata Punch and Hyundai Creta in terms of volume.
4 SUVs made it into the 5-figure club in December - Nexon, Brezza, Punch and Creta.
In terms of YoY change, the Scorpio pair posted a 300% improvement and was the clear top gainer amongst the high volume cars of the SUV body-style.
Mahindra Thar reported a growth of around 58% and was the second best gainer.
Among the notable top losers were Compass with 47% YoY decline, Magnite and Kushaq with 23% YoY drop and Venue with 20% YoY decline.
SUV Segment December 2022 Car Sales - MoM Change
Unlike last month, the growth in the mass-market cars was not as striking. Top 15 selling SUVs either saw a decline in numbers or saw a nominal increase at best.
The top gainer mass market SUV was Tata Nexon with just over 15% MoM rise in December comparison analysis.
The Urban Cruiser Hyryder from Toyota was the top MoM gainer in October 2022 MoM analysis, with an improvement of 191% over its September sales figures, but saw a decline of almost 8% in December over October.
Hyrder's sister from Maruti, Grand Vitara was the biggest loser in MoM comparison in December with a 45% decline in numbers.
Urban Cruiser has been reporting zero dispatches for a couple of months. Toyota may soon discontinue it officially.
SUV Cars — 6-Month Sales Trend (July 2022 - Dec 2022)
Note: Check your Car EMI with our - Car EMI Calculator
You can use our Fuel Cost Calculator to see how much any petrol, diesel or CNG car will cost to run based on the latest fuel price in your city.