First Driving School By Toyota Inaugurated In Mumbai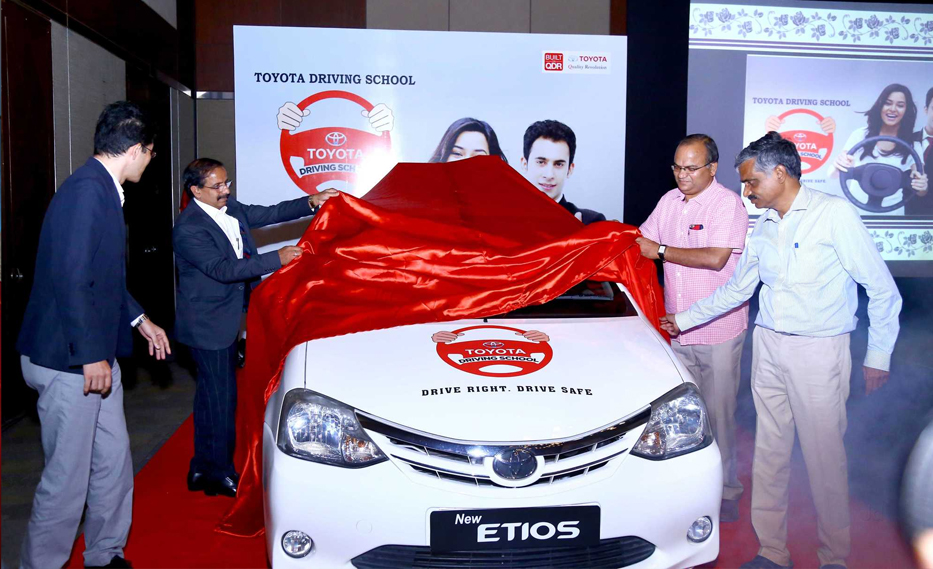 Toyota Kirloskar Motor (TKM) introduced the Toyota Driving School at Lakozy Toyota in Mumbai. This is Toyota's eleventh driving school in the nation and its first in Mumbai. Continuously 2020, TKM intends to open 50 such Toyota Driving Schools crosswise over India. The organization means to impart security sense among drivers to expedite a social change safe driving, creating change operators to additionally battle 'Wellbeing' everywhere scale with an expect to achieve Zero Fatality mission.
The event was graced by Chief Guest Mr. Hemant Patil, Assistant Regional Transport Officer – Andheri, Mumbai within the sight of Mr. Amar Pawar, Dealer Principal – Lakozy Toyota, alongside the senior administration of Toyota Kirloskar Motor spoke to Mr. N. Raja, Deputy Managing Director.
The curriculum at the Toyota Driving School will cover the following topics:
Traffic management, rules and discipline
Safe and right driving concepts
Manners and responsibilities of a driver
Simulation of driving on real vehicle before getting onto road
All aspects of practical driving on road
Driving on various road and climate conditions
Know your car – Basic maintenance and repairs
Emergency handling
Systematic evaluation and feedback
The Simulator is a key piece of the encouraging project in Toyota Driving School. Students will get a hands-on understanding of all vehicle controls like guiding, quickening agent, brake and rigging shift on the test system itself before driving a genuine vehicle out and about. The test systems can likewise make different street and climate conditions like mist; diminish light, tough and downhill landscape.
Commenting on this new Toyota Driving School launch, Amar Pawar, Dealer Principal – Lakozy Toyota said, "It is a privilege for us to be associated with Toyota Kirloskar Motor in contributing towards improving road safety in Mumbai and playing an active role in their endeavor to promote good driving habits amongst citizens. Increasing population and rising traffic in urban areas has compromised on road safety, leading to increase in road accidents. The steady rise in the number of road mishaps in the city is an issue that needs to be addressed promptly and with our driving schools we take on the onus of educating our citizens on achieving the ultimate safety mission of zero accidents. We believe that Toyota Driving School with Toyota's world- class know-how, professional trainers and a comprehensive curriculum, will be able to inculcate a safer and cautious driving behavior amongst the people in our city."
Speaking at the occasion N Raja – Deputy Managing Director, Toyota Kirloskar Motor said, "In our continuous efforts to make road safety a habit among commuters, we are delighted to launch our first driving school in Maharashtra, Mumbai. As per the latest statistics, in India, more than 150,000 people are killed each year in traffic accidents. That's about 400 fatalities a day and primary reason of road accidents are poor road safety practices. Road safety goes beyond the transport sector, with a direct impact on public health, societies, and economies. Road traffic crashes cost most countries 3 per cent of their gross domestic product. Road safety is an inherently cross- sectorial issue, real progress can only happen if all relevant stakeholders unite their efforts. As safety leaders in the industry, it is our primary mission to ensure safest cars with safest drivers in the country and significantly reduce the traffic accidents with our safety initiatives."
;
"We at Toyota have established Driving Schools across the country, in line with our mission of 'Safest Car with Safest Driver'. Toyota Driving Schools are of one of its kind in the country that focuses on making every student a responsible and safe driver. With futuristic training modules coupled with world class technology, extensive training offered by professional trainers and an all- encompassing curriculum comprising of theoretical- practical sessions of high standards, we aim to develop responsible road users who shall be the change agents in promoting road safety to the larger society. Besides, the simulator also has several credits, it is the first car simulator in India with Full High Definition Computer graphics in an immersive Curved Projection environment, and it is the first simulator in India with real complete car cabin along with actual car gear. In addition, it also offers extensive local language support for effective training and extensive sessions for both novice and advance drivers. Through these driving schools, we aim to bring down the rising number of road mishaps in the country caused majorly due to human error. We would like to thank our dealer partner – Lakozy Toyota, who has associated with us in setting up this state- of- the art driving school infrastructure in Mumbai. We are confident that our Toyota Driving School will set a new standard for quality driving and traffic safety."
The test system, a key piece of the showing program, is required to give hands-on involvement. Students can rehearse all vehicle controls like controlling, quickening agent, brake and apparatus move before they take the real vehicle out and about. The test systems can likewise make different street and climate conditions like haze; diminish light, tough and downhill landscape. While there will be a standard learning bundle for tenderfoots, the Toyota Driving School will likewise offer the adaptability of extra learning modules with the goal that students can structure an educational programs of their decision.
The Toyota Driving School has till date selected more than 5,800 students. By 2020, the organization intends to cross 50 such schools crosswise over India, voicing their traffic security duty more intense. Stay tuned to V3cars.com for further updates from Toyota India.
;

ABOUT THE AUTHOR

A diverse bilingual (English and Hindi) Copywriter and Content Creator based in New Delhi, India. With a degree in Journalism, I always had an inclination towards writing.
As a writer, I have worked on content related to automobile, technology, travel, lifestyle, photography and many more.
Previous
Next
---
Related Car News