Honda RS SUV Concept Showcased - Could Rival Sub-4m SUVs
Honda showcased the concept of a compact SUV at GIIAS 2021 in Indonesia. The concept is likely to go on sale as the ZR-V. The SUV has compact dimensions and short overhangs. The wheels are supersized - typical for a concept car - but the dimensions appear compact. Using the ORVM as a scale, we can say that the RS Concept SUV is too small to compete with the Creta or Seltos. Honda has not revealed the exact dimensions of the car yet.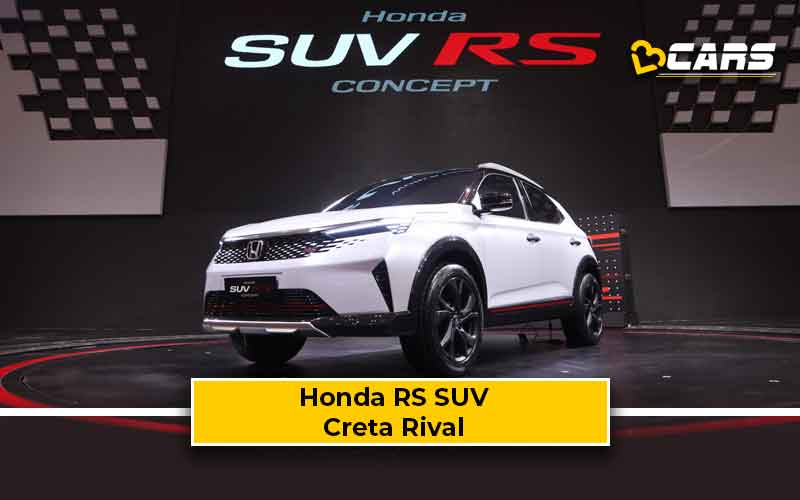 Honda ZR-V: WR-V Replacement
The WR-V, which went on sale in early 2017, is not only starting to show its age, it's also fading in the face of fresh competition. The WR-V's monthly sales figures are dwindling and are now struggling to touch the 4-digit mark.
The WR-V was a quick and good stop-gap solution. However, its cross-hatch styling was never going to pose a serious threat to the more proportional sub-4m SUVs. The EcoSport, Brezza, Sonet or even the Tata Punch have a more proportional SUV stance despite their compact dimensions.
Moreover, using the City's platform was also adding to the production cost, which has made the WR-V more and more expensive. This further makes the WR-V less competitive than its direct rivals.
While Honda also need something to compete with the Creta and Seltos, they can plug in their new-gen BR-V to readily fill the gap while the ZR-V could take on the sub-4m SUVs. The compact dimensions of the RS SUV concept will also make it very popular in the southeast Asian region.
We're expecting to see the RS Concept SUV to go on sale in India sometime in the 2023-24 financial year.