Hyundai Install DC Fast Charging Stations At Key Indian Highways | V3Cars
Hyundai India recently installed 2 DC fast charging stations at key Indian highways. The carmaker plans to expand their EV charging network to 10 public charging stations in the first half of 2023.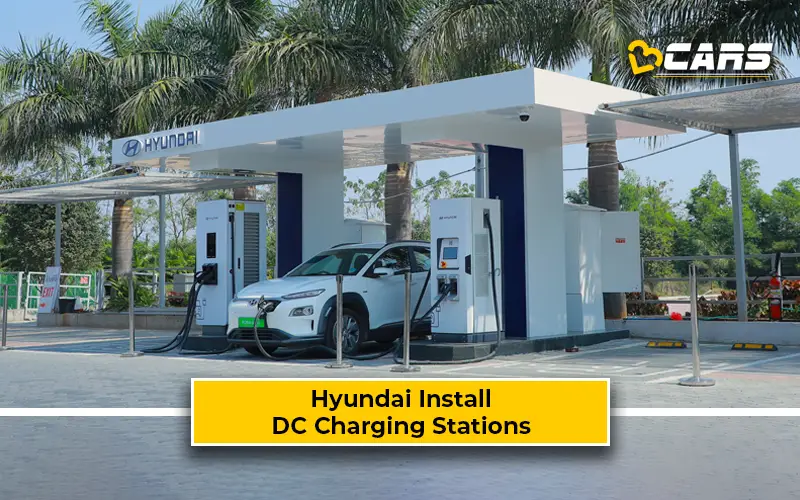 Hyundai To Set Up 10 Charging Stations In 2023
Hyundai recently announced their plans to set up 10 DC fast charging stations at key highways of India. The carmaker has already set up 2 DC fast charging stations, which are located at Narketpalle on Hyderabad-Vijayawada highway and Kurukshetra on Delhi-Chandigarh highway. Furthermore, other highways, such as Delhi-Jaipur, Mumbai-Pune and Bangalore-Chennai, will also get Hyundai charging stations.
Note: Check out the list of Electric Cars in India
Each charging station comprises one ultra-fast 150kW DC fast charger and one 60kW DC fast charger. As per Hyundai, the placement of these charging stations will boost EV sales in India and make the life of EV owners easier, disregarding which brand or model they use. Hyundai's chargers can be located and pre-booked from the myHyundai mobile app. The app also offers digital payment and remote charging status for added convenience.

Hyundai Ioniq 5 Capable Of Charging From 10% To 80% In 21 Minutes
With the 150kW ultra fast DC charger, the Ioniq 5 is capable of charging from 10% to 80% in just 21 minutes. The Ioniq 5 comes with a 72.6kWh battery pack. It offers 217PS of power and 350Nm of torque along with an ARAI-certified range of 631km on a single charge. The Ioniq 5 is the 2nd all-electric offering in Hyundai's portfolio. It will be joined by an India-centric EV in 2025. Furthermore, Hyundai are also likely to launch the recently-unveiled, next-gen Kona EV in India soon.
Note: Check your car's fuel cost with Fuel Cost Calculator India
Commenting on the installation of fast charging stations, Jae Wan Ryu, Executive Director, Corporate Planning, Hyundai Motor India Ltd, said, "We are delighted to take another step in the direction of strengthening the Indian Government's resolve for Electrification, that will enrich and augment the electric mobility lifestyle for EV adopters. Hyundai Motor India Ltd. has been persistent in its efforts to enhance customer convenience by installing Ultra-Fast EV Charging Stations at strategic public locations across highways and cities. With the recent launch of the globally acclaimed, the all-electric SUV Hyundai IONIQ 5 and HMI's commitment to expanding its EV portfolio by 2028, we will catalyze our initiative of building a sustainable ecosystem for India's transition towards electric mobility, and continue taking our customers 'Beyond Mobility'.''
Also Read: Hyundai Ioniq 5 Now The Most Expensive Hyundai — Check Out Its Top 7 Features