Is Honda WRV Diesel Still Worth Buying? WRV Petrol Vs Diesel
Honda recently increased the prices of all of their cars. The WRV and Amaze diesel variants got hit especially hard. After the August 2021 price increase, is it still worth buying the Honda WRV diesel? Let's find out.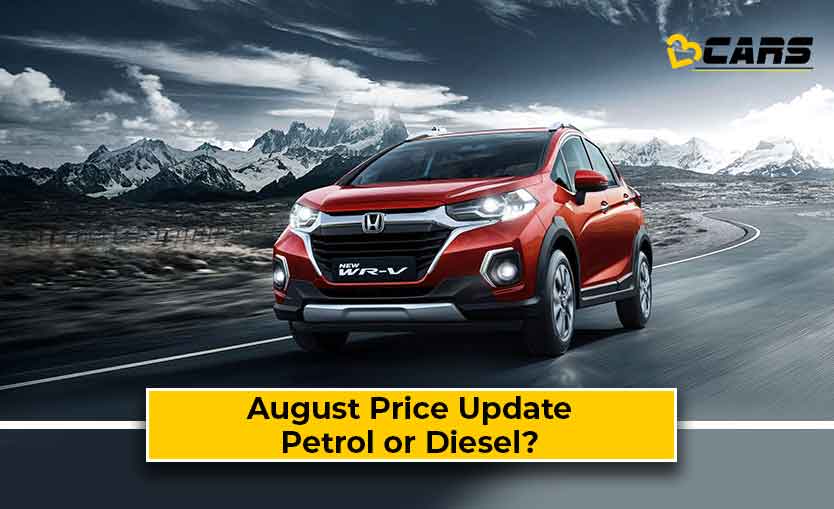 Honda WRV Petrol vs Diesel Old Prices
First, let's look at the old prices to see what extra premium you were paying earlier for the WRV diesel over the WRV petrol:
Honda WRV Petrol vs Diesel Prices (Before August 2021)

Variants

Old Petrol Prices

Old Difference

Old Diesel Prices

SV MT

Rs. 8,62,238

Rs. 1,23,106

Rs. 9,85,344

VX MT

Rs. 9,75,337

Rs. 1,30,007

Rs. 11,05,344
*Note: All prices ex-showroom Delhi
Honda WRV Petrol vs Diesel New Prices (August 2021)
Now, let's see how much premium you will have to pay for the WRV diesel over the WRV petrol after the price increase:
Honda WRV Petrol vs Diesel Prices (August 2021)

Variants

New Petrol Prices

New Difference

New Diesel Prices

SV MT

Rs. 8,76,008

Rs. 2,01,073

Rs. 10,77,081

VX MT

Rs. 9,89,107

Rs. 1,90,552

Rs. 11,79,659
As you can see, the price difference has shot up quite a bit. Earlier you were paying a premium of Rs. 1.23 lakh to Rs. 1.3 lakh for the diesel engine. Now, the difference is Rs. 1.91 lakh to Rs. 2.01 lakh. The premiums for the diesel engine have shot up by about Rs. 61,000 to Rs. 78,000 depending on the variant. Refer the following table:
| | | | |
| --- | --- | --- | --- |
| Variants | Old Diesel Premium | Change | New Diesel Premium |
| SV MT | Rs. 1,23,106 | Rs. 77,967 | Rs. 2,01,073 |
| VX MT | Rs. 1,30,007 | Rs. 60,545 | Rs. 1,90,552 |
Kilometres to Recover or Breakeven With Honda WRV Diesel
The Honda WRV petrol promises a mileage of 16.5kmpl with the manual transmission. With an estimated Rs. 102/litre price of petrol in Delhi, it'll cost Rs. 6.18 to cover 1km with the WRV petrol manual.
With the diesel manual, the WRV claims to deliver 23.7kmpl. At an estimated cost of Rs. 90/litre for the diesel fuel, the WRV diesel will have a fuel cost of 3.8/km with the manual transmission.
Honda WRV Cost Per km

 

Petrol

Diesel

Fuel Price Estimate (Delhi)

Rs. 102

Rs. 90

Manual Mileage

16.5kmpl

23.7kmpl

Manual Cost Per km

Rs. 6.18/km

Rs. 3.8/km
Earlier, based on these ex-showroom prices and the official fuel efficiency claims, you needed to drive the WRV diesel manual for about 52,000 to 55,000km to recover the difference in upfront ex-showroom cost. After the August price update, you need to drive about 80,000 to 84,000 km to break even on the higher upfront ex-showroom price of the diesel WRV.
Note that prevailing Delhi fuel cost of Rs. 102 for petrol and Rs. 90 for diesel. These calculations are done using the official ARAI mileage figures as the baseline.
| | | | |
| --- | --- | --- | --- |
| Variants | Old KM to Recover | Change in KM | New KM to Recover |
| SV MT | 51,631 | 32,699 | 84,330 |
| VX MT | 54,525 | 25,393 | 79,918 |
Should You Buy The Honda WRV Diesel After Price Increase?
While the petrol prices are going up, diesel is also getting expensive. Such a high premium certainly makes it difficult to look at the WRV with an unbiased view.
However, the percentage-wise, the significantly poorer fuel efficiency of the WRV petrol makes the WRV diesel look a lot better in comparison. Therefore, even with the new prices, it'll only take you about 85,000km to break even. This is still quite high but nowhere near as high as Amaze diesel's breakeven, which goes up to 1.63 lakh km.
Moreover, not only is the WRV's 1.2-litre petrol engine is too small to offer good drivability, but it also has a lower torque rating and that too comes at a high RPM. This engine characteristic also makes it a poorer choice for relaxed everyday driving. This is because all of its power is concentrated at the higher RPMs. So, you'll need to shift down and rev it high to get good acceleration out of it. Driving like this will also significantly impact your car's real-world efficiency.
In comparison, the diesel engine's significantly better torque output, especially at lower RPMs will also make city driving much more relaxed for you as well as for the engine. The smaller, 1.2-litre petrol engine may be adequate for the lighter Amaze, but it's certainly not the ideal choice for the larger WRV.
We'd still recommend the WRV to you if:
You want better drivability

You frequently drive on highways or with a full passenger load or both

You plan to keep the car for more than 1 lakh km
If you don't meet these criteria, then you could manage with the WR-V petrol and save the cash.