June 2022 Hyundai Car Sales Analysis - YoY, MoM Change, 6-Month Trend | V3Cars
In this June 2022 Hyundai cars sales analysis article, we'll look at the car sales of Hyundai for the previous month. We'll also compare the YoY and MoM change to find out which Hyundai cars sales are improving and which ones are declining. Lastly, the table with monthly sales for the last 6 months will give you an idea about the 6-month sales trend of all Hyundai cars.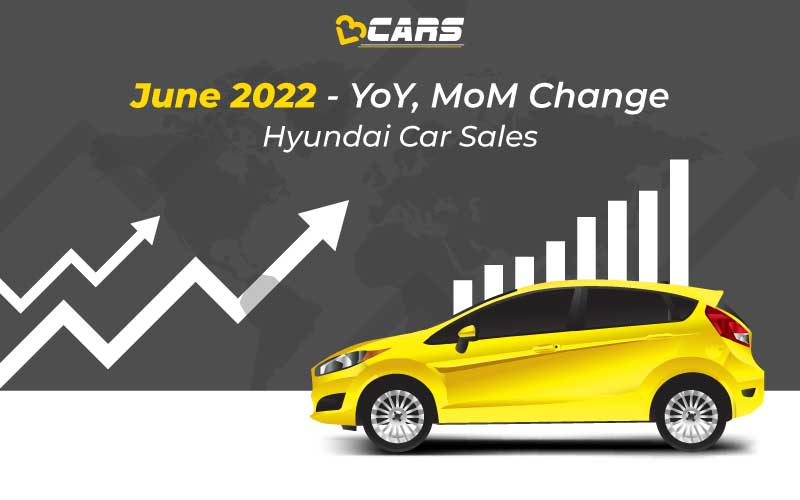 June 2022 - Hyundai Car Sales Figures - YoY Change
For Hyundai, the Creta was the top performer with just shy of 14,000 units in June 2022 and almost 10,000 units in June 2021
Creta and Venue were the only cars from Hyundai that managed to hit the 5-figure mark
The Creta and Xcent + Aura combo are the next best performers. In terms of YoY change in June 2022, the Creta and Xcent + Aura combo registered a growth of 38.7% and 31.22%, respectively
The top losers in Hyundai's product line are Elantra and Tucson dropping to zero, amongst which Elantra has been discontinued and Tucson is waiting for an upgrade
Ignoring Kona's skewed gains, the Venue is the top gainer in June with 112% YoY growth
The Venue also recently got a facelift and some new features, which must have helped bring new customers, who were otherwise not considering the Venue
The Kona stands out even more when looking at YoY change with a 2457% improvement which sold just 7 units in June 2021
Also Read: 2022 Hyundai Venue Petrol Variants Explained - Which One To Buy?
New Hyundai Venue Facelift Diesel Variants Explained - Which One To Buy?
June 2022 - Hyundai Car Sales Figures - MoM Change
Tucson's numbers dropped as its new generation is launching soon
Excluding the low-volume Kona's figures, the i20 was the top MoM gainer with 77.5% improvement
Other gainers were Creta, Venue and Xcent + Aura twins recording around 25% growth
Santro was the biggest loser in the month of June as it posted single-digit numbers for the first time (barring Covid based shut downs)
It looks like the rumours suggesting that the Santro is on its way out may be true after all
Also Read: Hyundai Santro Discontinued — No Replacement Planned
Hyundai — 6-Month Sales Trend (Jan 2021 - May 2022)
Note: Check your Car EMI with our - Car Loan EMI Calculator
You can use our Fuel Cost Calculator to see how much any petrol, diesel or CNG car will cost to run based on the latest fuel price in your city.