Press Release — Kia Seltos Facelift Garners 50,000 Bookings In 2 Months | V3Cars
Kia India unveiled the Seltos facelift on July 4 and opened bookings for their best-selling SUV on the same day. Within a momtj( Kia received over 30,000 bookings for the Seltos facelift. Now, Kia have announced that they have bagged over 50,000 orders for the Seltos facelift.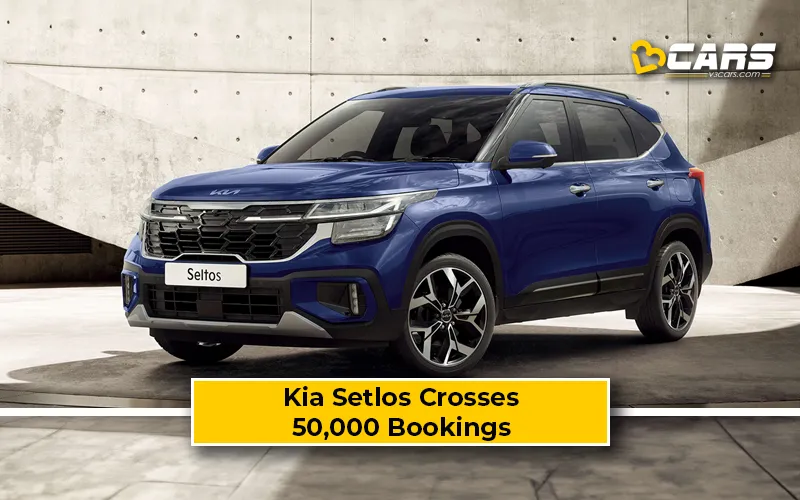 Kia currently receive around 806 orders for the Seltos on a daily basis, and 77% of the bookings are for the top variants. Furthermore, 47% of the customers chose variants equipped with ADAS features while 40% opted for the diesel powertrain. The Seltos has crossed 4,00,000 domestic deliveries in the country, which account for both old and new Seltos.
Also Read: Kia Seltos Bags Over 31,000+ Bookings Within One Month
Note: Instantly Sell Your Old Car With V3Cars Sell Used Car Platform
Here's what Kia have to say about the latest achievement:
Kia India, a leading premium carmaker has crossed 50,000 bookings for the new Seltos in just 2 months. With this, Kia becomes one of the fastest OEMs to cross the mark in the highly competitive mid-SUV segment. The company has also completed 4,00,000 domestic sales this month and 5,47,000 sales of Seltos including exports since its inception.
Following the successful trend set by its predecessor, the new Seltos continues to be the preferred choice among customers, with a substantial 77% of total bookings dedicated to its top variants (HTX onwards). Remarkably, an impressive 47% of all bookings were made for variants equipped with Advanced Driver Assistance Systems (ADAS), indicating a growing preference for cutting-edge safety and technology features among buyers.
Commenting on Seltos success, Mr. Myung-sik Sohn, Chief Sales & Business Officer, Kia India, said, "Seltos has become one of the most trusted and comfortable driving experience for new-age customers. The design and technology flaunt factor combined with the car's value proposition is hard to achieve and is a big reason behind its mega success. In response to the overwhelming demand, we have also optimised our production to keep the waiting period at a minimum so that our customers don't have to wait to get their hands on their favourite SUV."
Seltos has been a flagbearer of Kia India in the country and has sold 5.47 Lakh vehicles, both domestically and in nearly 100 export markets. Kia India launched the New Seltos on July 21, 2023, with an updated design, sportier performance, muscular exterior, futuristic cabin, and sophisticated technology. The vehicle also packs 32 features, including 15 Robust safety features (Standard across the range) and 17 ADAS Level 2 autonomous features. The Seltos also comes equipped with Dual Screen Panoramic Display, Dual Zone Fully Automatic Air Conditioner, Dual Pane Panoramic Sunroof. The booking for the new Seltos commenced on July 14, 2023.
Also Read: 2024 Jeep Compass Launched – Gets New 2WD Diesel AT, BlackShark Edition Variants
Note: Now Find Out The Fuel Price In India Using V3Cars