March 2023 Cars Sales Analysis - Full Analysis With YoY, MoM Change | V3Cars
In this March 2023 cars sales analysis article, we'll look at the YoY and MoM change in sales figures for each carmaker, segment and body style in India. Where applicable, we'll also include our observations based on the sales data and possible reasons behind a massive increase or drop in sales.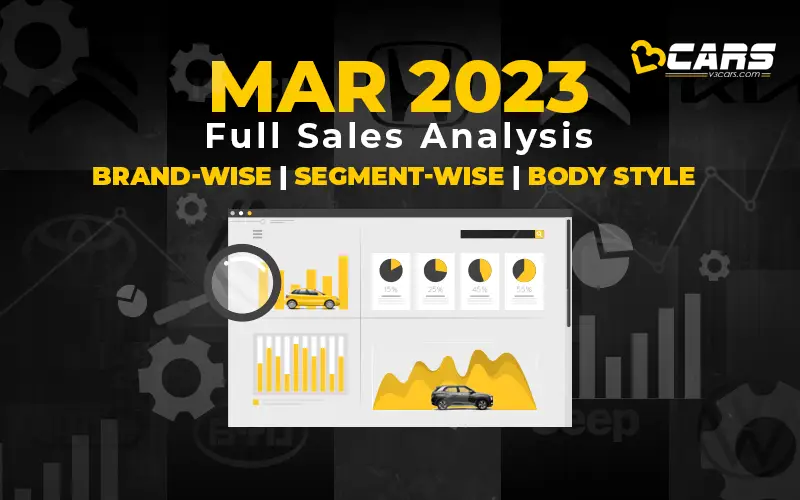 Brand-Wise March 2023 Car Sales - YoY Change
In terms of percentage, Citroen posted the best YoY improvement of 3775% because of the low numbers in March 2022. It is worth noting that Citroen is not yet a high volume manufacturer in India, but it is reaching the numbers of NIssan and likes.
Among the high volume carmakers, Mahindra posted the best growth in March YoY comparison, with a 31.37% rise in sales.
The biggest loser was Jeep with a 46.58% decline in YoY dispatch numbers in March.
Jeep was followed by Renault with a 36.73% decline in YoY numbers.
Maruti sales remained unchanged (just an insubstantial drop of 0.82%).
Brand-Wise March 2023 Car Sales - MoM Change
Citroen was the top gaining brand in MoM comparison a well, with a 514% growth in numbers
Citroen was followed by MG and NIssan with 53% and 49% growth in sales numbers in March
Reanult was the top losing brand with a 18.55% decline in MoM dispatches in March compared to February
Reanult was followed by Kia with a 12.6% drop in dispatches in March over February
Segment-Wise March 2023 Car Sales - YoY Change
In terms of YoY change, the C-segment was the biggest gainer, posting a YoY growth of 24%
The C-segment was followed by the D2-segment, with a YoY growth of 16.22% in March 2023
The D1-segment witnessed a YoY growth of 10.43% in our March 2023 comparison analysis
A and B1-segments reported a decline in YoY comparison in March. A-segment reported a drop of 18.29% in March whereas B1-segment reported a decline of 2.63% on the YoY comparison
Segment-Wise March 2023 Car Sales - MoM Change
In terms of MoM comparison for the month of March, all segments, except C and D1-segment, witnessed a decrease in their sales figures in comparison to sales in February
D1-segment reported an MoM increase of 34.85% and C-segment cars reported a 22.12% growth.
The A-segment reported a MoM decline of 25.19% and was the top losing segment in March MoM comparison
The B-segment reported an average decline of 4.62%
Body-Wise March 2023 Car Sales - YoY Change
SUVs witnessed the biggest YoY growth of 20.35% in March 2023 compared to March 2022
The SUV was the best-selling bodystyle in India. It was closely followed by hatchbacks, which saw a 8.64% decline in sales in March 2023 compared to March 2022
MPVs s