March 2023 Volkswagen Car Sales Analysis - YoY, MoM Change, 6-Month Trend | V3Cars
In this March 2023 Volkswagen car sales analysis article, we'll look at the car sales of Volkswagen for the previous month. We'll also compare the YoY and MoM change to find out which Volkswagen cars' sales figures improved and which ones declined. Lastly, the table with monthly sales for the last 6 months will give you an idea about the 6-month sales trend of all Volkswagen cars.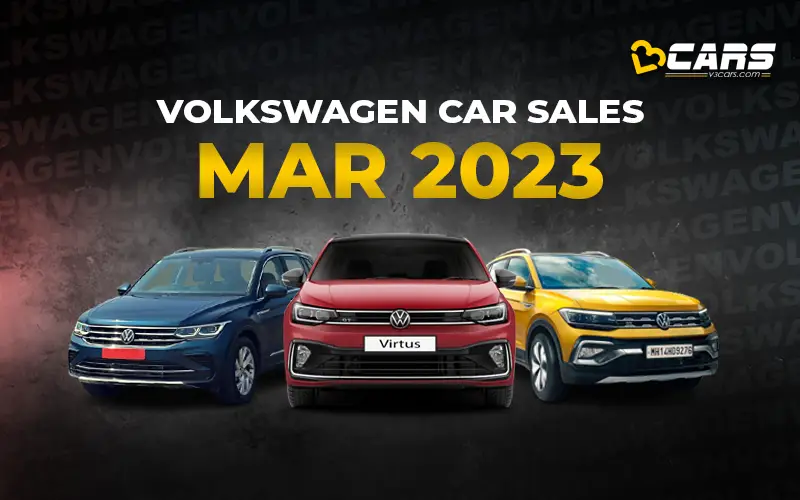 March 2023 - Volkswagen Car Sales Figures - YoY Change
For Volkswagen, the Taigun and Tiguan were the only cars that have been in continuous production since March 2021
Other cars in Volkswagen's lineup are either discontinued or too new to have a YoY comparison
The Taigun witnessed a 17% fall in sales in our March 2023 YoY sales comparison
The Tiguan D-segment SUV reported a 326% growth in terms of YoY comparison in March
The Vento and Polo were discontinued by Volkswagen in the past year
The Virtus was the second best-selling car for Volkswagen
March 2023 - Volkswagen Car Sales Figures - MoM Change
All cars from Volkswagen reported growth in sales in March compared to February
In terms of MoM comparison, the Tiguan saw a growth of 42% in March and was the top gainer, even though it is a very low volume car for Volkswagen
Among the high volume cars, the Taigun was the best seller for Volkswagen, with 1,976 units sold in March and showed an MoM growth of 19.25%
The Virtus showed a growth of 14.65% compared to February
Volkswagen — 6-Month Sales Trend (Oct 2022 - Mar 2023)
Note: Check your Car EMI with our - Car EMI Calculator
You can use our Fuel Cost Calculator to see how much any petrol, diesel or CNG car will cost to run based on the latest fuel price in your city.