Maruti Suzuki Intend To Pitch Jimny To Indian Army | V3Cars
Maruti Suzuki revealed the Jimny 5 door at the 2023 Auto Expo and also commenced bookings for the 4WD SUV. Maruti offer the Jimny in 6 exterior colours but we can confirm that the carmaker has reserved the dark jungle green colour for the Indian Army.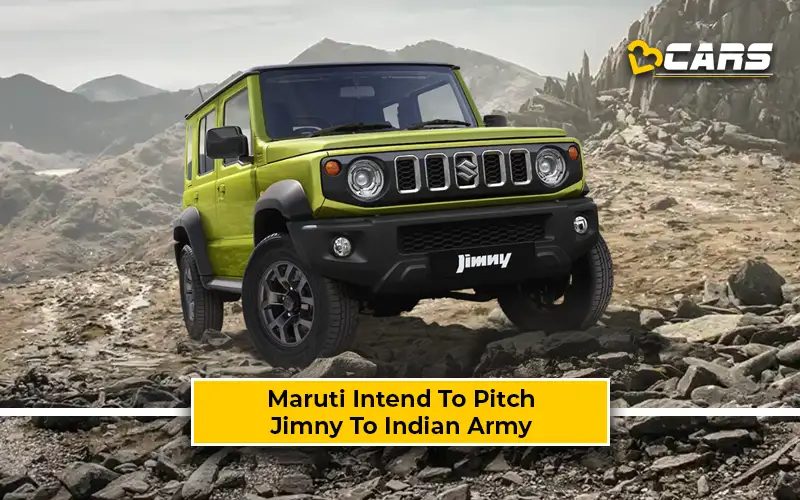 Maruti Intend To Pitch Jimny 5 Door To Indian Army
At the recent press conference, Maruti Suzuki officials told us that they do not plan to offer the dark jungle green colour of the Jimny 5 door to private buyers. Even though this colour is on sale with the Jimny 3 door in global market, the carmaker has reserved this exterior paint for the Indian Army. This confirms Maruti Suzuki's intention to pitch the Jimny as a general service 4x4 light vehicle for the Indian Army fleet. The Jimny's predecessor — the Gypsy — has been serving the Indian Army for over 2 decades now and it was also supplied in the dark green jungle colour.
Note: Check out the list of Electric Cars in India
Hence, we may soon spot the Jimny 5 door running on our roads with the dark green jungle colour and also wearing white-on-black registration plates.
Will The Army-Spec Jimny Be Any Different?
Yes, if the Jimny 5 door joins the army fleet, it will undergo a couple of changes. These changes could include more rugged suspension, strengthened chassis, increased ground clearance and radio communication device. In terms of powertrain, it may continue with the same 1.5L normal petrol engine. In the regular Jimny, this engine produces 105PS of power at 6000rpm and 134Nm of torque at 4000rpm. Maruti offer the Jimny 5 door with 2 transmission options — 5 speed manual and 4-speed torque converter automatic transmission. The Jimny 5 door comes with a 4-wheel drivetrain and a low range transfer case as standard.
Note: Check your car's fuel cost with Fuel Cost Calculator India