Electrified Suzuki Jimny Confirmed For Europe | V3Cars
Suzuki Motor Corporation recently revealed their electrification plans for the global market, including India. While Maruti Suzuki will launch 6 all-electric cars in India by 2030, Europe will receive 5 electric cars, including an electrified version of the Jimny. Suzuki's teaser image gives us a sneak peek into the upcoming Jimny EV.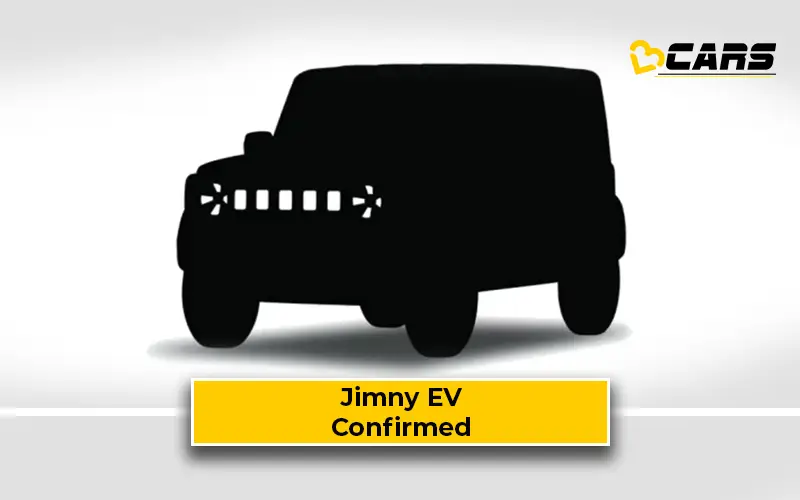 Jimny 3 Door EV Confirmed For Europe
Back in 2020, Suzuki were forced to discontinue the Jimny in Europe due to stricter emission norms. Later the same year, Suzuki introduced a barebones version of the Jimny as a commercial vehicle. This version of the Jimny does not feature rear seats. However, private buyers will soon have the chance to grab hold of the Jimny again as the 3 door SUV is set to receive an all-electric powertrain soon.
While details of the Jimny EV are scarce at the moment, Suzuki's teaser image suggests that the Jimny EV will retain the same silhouette as the ICE-powered Jimny. The image also reveals round LED headlights with LED DRLs.
Note: Check out the list of Electric Cars in India
Jimny 3 Door EV Expected Powertrain Details
Suzuki haven't revealed any details about the Jimny EV yet. However, we expect the Jimny EV to retain its all-wheel drive capabilities thanks to a twin electric motor setup, just like the recently-revealed Suzuki eVX concept. While the production-spec version of the eVX will offer a 60kWh battery pack, we expect the Jimny EV to be equipped with a smaller battery and offer less range.
Jimny 3 Door EV Launch Timeline
Suzuki revealed their plans to launch 5 electric models in the European market before 2030. The EV plan will kickstart with the launch of the eVX electric SUV in 2024. Hence, we expect Suzuki to launch the Jimny EV between 2025 and 2030.
Note: Check your car's fuel cost with Fuel Cost Calculator India
Will Jimny 3 Door EV Come To India
Suzuki's EV plan for India doesn't include the Jimny 3 door EV. In place of the Jimny EV, India is likely to get the Hustler EV. Maruti Suzuki will also launch electrified versions of the Alto hatchback and the recently launched Fronx SUV. Maruti Suzuki will kickstart their EV journey in India with the launch of the eVX electric crossover in 2025, followed by other models.
Also Read: Maruti Suzuki Fronx EV Officially Teased