Maruti Suzuki Exploring Bio CNG As Alternative Fuel With NDDB, Banas Dairy | V3Cars
While speaking with the media, Maruti Suzuki's chief technology officer, Mr. Raman CV, said that they are working towards accelerating biogas or bio CNG rollout. This alternative will help Maruti Suzuki meet their carbon neutrality goals in India.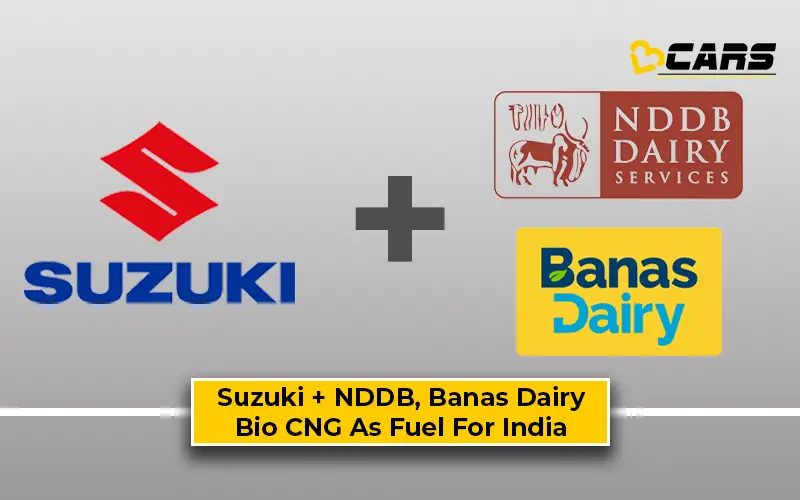 A formal product plan from Suzuki Japan confirms that they have signed an MoU with the Indian government agency, National Dairy Development Board and Banas Dairy, Asia's largest dairy manufacturer. For this tie up, Maruti Suzuki intend to run the necessary verifications and validations of biogas as a viable alternative to CNG.
The handshake with the dairy industry will help them cut with higher profits while Maruti Suzuki will benefit from cheaper biogas from cow dung. The partnership will also help accelerate the rural development and aligns with the mission Mr. Gadkari, minister of road, transport and highways, has to use waste for fuel production. That's why there's also a push for the flex fuel vehicles (FFV) running on ethanol blend produced using agricultural waste.
Also Read: Pros And Cons Of Flex Fuel Vehicles (Ethanol Blend)
All Maruti Suzuki, Nexa Cars Showcased At Auto Expo 2023
Note: Check your car's fuel cost with Fuel Cost Calculator in India
Maruti Suzuki currently have a 70% market share among the total CNG cars sold so far. With the use of biogas, they intend to offer an alternative fuel option to CNG car owners. Should the tests yield positive results, Suzuki say that all current CNG cars will have the option of running reliably on bio CNG without any modifications.
If biogas ends up cutting down the total cost of ownership with a lower fuel cost, then we can accelerate the mass adoption of the biogas in India. Suzuki have also invested in the Japanese company, Fujisan Asagiri Biomass LLC, to study power generation from biogas derived from cow dung.
The success of this effort in India will also help Suzuki expand the program to Philippines, Malaysia, Thailand, Indonesia and African countries. In addition to this, Maruti Suzuki are also working on implementing hydrogen-enriched CNG (HCNG) to contain CO2 emissions while implementing minimal changes to the current CNG powertrains.
Besides petrol, diesel, CNG, mild hybrid and strong hybrid, Maruti Suzuki and Toyota's combined ongoing powertrain engineering efforts include the following 6 alternatives:
Hydrogen CNG
Bio-CNG
Flex fuel vehicles
Hydrogen fuel cell vehicles
Hydrogen combustion engine
Electric vehicles
Also Read: Toyota BZ4X Electric SUV Launching In India Or Not?
Tata Motors Hydrogen FCV, HCE Launch Strategy In India - Opinion
Note: Check your Car EMI with our - Car Loan EMI Calculator