Maruti Suzuki To Launch 6 EVs In India By 2023 | V3Cars
Suzuki have announced their product plans for India, Europe and Japan. In India, Maruti Suzuki aim to launch 6 battery electric vehicles by 2030. The first EV in India will go on sale in the financial year 2023-24. This EV will be the production version of the eVX concept showcased at the 2023 Auto Expo.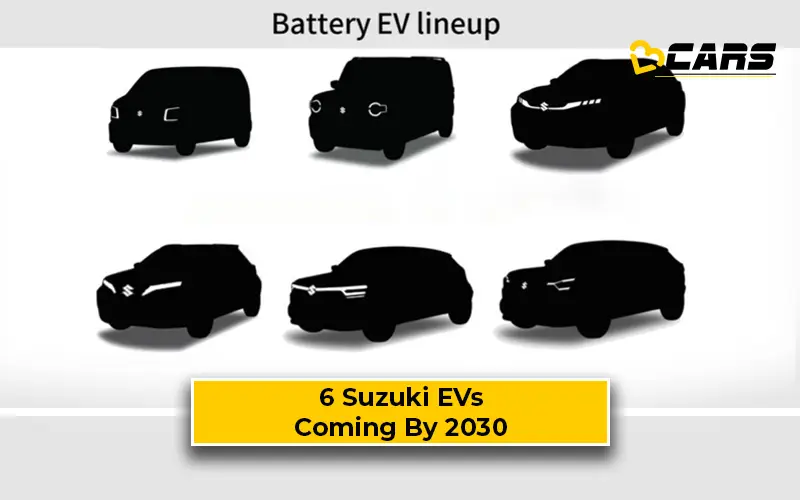 The company stated that they would also focus on carbon-neutral internal-combustion-engine vehicles to provide a range of products. Hence, they will not only provide battery electric vehicles but also internal combustion engine vehicles that use CNG, biogas and ethanol-mixed fuels.
Note: Check out the list of Electric Cars in India
The carmaker aims to achieve a powertrain ratio of 15% battery-electric vehicles, 25% hybrid electric vehicles and 60% internal combustion engine vehicles. Suzuki said that they aim to achieve carbon neutrality by 2050 in Europe and Japan and by 2070 in India.
In a statement, the company said, "In India, we will introduce the SUV battery EV announced at Auto Expo 2023 in FY24, with six models to be launched by FY30," said Suzuki Motor Corporation. "Suzuki will provide not only battery EVs but also carbon neutral internal combustion engine vehicles that use CNG, biogas and ethanol mixed fuels."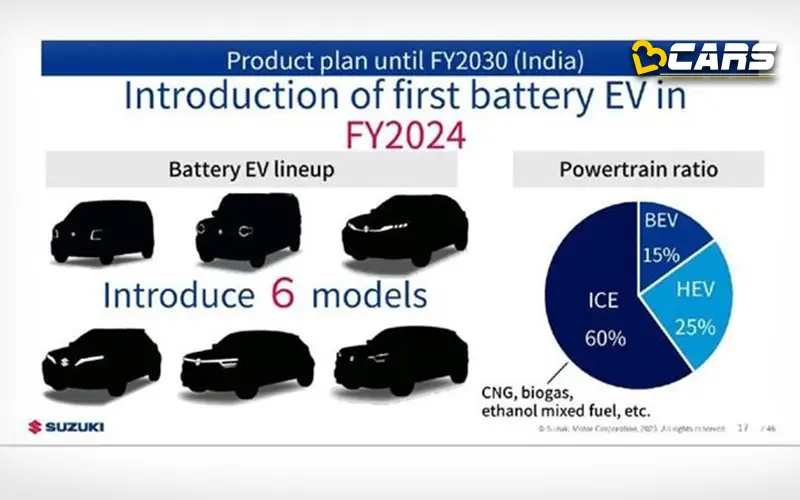 Suzuki have also signed an MoU with the Indian government agency, National Dairy Development Board and Banas Dairy, Asia's largest dairy manufacturer, to conduct verification of biogas. Maruti Suzuki in India will also focus on the biogas business, which is a byproduct of cow dung, available in plenty in the rural areas of India. This biogas can be used for Maruti's CNG models, which account for 70% of the CNG car market in India.
Note: Check your car's fuel cost with Fuel Cost Calculator India
"We will challenge to strike a balance between increasing sales units and reducing total CO2 emission amount. Suzuki's unique initiative to tackle this challenge is the biogas business, in which biogas derived from cow dung, dairy wastes that can be seen mainly in India's rural areas, will be produced and supplied," explained Suzuki Motor.
Suzuki also stated that they will deepen their cooperation with Toyota while continuing to be their competitor. They will work towards the development of advanced technologies including autonomous and battery of electrified cars, and the formation of a recycling-based society. Currently, Suzuki supply multiple products to Toyota as a part of their joint venture.
Also Read: Maruti Suzuki Promise To Bring ADAS Features At EVX Concept Reveal