Maruti Suzuki Ertiga CNG Launched At Rs 8.88 Lakh
Maruti Suzuki has introduced CNG fuel option on the Ertiga MPV. The CNG-powered Ertiga is priced at Rs 8.88 lakh and is available in only the V variant. The petrol-powered Ertiga is priced at Rs 8.17 lakh in the V variant, making the CNG version more expensive by Rs 71,000 (all prices ex-showroom, Delhi).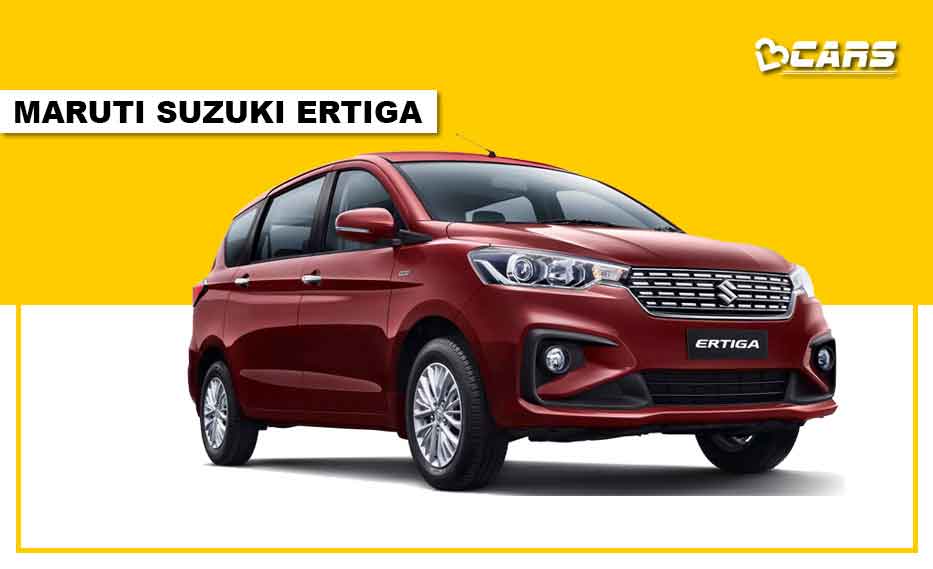 Ertiga CNG's running cost is half compared to Ertiga petrol!
| | | | |
| --- | --- | --- | --- |
| - | Ertiga CNG | Ertiga petrol | Ertiga diesel |
| Claimed fuel efficiency | 26.20km/kg | 19.34kmpl | 25.47kmpl |
| Running cost (fuel) | Rs 1.74/km | Rs 3.77/km | Rs 2.59/km |
Maruti Suzuki claims efficiency of 26.20km/kg for the Ertiga CNG, while the Ertiga petrol's fuel efficiency is claimed at 19.34kmpl. Consider the price of petrol at Rs 73/lt, and the Ertiga petrol's fuel cost comes down to Rs 3.77 per km.
On the other hand, the fuel cost of CNG comes down to Rs 1.74 per km considering CNG costs Rs 45.7 per kg. With a claimed fuel efficiency of 25.47kmpl, the diesel Ertiga's fuel cost comes to Rs 2.59/km when cost per litre of diesel fuel is taken to be Rs 66.12.
Who should buy Ertiga CNG over petrol and diesel, and why?
| | | | | |
| --- | --- | --- | --- | --- |
| - | Ertiga CNG | Ertiga petrol | Ertiga diesel | Comments |
| Ex-showroom price of V variant | Rs 8.88 lakh | Rs 8.17 lakh | Rs 9.57 lakh | - |
| Price premium (over Ertiga petrol) | Rs 71,000 | -- | Rs 1.4 lakh | - |
| 3-year running cost of fuel at 25km/day average running | Rs 47,632 | Rs 1,03,204 | Rs 70,901 | Buy Ertiga petrol if average running is less than or equal to 25km per day |
| 3-year running cost of fuel at 50km/day average running | Rs 95,265 | Rs 2,06,407 | Rs 1,41,802 | If average running is around 50km per day, it will be sensible to buy Ertiga CNG as it would recover the extra amount you spent for the CNG before it turns 3 years old. |
| 3-year running cost of fuel at 75km/day average running | Rs 1,42,897 | Rs 3,09,611 | Rs 2,12,704 | Consider buying diesel Ertiga if availability of CNG is an issue and running is over 75km/day. |
Read more about the Ertiga CNG in the official press release below:
Maruti Suzukis Next Gen Ertiga tops the chart as market leader
Launches CNG variant, only MPV in the country with factory-fitted CNG

Grows 60% post launch of Next Gen Ertiga in November 2018

Over 8,000 units average monthly sales in the past four months
New Delhi, July 27, 2019: Maruti Suzuki India today announced sale of over 61,000 units of Next Gen Ertiga, since its launch in November 2018. This is 60% growth compared to the same months in the previous year. Surge in sales of Maruti Suzuki's Next Gen Ertiga has helped the urban MPV achieve the pole position in the segment. With an average monthly sale of over 8,000 units, the next Gen Ertiga is India's best-selling MPV.
Keeping the customer needs in mind and to further strengthen green technology footprint in India, Maruti Suzuki India today announced the launch of new factory-fitted CNG-powered Next Gen Ertiga. The factory-fitted CNG option will be available for customers in VXI variant, offering impressive mileage of 26.20 km/kg thereby minimizing the cost per kilometer.
The Next Gen Ertiga is the only MPV in the country to offer factory-fitted CNG option. The factory fitted CNG vehicle comes with standard warranty benefits and convenience of Maruti Suzuki's service network spread across India. The CNG-powered Next Gen Ertiga will offer maximum performance with dual ECU (engine control unit) with intelligent-gas port injection system. This ensures active pick up and superior drivability.
Humbled by the success of Next Gen Ertiga and the blockbuster response it received from customers, Mr Shashank Srivastava, Executive Director (Marketing & Sales), Maruti Suzuki India Limited, said: "Ertiga has managed to win customer hearts with its focus on safety, design, style, space and performance. In the short span of nearly eight months of its launch, the new Ertiga's accomplishment of achieving the market leader position in MPV is overwhelming considering the growing competition in this segment. The robust sales of the new Ertiga prove that it has secured its place in the market as a car that offers its users the perfect companion to go about their everyday lives. We thank all our customers for 'moving together' with us in style with Next Gen Ertiga in its successful journey. With the CNG-powered Next Gen Ertiga, customers will be able to enjoy the benefit of better fuel economy and superior technology which is safe, reliable and environment friendly."
The Next Gen Ertiga is high on safety. It is equipped with safety features such as dual airbags, high speed warning alert, front seat belt with pre-tensioners and force limiters, ISOFIX child seat anchorages, ABS with EBD and brake assist and reverse parking sensors as standard fitment across all variants.
The Next Gen Ertiga is longer (4,395 mm), wider (1,735 mm) and taller (1,690 mm). The interior of the car has been designed keeping in mind the comfort of all the passengers. The third-row reclining seats, the extra head room and the cooling cup holders make the journey comfortable. The boot space has been increased by almost 55% with three rows up and about 9% with two rows folded down.
Maruti Suzuki's evolutionary design sensibilities and technology capabilities are taken to the next level with the Next Gen Ertiga. The luxurious dual tone interiors feature a sculpted dashboard with maple wood finish and chrome accents, offering a high level of craftsmanship. The leather wrapped flat bottom steering wheel with easy access controls adds convenience with style.
The factory fitted CNG variant of Next Gen Ertiga will be available at Rs. 887,689/- lakh, ex- showroom Delhi.