All Mercedes-Benz Cars To Get A Price Hike Soon | V3Cars
Mercedes-Benz India have announced a price hike for their entire range of cars sold in the country. The latest price hike will come into effect on April 1, 2023. Read on to know more about Mercedes-Benz India price hike for 2023.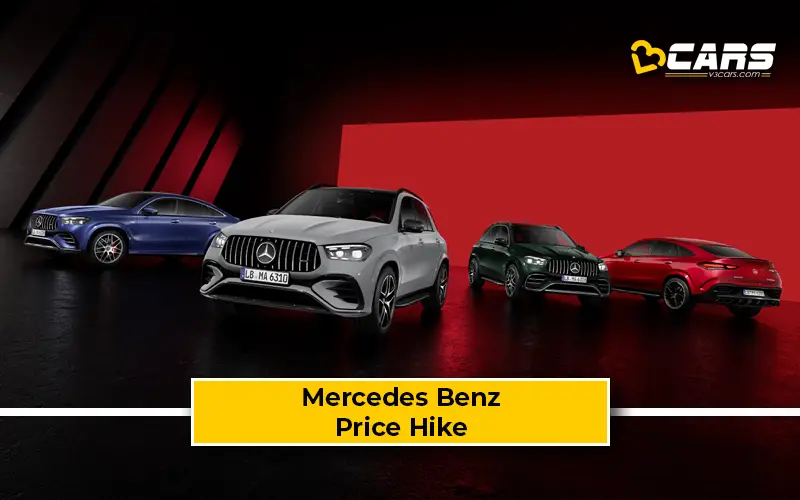 Mercedes-Benz Cars To Get Dearer From Apr 1, 2023
Mercedes Benz India will hike the prices of their entire model range by 5% on April 1, 2023.haven. As per the carmaker, the reason behind the price hike is a sharp increase in forex rates over the last 4 months and rising input costs. Speaking of monetary figures, the price hike ranges from Rs. 2 lakh to Rs. 12 lakh (ex-showroom), depending on the model.
Note: Check out the list of Electric Cars in India
Take a look at the updated prices of the Mercedes-Benz range:
It is worth mentioning that the GLC is no longer available on sale in the country. The carmaker recently discontinued the GLC as the new-generation model is set to hit our shores soon. Mercedes-Benz India will launch the new-gen GLC in the third quarter of 2023. You can click the link below to read more about the new GLC.
Also Read: Mercedes-Benz To Launch Next-Gen GLC In Q3 Of 2023
Note: Check your car's fuel cost with Fuel Cost Calculator India
At their annual press conference, Mercedes Benz India announced plans to launch 10 new cars in the country. The first of these models to hit our shores was the E53 AMG Cabriolet 4 Matic Plus and other models will follow suit soon. Recently, Mercedes-Benz also announced priority allocation for the GLS and G 63 AMG SUVs and also opened the bookings for both models.
Also Read: Mercedes-Benz Reopen Bookings For G63, Maybach GLS 600 SUVs