Tata Altroz DCT Top 5 Things To Know | V3Cars
The Tata Altroz has finally been launched with an automatic transmission. Tata Motors call their dual-clutch transmission DCA (Dual Clutch Automatic). The made-in-India DCT transmission of the Altroz comes with multiple segment-first features and advantages over its direct rivals. Here, we try to explain its unique features. Here are the top 5 things you need to know about the Tata Altroz DCA.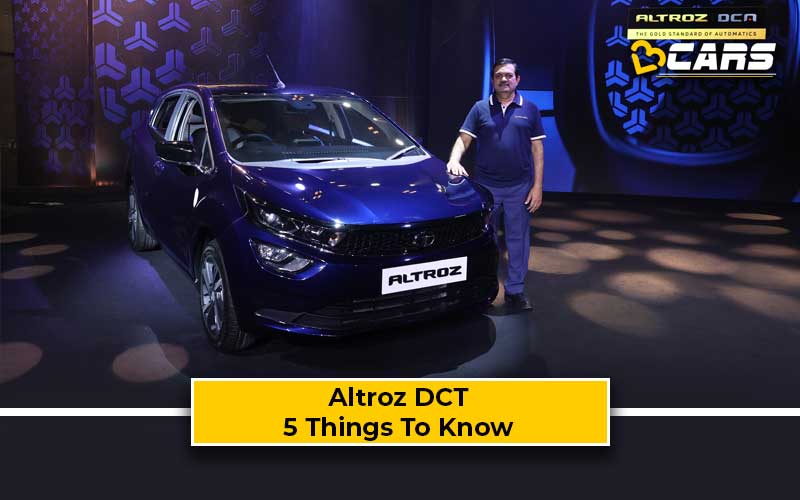 Only Wet-type DCT In The Segment
With the launch of the automatic variants, the Tata Altroz is now the only car in its segment to offer a wet-type dual clutch transmission. Tata Motors have developed the wet-type DCT keeping the dynamic Indian climatic conditions in mind. The clutches in the wet-type DCT are dipped in oil, which reduces the operating temperature, hence increasing the reliability and life of the transmission.
The transmission control unit (TCU) of the Altroz measures transmission temperature 100 times per second and alters the oil supply accordingly. In a conventional DCT transmission, the clutches are packed together. However, in the case of Altroz's DCT, the clutches are set apart to improve heat dissipation.
Note: Check your Car EMI with our - Car EMI Calculator
Planetary Gear System
Tata claims the dual-clutch transmission of the Altroz is the first in the world to have a planetary gear system. While a conventional dual-clutch transmission has around 20 gears, the DCT transmission of the Altroz has 13 gears, making it more compact, smoother in operation and more reliable in the longer run.
Single Lay Shaft
The DCT transmission in the Altroz gets a single layshaft, whereas conventional DCTs have 2 or 3 layshafts. The single layshaft helps in making the overall unit compact but also reduces the number of moving parts, hence improving reliability.
Shift By Wire Technology
The Tata Altroz DCT is also the first car in its segment to have shift-by-wire technology. We have only seen this tech in premium cars, such as German sedans and expensive SUVs. None of the Altroz's rivals get shift-by-wire and use regular mechanical linkages. In the Altroz DCT, electric actuators take control over the mechanical linkages. Hence, there is no direct link between the gear lever and the mechanicals of the transmission. This helps reduce the effort in shifting and also makes the overall operation seamless, without causing any jerks.
Note: Calculate your fuel cost with our - Fuel Cost Calculator in India
Auto Park Feature
The DCT transmission in the Altroz shifts to auto-park under pre-determined circumstances. If the engine is on with no input on the pedals and the driver's door is open, the transmission will shift itself to park even if it is in any gear. This keeps the car stationary and reduces the chances of mishaps if the driver isn't in control. This feature is possible due to the shift-by-wire technology in the Altroz.
Also Read: Tata Altroz Petrol Automatic Launched In India - Prices, Specs, Variants And Top Features