Tata Accidently Reveals 5-Star GNCAP Safety Rating For Punch | V3Cars
A Youtuber managed to grab a screenshot of the Tata Punch bookings page where the carmaker mentioned that the Punch has a 5-star safety rating from GNCAP. However, later Tata removed that bit of information from the site. This raises a question: why Tata Motors might want to hide that bit of information from the potential buyers? After all, a good safety rating will only add to the car's perceived value among buyers.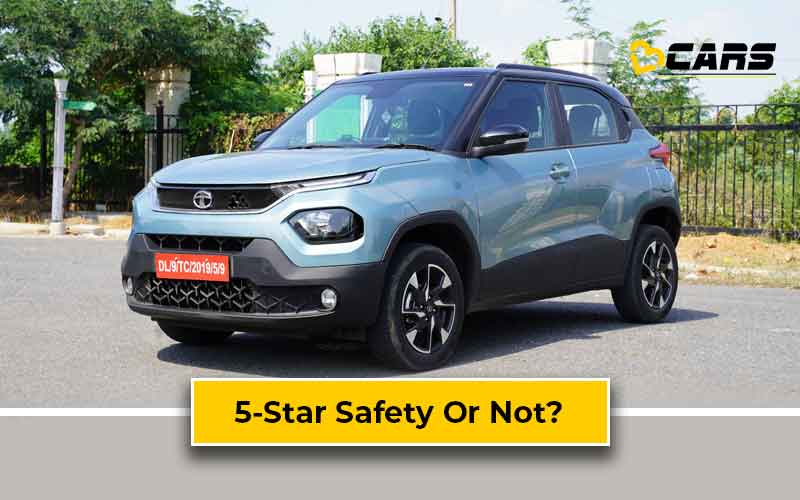 It's likely that the car isn't tested yet by the GNCAP and for now, they're only assuming that it will get a 5-star rating. The Punch uses the same frame as the Altroz, which has already proven itself with a top-notch 5-star safety score. It's also possible that GNCAP have tested the car but the information is not made public yet.
Why Hide 5-Star Safety Score?
However, I have a different opinion. I think that GNCAP have tested the car but Tata Motors may have asked them to withhold this information for now. The Punch is lately getting a lot of attention and for good reason. It has great SUV styling in a compact, manageable package with a long list of features. The growing popularity could increase the demand for the car to an extent that Tata may fail to deliver such quantities. So, withholding this information helps them balance the demand with the supply.
Also read - Tata Punch Variants Explained - Which One to Book?
The information could serve as another round of boost and promotional material when they see that a rival is likely to threaten their position in this price band or segment. Alternatively, they may disseminate this detail when they see that the supply has almost caught up with the demand and they need to create fresh enthusiasm among buyers.
Tata = Safety
We are also expecting nothing less than a 4-star safety rating from the Punch since even the Tiago gets a 4-star score. Moreover, the Punch uses a modified version of the frame from the Altroz. This premium hatchback has already achieved a 5-star GNCAP safety rating. So, even a 5-star score for the Punch is not wishful thinking.
All carmakers offer a USP (unique selling point) with their cars. Maruti have fuel efficiency, Toyota have reliability, VW Group have drivability and Hyundai have features. Tata seem to have captured the safety-conscious buyers as they offer fantastic safety scores across all cars. Even their most affordable, entry-level cars like the Tiago and Tigor have a 4-star GNCAP score, while the Nexon and Altroz have 5 stars. This underlines the brand's focus on making safer cars and it looks like the Punch won't disappoint. We just have to wait a little while for the official communication.