The 10 Most Affordable 4WD SUVs In India In 2022 - Ex-showroom | V3Cars
An SUV is a vehicle with 4-wheel drive, high ground clearance and off-roading capabilities. If you are looking for an SUV, especially with an affordable price tag, then here are the 10 most affordable SUVs in India in 2022 and their prices (ex-showroom).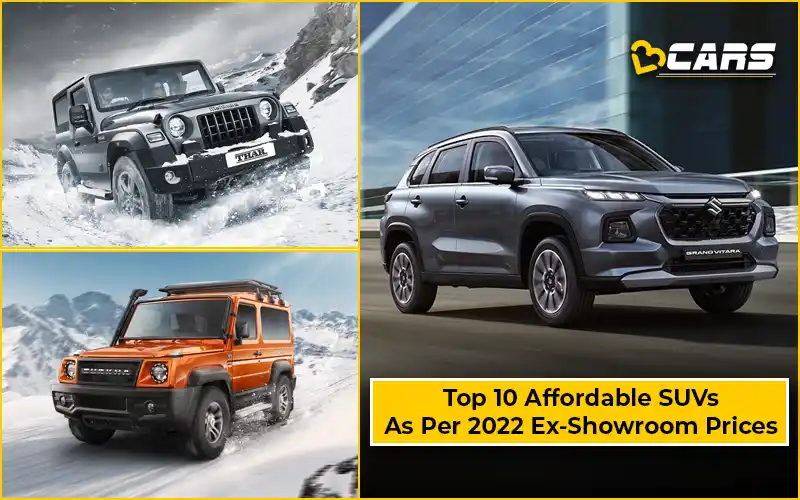 1. Mahindra Thar - Rs. 13.58 Lakh To Rs. 16.28 Lakh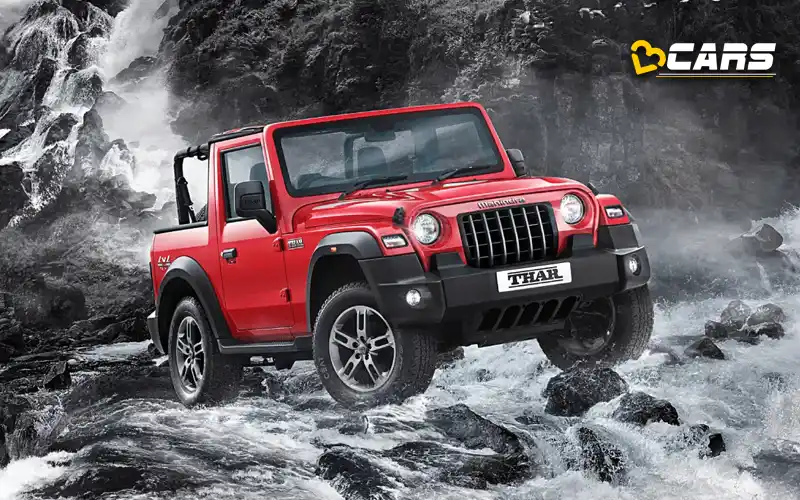 It might be surprising for some, but the most affordable SUV in India is the Mahindra Thar. Mahindra offer the Thar in 2 variants. The base LX variant costs Rs. 13.58 lakh whereas the top AX hard top variant costs 16.28 lakh. The Thar is a B2-segment SUV and is available with both petrol and diesel engine options. All its variants come with a 4WD setup, a ladder frame chassis and all-terrain tyres. The Thar is one of the most popular and sought after SUVs in India, and most importantly, the cheapest true-blue SUV in the country.
2. Force Gurkha - Rs. 14.75 Lakh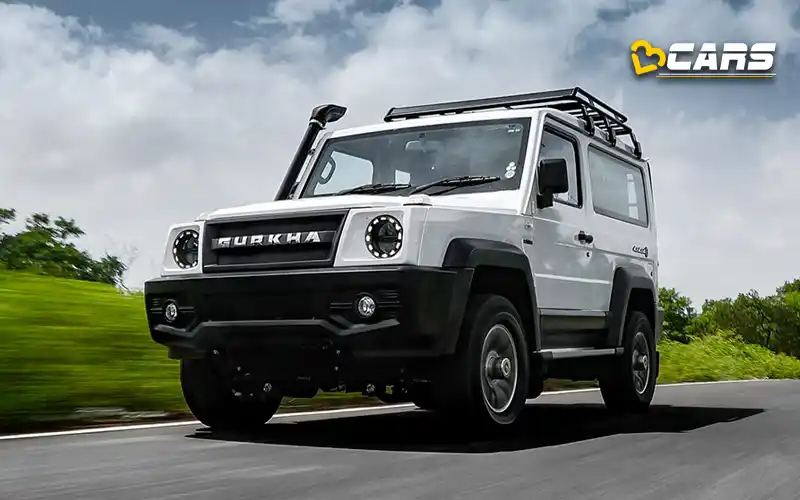 The Force Gurkha, the second on the list, is priced at Rs. 14.75 lakh. The Gurkha is a C-segment SUV and has only 1 variant with a 2.6L diesel engine. It is the only vehicle in its class to get differential locks on both axles. It not only has a hydraulic steering wheel but also a snorkel air intake, which increases its water wading capability. The Force Gurkha, although not as popular as other SUVs in its segment, packs some of the best off-roading features.
3. Mahindra Scorpio N - Rs. 16.44 Lakh To Rs. 23.90 Lakh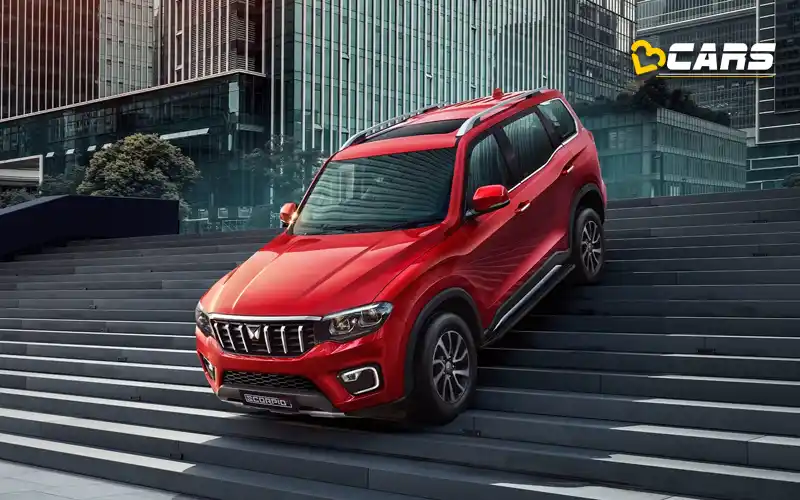 A 7-seater SUV by Mahindra, The Mahindra Scorpio N, unlike the Mahindra Thar, swings more towards an urban SUV. The base Z4 4WD variant is priced at Rs. 16.44 lakh and comes with a 2.2L diesel engine with a manual transmission. Having called it an urban SUV, Mahindra also provide an automatic transmission option in the higher variants. The new Scorpio N beats the old Scorpio in terms of styling and utility. So if you want a mix of an SUV and an urban car, the Scorpio N is a good option.
4. Maruti Suzuki Grand Vitara - Rs. 16.89 Lakh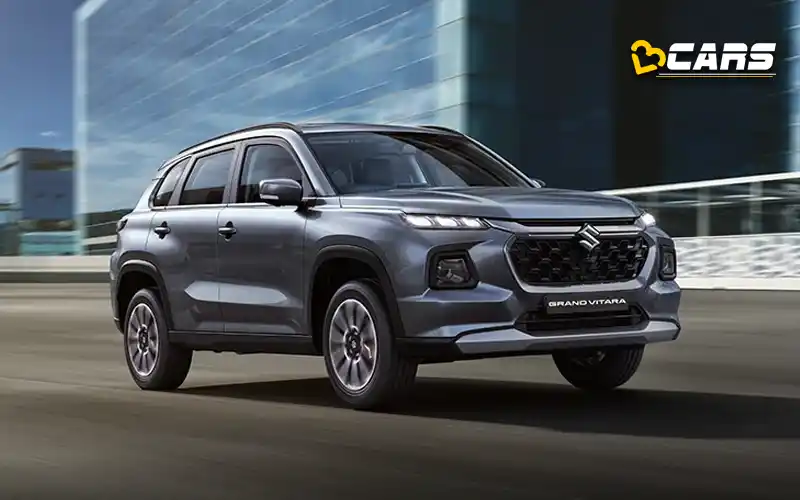 The Maruti Suzuki Grand Vitara, a C-segment SUV, is the first petrol hybrid SUV in the list. However, Maruti Suzuki only offer the 4WD option in 1 mild-hybrid variant with a manual transmission, which is priced at Rs. 16.89 lakh. The Grand Vitara is also an urban SUV and being a mild hybrid, it has a fuel efficiency of 19.3kmpl. The Grand Vitara is perfect for you if you need the car mostly for daily commutes and for the occasional off-roading trip.
5. Toyota Urban Cruiser Hyryder - Rs. 17.19 Lakh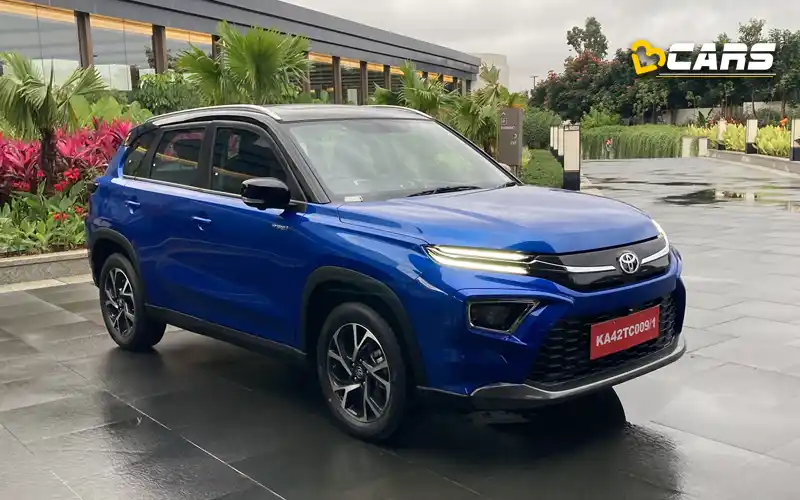 The Toyota Urban Cruiser Hyryder is based on the same platform as the Grand Vitara but is priced slightly higher at Rs. 17.19 lakh. Like the Grand Vitara, 4WD is only available in 1 variant equipped with the mild-hybrid petrol engine and a manual transmission. The Urban Cruiser Hyryder is a C-segment SUV and offers comfort, style and SUV capabilities without compromising on fuel efficiency and Toyota's reliability.
Note: Check your Car EMI with our - Car EMI Calculator
6. Isuzu V-Cross - Rs. 23.50 Lakh to Rs. 27.0 Lakh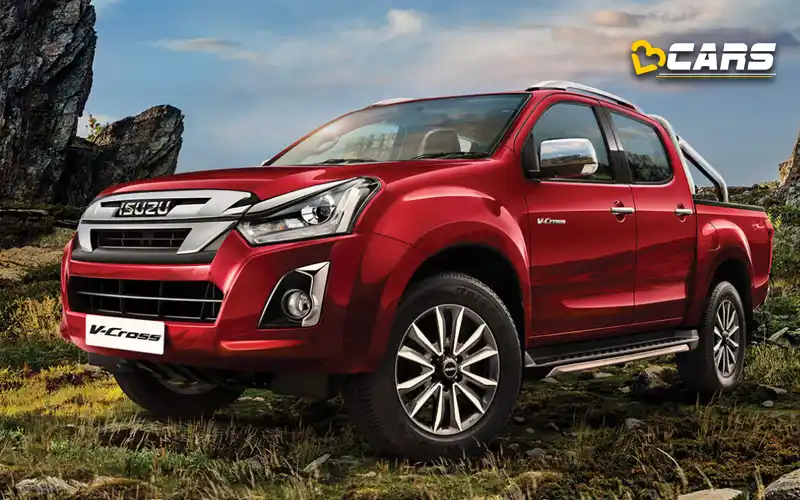 The Isuzu V-Cross is a D-segment SUV, or rather a pickup truck. Considering its overall utility and features, the base variant of the V-Cross equipped with the manual transmission is priced quite reasonably at Rs. 23.50 lakh. The top variant with 4WD and automatic transmission is priced at Rs. 27 lakh. The V-Cross is powered by a 1.9L 4-cylinder turbo diesel engine and is built on a ladder frame chassis. If you want an SUV that offers a mix of off-roading and extreme cargo-carrying capabilities, the Isuzu V-Cross is worth considering.
7. Mahindra XUV700 - Rs. 23.24 Lakh to Rs. 24.95 Lakh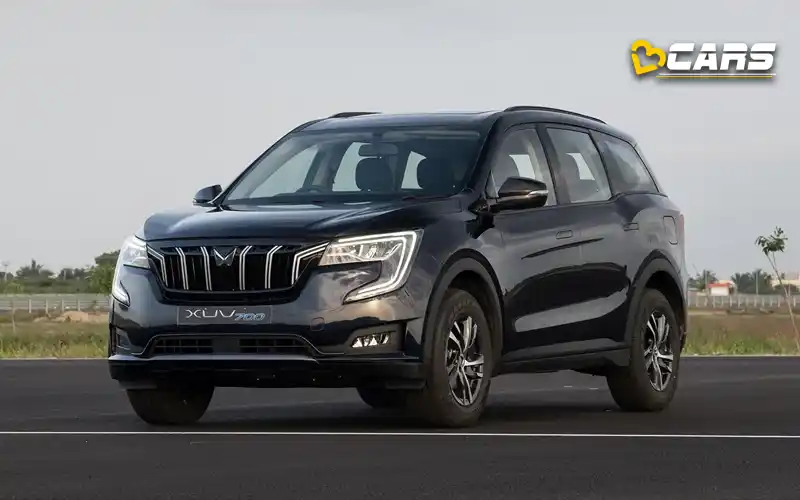 Another extremely popular car, the Mahindra XUV700 became a sensation almost instantly after Mahindra launched it. The Mahindra XUV700 is a D-segment SUV and priced quite higher at Rs. 23.24 Lakh in Mahindra's SUV fleet. The XUV700 has a 5-star Global NCAP safety rating and is worth considering for a host of upmarket features. The 4WD option is available only in the top 2 diesel variants with an automatic transmission. Some features of the XUV700 that are worth noting include a 10.24-inch touchscreen infotainment system, advanced driver assistance system (ADAS), drive modes, 3D sound and Amazon Alexa built-in.
8. Jeep Compass - Rs. 29.10 Lakh to Rs. 32.67 Lakh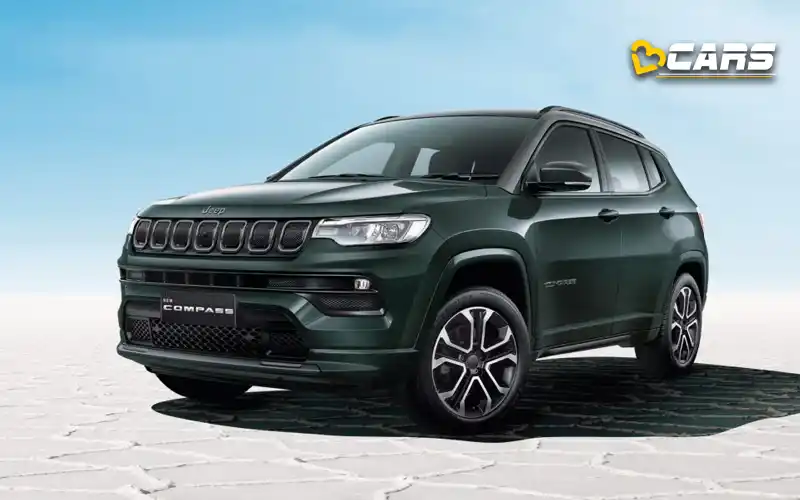 The Jeep Compass is 8th on the list with a price tag of Rs. 29.10 lakh. The Compass is a C-segment SUV and rivals cars like the Hyundai Creta and Kia Seltos. However, the Jeep Compass, unlike its rivals, offers a 4WD setup in 3 of its variants and is powered by a 2.0L turbo diesel engine. The Compass is Jeep's most affordable SUV and has top notch features along with excellent off-roading capabilities.
9. Hyundai Tucson - Rs. 34.39 Lakh To Rs. 34.54 Lakh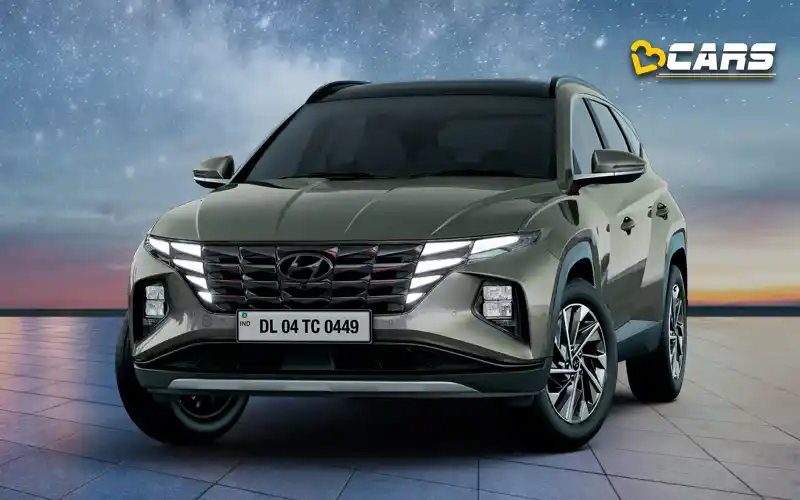 The Tuscon is Hyundai's flagship SUV in India. Hyundai offer the 4WD option only in the Tucson's top variant. The Tucson R AWD costs Rs. 34.40 lakh for the monotone paint option and Rs. 34.54 lakh for the dual tone paint option. The Tucson looks very sporty and stylish with the unique DRLs hidden in its grille. With premium features like ADAS, ventilated and heated driver seat, panoramic sunroof and a 10.25 inch touchscreen infotainment system, the Tucson is definitely a luxury SUV.
10. Jeep Meridian - Rs. 36.95 Lakh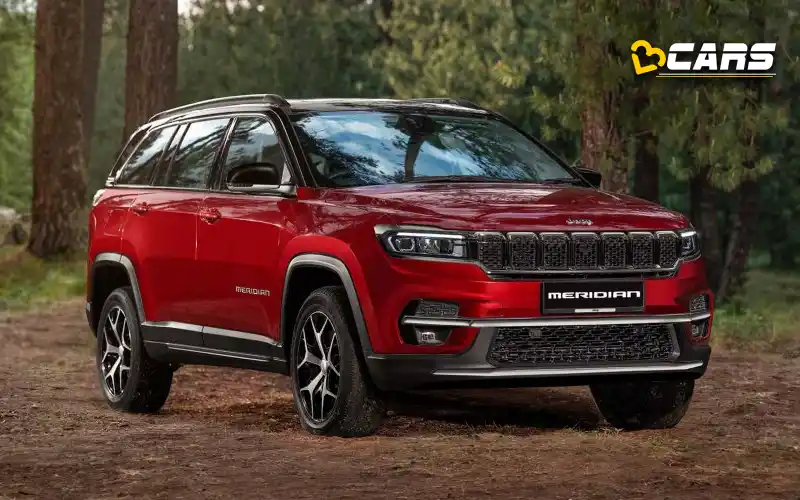 Followed by the Jeep Compass, and the last on the list, is the Jeep Meridian. Jeep offer a 4WD configuration only in the top variant of the Meridian, which is priced at Rs. 36.95 lakh. The Meridian is a 7-seater SUV and comes with a 2.0L turbo diesel engine with an automatic transmission. The Meridian has a very strong road presence and Jeep has not cut any corners regarding its comfort or safety.
Note: Check your car's fuel cost with Fuel Cost Calculator India