Will Toyota Innova Hycross Get More Affordable With A Manual Transmission Option? | V3Cars
We had a chance to interact with Toyota's top officials during the Auto Expo 2023. We wanted to know from Toyota's top representatives if they see room for a more affordable G-SLF variant of the Innova Hycross for commercial buyers. Given that fleet buyers are extremely sensitive to a vehicle's upfront and ownership costs, we believe that a manual transmission would have made it more suitable for fleet owners.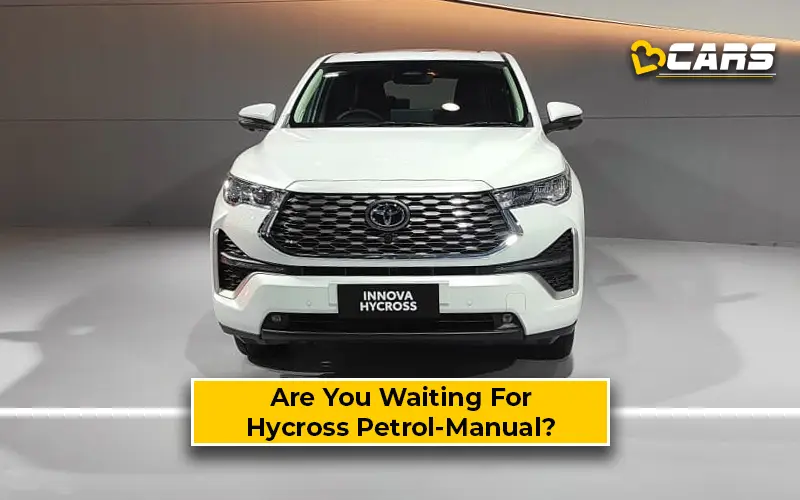 In response, Toyota officials had a 2 part answer. Firstly, they will have the older Innova Crysta with the diesel-manual transmission on sale alongside the Hycross. This option will not only satisfy buyers looking for a manual transmission in the Innova but also those who prefer a diesel engine and a time-tested body-on-frame platform.
Secondly, by not offering a manual transmission in the base variant of the Hycross, Toyota are trying to sway buyer opinion in favour of automatics. Most buyers who have driven an automatic transmission in the city will vouch for its convenience. Such a move will move perceptions and demands of the Indian car buyers towards accepting automatics as the default — even for a chauffeur-driven car.
Besides offering convenience, Toyota officials said the automatic transmission makes it safer for occupants as well as other road users. With an automatic transmission, a driver can maintain a higher level of attention for longer because of lesser physical fatigue.
Also Read: Toyota At Auto Expo 2023 - All Cars Showcased
Note: Check your Car EMI with our - Car Loan EMI Calculator
We've made huge leaps in the sales of automatic transmission cars in India since the introduction of the AMT-type automatic in the Celerio. But, there's still a perception of automatic transmission cars being only for convenience while driving in heavy traffic. While the Celerio democratised the automatic transmission, the Innova Hycross aims to normalise it; starting with car buyers having a budget of more than Rs. 20.0 lakh. Automatics could very well become the first choice for all car buyers while manual transmissions become rare options for enthusiasts.
For now, we can rule out the possibility of seeing a manual transmission in the Innova Hycross normal petrol variants.
Also Read: Innova Hycross Petrol Variants Explained - Which One To Buy
Note: Check your car's fuel cost with Fuel Cost Calculator in India