Why Hyundai Creta And Kia Seltos CNG May Not Happen | V3Cars
With fuel prices at an all time high, carmakers are now considering alternative fuels. While the electric vehicle segment is still at a nascent stage, CNG-powered cars have become popular among cost-conscious car buyers. Several carmakers are betting big on CNG fuel. Hyundai and Kia are also developing CNG bedrooms of their popular cars to cater to this segment. Both brands are likely to launch multiple CNG cars but here is why we think that the most popular ones, the Hyundai Creta and the Kia Seltos, may not get the CNG option.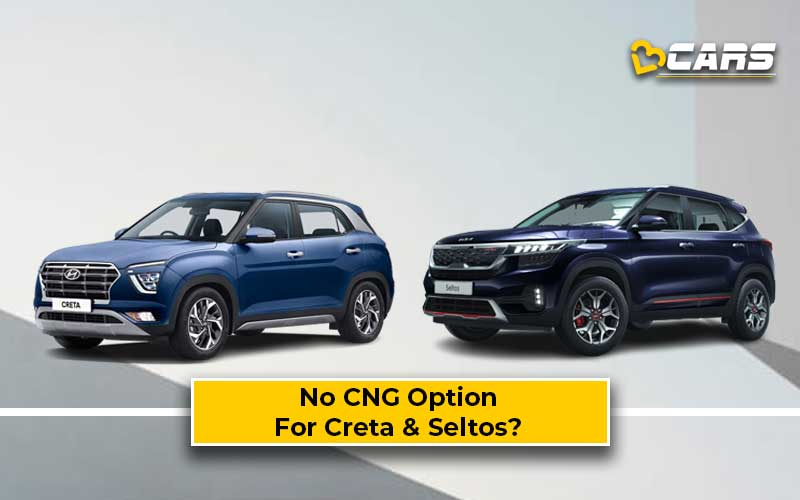 Kia have been testing CNG versions of the Sonet and Carens equipped with a 1.0L turbo petrol and 1.4L turbo petrol respectively. The Sonet's CNG's engine is likely to make its way to its Hyundai Cousin, the Venue. However, it is unlikely that Hyundai and Kia will equip the Creta and Seltos with the Carens' CNG engine. This is despite both SUVs being offered with the 1.4 turbo petrol in their top trims.
Note: Calculate your fuel cost with our - Fuel Cost Calculator in India
Offering the 1.4L CNG engine in the Creta and Seltos could drive up the prices of both SUVs significantly. It could potentially surpass the price of the diesel-equipped Creta and Seltos, therefore losing their value-for-money quotient. In addition to that, it will also eat into the boot space of both SUVs, which would be fine in a 7-seat SUV with folding seats, but not in a premium compact SUV.
Now, you might wonder why Hyundai and Kia aren't offering the Creta and Seltos CNG with the base-spec 1.5L engine. Well, the 1.5L normal petrol engine may be powerful enough for the daily commute but it could lose its poke when running on CNG, which essentially eliminates this option.
Note: Check your Car EMI with - Car Loan EMI Calculator
As for the Hyundai Alcazar, it gets a bigger 2.0L normal petrol engine and we are yet to spot a CNG test mule equipped with this engine.
Also Read: Next-gen Hyundai Verna Spied In India