2024 Harrier EV To Once Again Add 4WD To Tata's Portfolio - Auto Expo 2023
At the Auto Expo 2023, Tata announced that they are bringing the electric version of the Harrier SUV to the market in 2024. Since the departure of the previous-generation Safari, Tata haven't had a 4WD vehicle in their portfolio. It hurts Tata's brand image to not have a 4WD vehicle option when the competition is quickly ramping up efforts to earn the 'SUV' tag.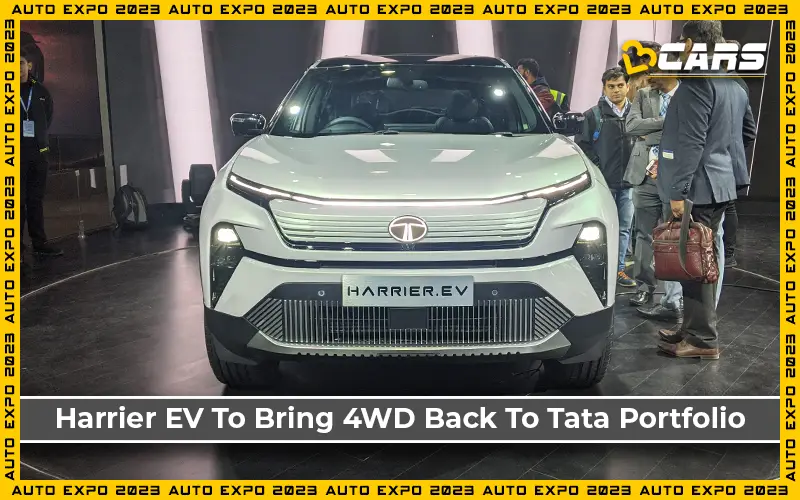 Mahindra are their prime rival with the most 4WD offerings in the market. The Scorpio-N, XUV700 and Thar establish Mahindra as the quintessential SUV maker. Maruti Suzuki have the Grand Vitara 4WD and the upcoming Jimny and Toyota have the Hyryder for off-road enthusiasts.
Also Read: Auto Expo 2023 - Tata Curvv (Blackbird) Most Likely Engine Options
Auto Expo 2023 - Tata Motors New 1.2L, 1.5L Turbo Petrol Engine
Since the new Safari uses the same monocoque platform as the Harrier, it's also a front-wheel drive vehicle. The Harrier EV will also share the platform with the regular Safari and Harrier diesel with some modifications to accommodate the battery pack and 2 electric motors. With an electric motor on each axle, the Harrier EV will have the ability to work as a front-wheel drive, rear-wheel drive or as a 4-wheel drive vehicle depending on the situation.
Because of the electric powertrain, the Harrier EV can afford to offer more flexibility than even a 4WD vehicle, which generally have a primary drive axle. But this performance won't come cheap as it could cost between Rs. 35.0 - 45.0 lakh.
Track our complete 2023 Auto Expo coverage at: Auto Expo 2023 – Latest News in Auto Show India
Note : View All Details of Auto Expo 2023 India