2019 Hyundai Venue 1.2 Petrol: Which Variant To Buy?
---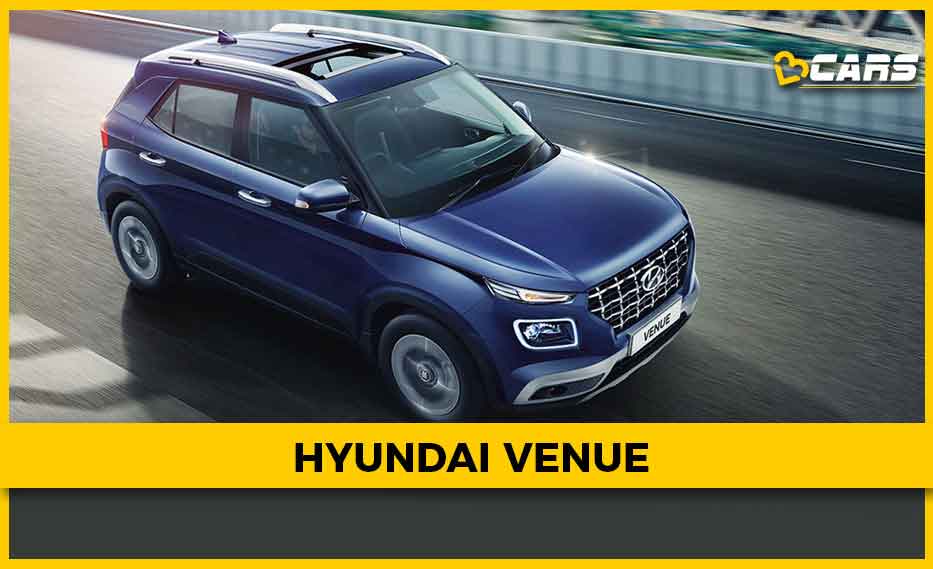 Hyundai's first sub-4m SUV in India -- Venue -- is available with three engine options, two of which are petrol engines. There's a 1.2-litre petrol engine that makes 83PS of maximum power and a 1.0-litre, turbocharged engine that makes 120PS. The 83PS engine is available in two variants -- E and S.
Update: We have a new BS6 Hyundai Venue petrol variants comparison.
Check it out here: Which Variant Of 2020 Hyundai Venue BS6 Petrol Is Best Value For Money?
Or, you can watch our Hindi video of the variants breakdown:
E is the base variant in the Venue line-up and S is the more equipped variant. If you're planning to buy the Venue and do not want to spend over Rs 7.5 lakh ex-showroom, this report will help you buy the right variant. Before we dig into the features on offer on each variant, here's a look at the specifications and the price of each of the variants.
Hyundai Venue Engine Specifications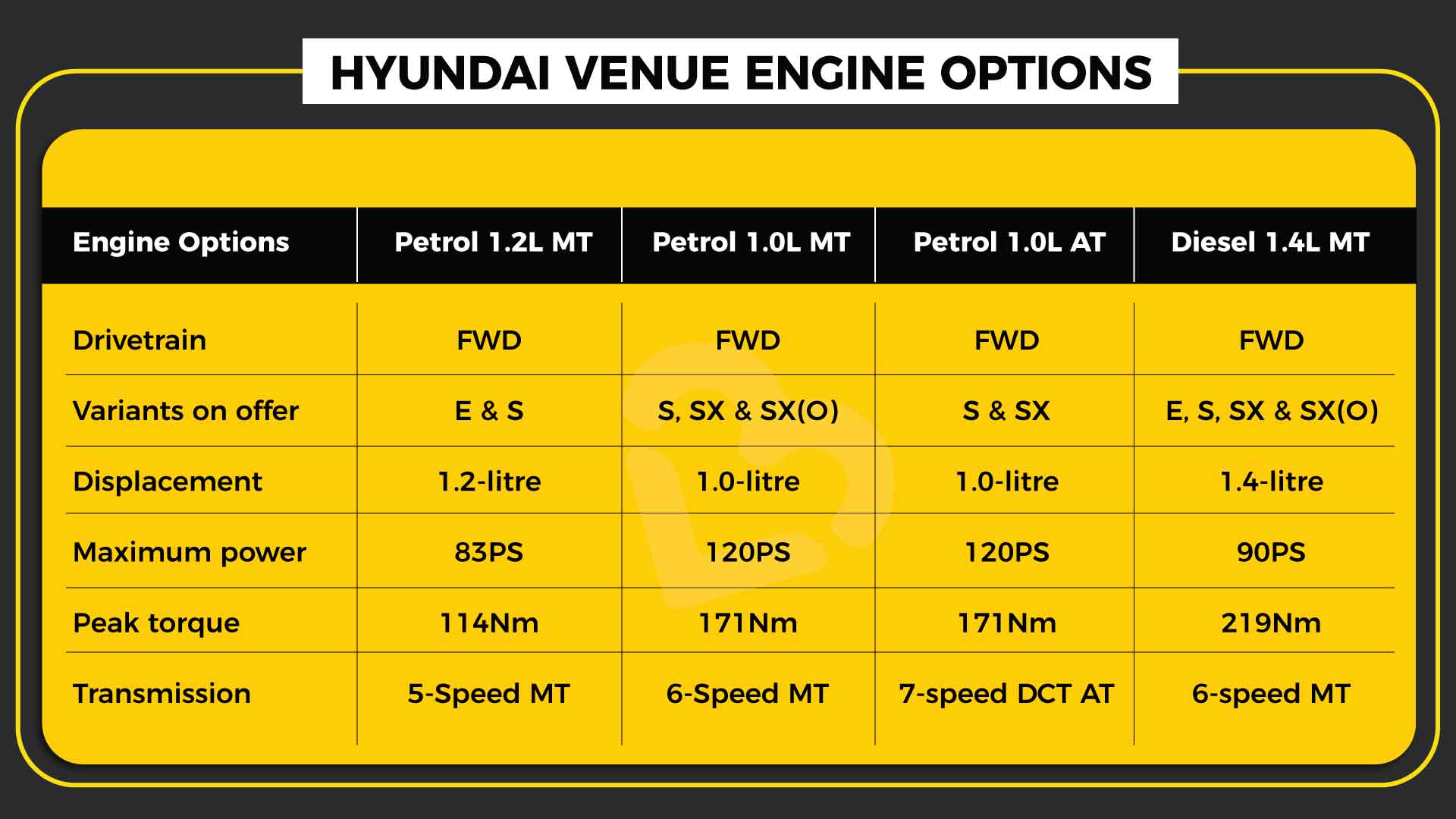 Venue Price Comparison
HYUNDAI  VENUE 1.2L | VARIANT PRICE COMPARISON

EX-SHOWROOM DELHI

E

Difference

S

₹6,50,000

₹70,000

₹7,20,000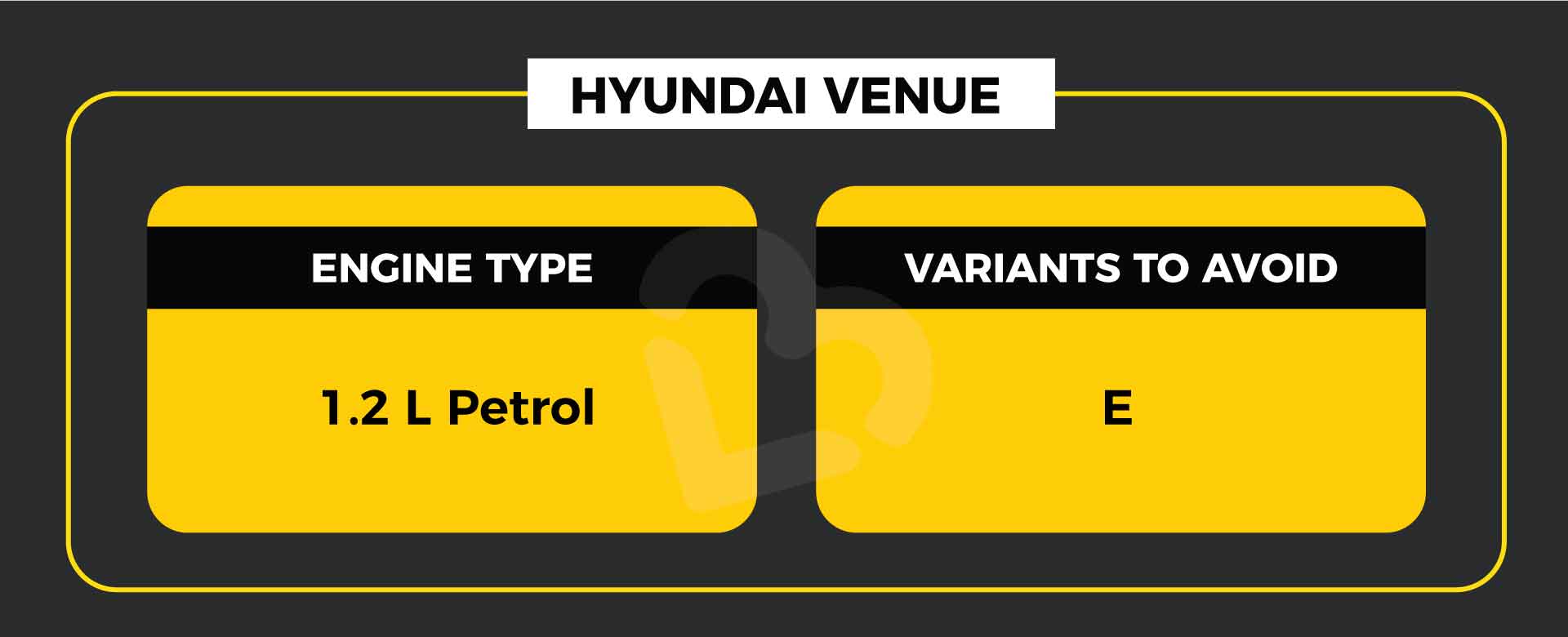 Hyundai Venue 1.2 E Features (Standard features)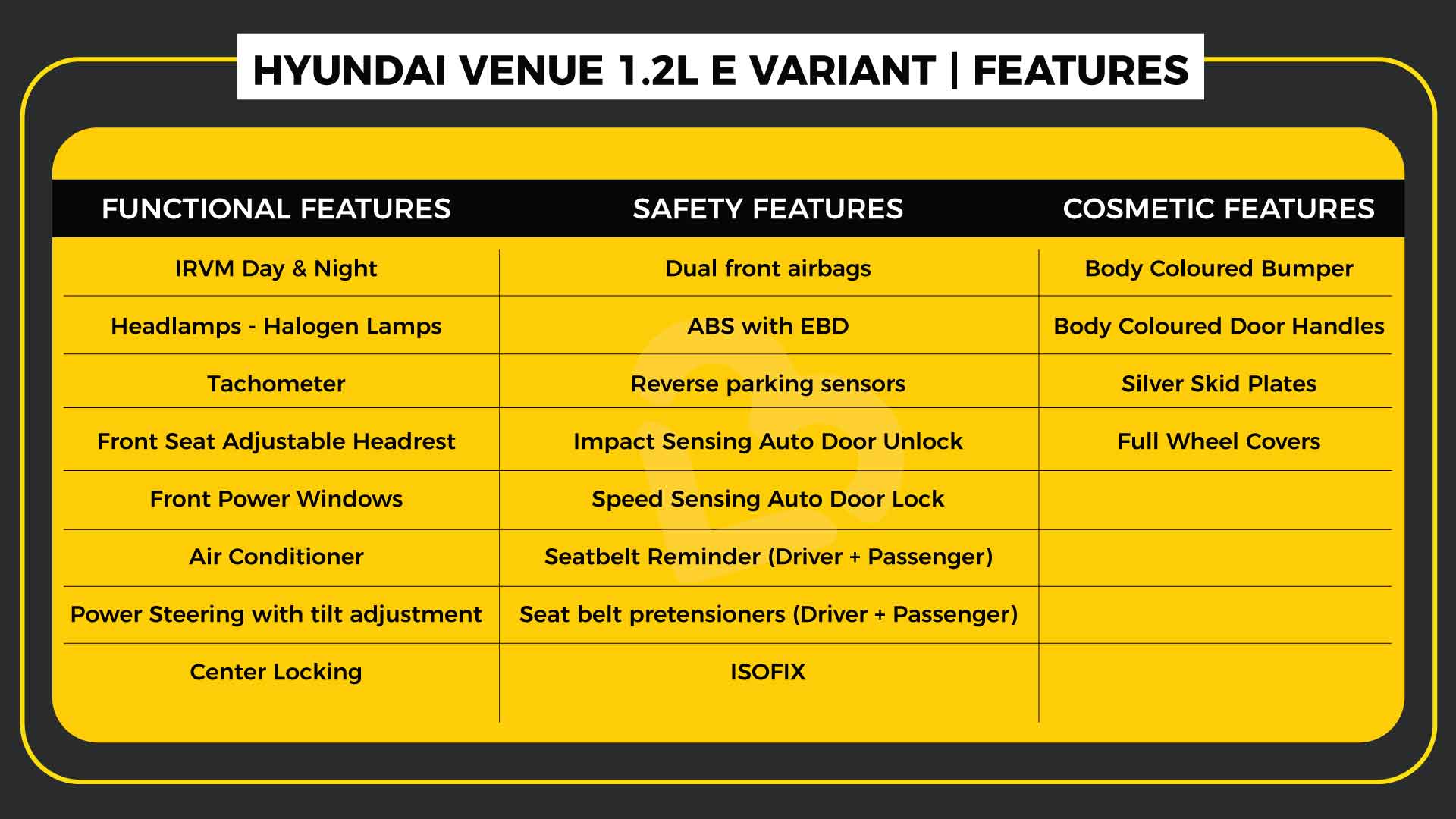 Should you buy the Venue 1.2 E? 
Take into account the features on offer on the E variant, and you will say that the Venue gets most of the basic features that you'd want in a sub-4m SUV save for rear power windows, electrically-adjustable ORVMs and an audio system. But the question is -- is this the variant to buy? Our answer would be no, because the S variant would feel like a more complete car at a slightly higher premium for what should have been on offer.
Hyundai Venue 1.2 S Features (additional features over E variant)


Should you buy the Venue 1.2 S?
The premium of Rs 70,000 for Venue S over the base Venue E looks a bit on the higher side, but not so high that we don't recommend it completely. This variant gets the features that we felt are missing on the base variant and some more. It would have made for a better deal had the price been lower by around Rs 15,000, but you don't change cars often and when you're buying one new, buy a car that doesn't feel outdated in a year or so.
The Venue's next most expensive petrol variant after the Venue 1.2 S is the Venue 1.0 S, which is priced at Rs 8.21 lakh (ex-showroom, Delhi). We'd recommend you to pick the Venue 1.2 S than buying the Venue 1.0 S since a jump of nearly one lakh rupee is not worth just for getting a more powerful engine (features are the same on both the cars). If you're actually looking for the Venue 1.0, we'll soon share another report on which variant of the Venue 1.0 should you buy.
;
Previous
Next
---
---
Related Car Comparison