2019 Honda City Vs India-Bound 2020 Honda City - Old Vs New - Whats Different?
The 2020 Honda City has been revealed for Thailand. The new model, which is the fifth generation City, is expected to come to India by mid-2020. It is bigger than the current City and also features a new engine. There's also an RS version in the line-up, making it the first City model ever to adopt the sporty RS moniker. Let's get into the details of what's new in the 2020 City compared to its predecessor.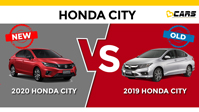 2019 Honda City Vs 2020 Honda City - Dimension Comparison
In terms of dimensions, the new 2020 Honda City is about 11cm longer than the current model and about 5cm wider as well. With respect to its dimensions, the new-gen City will become the longest and the widest car in the compact sedan segment in India compared to its current competition.
Although the new City is larger than the current model, its wheelbase is shorter by about 1cm. It is, therefore, understandable that the new model has longer overhangs. While Honda has talked about the new City being more spacious than city cars in Thailand, it remains to be seen whether the shorter-than-before wheelbase has negatively impacted the cabin space or not. That said, the new City does look longer than the current model in images.
The feeling of length is further enhanced by its low-slung body, which is about 3cm lower than the current India-spec Honda City. That's down to the ground clearance, which is also 3cm less for the new Thai-spec City. It remains to be seen whether Honda alters the ride height of the new City for India or not. We believe the model we get next year will have a higher ground clearance of about 165-170mm.
 

2019 Honda City

(India Spec)

Difference

2020 Honda City

(Thai Spec)

Length

4440mm

+ 113mm

4553mm

Width

1695mm

+ 53mm

1748mm

Height

1495mm

- 28mm

1467mm

Wheelbase

2600mm

- 11mm

2489mm

Ground Clearance

165mm

- 30mm

135mm

Fuel Tank

40 litres

-

40 litres

Boot Space

-

-

510 litres
2019 Honda City Vs 2020 Honda City - Petrol Engine Spec Comparison
The Thai-spec new-gen Honda City is powered by a new 1.0-litre, 3-cylinder turbo petrol engine that makes 122PS of maximum power. That makes it just 3PS more powerful than the 1.5-litre petrol engine, which powers the current City in India. However, this new engine might be more performance-oriented in its character compared to the 1.5-litre unit.
Honda claims a 23.8kmpl of fuel efficiency for this engine as per the Thai test cycle. If this engine comes to India, it will most likely be more frugal than the current 1.5-litre engine. The current Honda City's 1.5-litre petrol engine is rated to deliver a claimed fuel efficiency of 18.0kmpl with the automatic transmission.
Petrol Engine

2019 Honda City

(India Spec)

2020 Honda City

(Thai Spec)

Displacement

1497cc

988cc

Forced Induction

No (Normally Aspirated)

Single-Scroll Turbocharger

Cylinders

4

3

Power

119PS @ 6600rpm

122PS @ 5500rpm

Torque

145Nm @ 4600rpm

173Nm @ 2000 - 4500rpm

Transmission

5-speed Manual / CVT Automatic

CVT Automatic

Fuel Efficiency

17.4kmpl (MT) / 18.0kmpl (AT)

23.8kmpl (AT)
Engine Behaviour Compared 1.0-litre Turbo vs 1.5-litre Non-Turbo
While this 1.0-litre turbo engine doesn't look like it makes a lot of more power compared to the 1.5-litre engine. However, the way it makes its power puts it head and shoulders above the 1.5-litre engine.
Objectively speaking, the new turbo engine is expected to be much easier to drive in the city, as its strong bottom-end torque allows you to upshift sooner. It also helps you to get better fuel efficiency while putting less stress on the engine, hence, helping its longevity.
However, fans of the free-revving nature of a Honda petrol engine will be disappointed as this engine redlines at about 5700rpm. The 1.5-litre engine goes up to 6700rpm before entering the red zone. For everyday driving, the 1.0-litre turbo engine should do better, as you won't have to rev it hard to extract meaningful performance out of it.
India Engine Specs For 2020 Honda City
While Honda is yet to confirm the powertrain line-up for the new City for India, there is certainly a chance of Honda introducing the 1.0-litre turbo-petrol unit to India as well. This engine, in a lower tune or without the turbo, can serve the sub-4m Honda Amaze and Jazz. At the same time, with the turbo, it can power the WR-V too, which deserves a more powerful engine than the current 1.2-litre unit to compete in the segment. Since the engine's displacement is under 1.2-litre, the WR-V could also continue to remain in the small car tax slab with this new engine.
However, the chances of this engine coming to India are slim, at least in the near future. The new engine is likely to be more expensive than the current 1.5-litre engine, which is already localised. The City is already the most expensive car in its segment. Thus, making it costlier might not work in its favour.
So, Honda City might continue with its existing engine options - 1.5-litre petrol and 1.5-litre diesel engine. Honda Cars India will update the 1.5-litre diesel engine to meet with BS6 emission norms.
2020 Honda City Features
The Indian Honda City currently doesn't have Android Auto or Apple Carplay support, which is a pretty common feature for the class. The Thai-spec 2020 Honda City comes with a larger, 8-inch touchscreen along with Apple Carplay, but no Android Auto. We expect to see Android Auto as well in the car when it launches in India next year.
We're also happy to see the physical knobs for AC making a return with this new model. There's also LED headlights, front and rear armrest, cruise control, tilt and telescopic steering and all that we can expect from a car in its class. For India, we also hope to get a power-adjustable driver seat, dual-zone climate control, 3-point seatbelt for rear-seat middle passenger, and a knee airbag for the driver.
The new 2020 Honda City comes with a new engine in Thailand. It makes about the same power as the 1.5-litre petrol engine but offers a lot of torque for a strong low and mid-range punch. The new sedan is longer and wider than the 2019 Honda City but has a slightly shorter wheelbase. It's available in Thailand in S, V, SV and RS variants, which are priced at Rs. 13.70 lakh, Rs. 14.40 lakh, Rs. 15.72 lakh and Rs. 17.47 lakh, respectively
For the Indian market, we expect the new City to ditch the S (perhaps even V variant) and start with SV trim - the way it's now.