5 Features Only Mahindra Thar Lovers Know About The Off-Road SUV | V3Cars
The Mahindra Thar is a one of a kind vehicle in the Indian market. It not only looks rugged but also boasts multiple quirks and features you will not find in most other cars.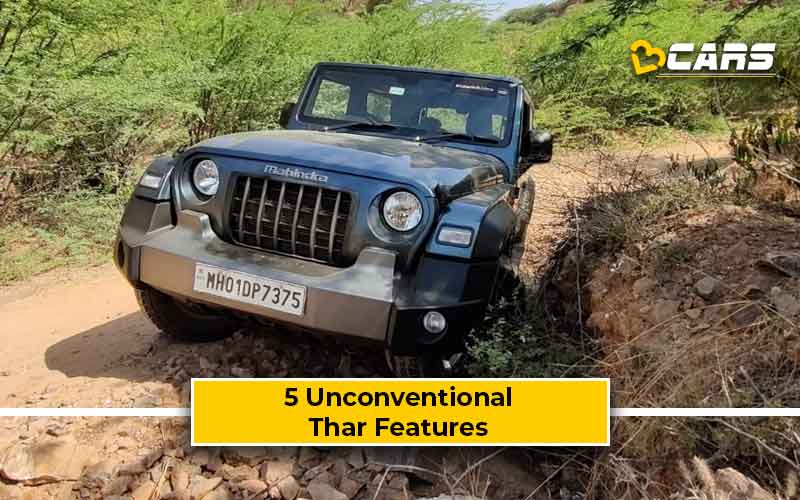 Here, we jot down 5 unconventional features and quirks of the Mahindra Thar.
Fuel Lid Via Key
In the year 2022, you would expect a car costing a shade above Rs. 18 lakhs to have a fuel lid opening on the inside. Instead, in the Mahindra Thar, you get a manual fuel lid that can only be opened via the car's keys. So stepping out of your car every time while fueling up will become a regular practice with the Thar.
Two Neutral Gears
The Mahindra Thar comes with a 4-wheel-drive drivetrain with a dedicated low range gearbox as standard. All cars – either manual or automatic – get a neutral gear. However, the Thar gets two neutral gears. One for the transmission and one for the drivetrain. If any of the two neutral gears are engaged, the Thar will not move an inch. So before calling Mahindra assistance, you should check if your Thar is out of the neutral gear(s).
Hood Latches
The Mahindra Thar gets external latches for the bonnet, reminiscent of the original Jeep. However, Mahindra have added an internal latch as well for extra security. To open the bonnet of the Thar, one has to pull a lever below the dashboard, like in conventional cars. Once the internal latch is pulled, the latches are released to open the bonnet.
On/Off Feature For Day-time Running Lamps (DRLs)
The LED DRLs in the Mahindra Thar can be turned on or off through the infotainment system. Owners can choose whether to keep the DRLs on or off, depending on their preferences or usage.
Water Drainage And Washable Interiors
The Mahindra Thar comes with drain plugs below the carpets. While crossing river beds or waterlogged roads, you don't have to worry about water entering the cabin. In addition to that, the Thar also gets washable interiors. The touchscreen and other controls are water repellant and can withstand small spillage of water.
Also read: April 2022 - Mahindra Thar Petrol, Diesel Variants Explained - Which One To Buy?