7 Features Tata Punch Gets But Maruti Suzuki Fronx Doesn't | V3Cars
The Maruti Suzuki Fronx is the latest entrant in the B2-segment SUV space. It sits below the Maruti Suzuki Brezza and rivals the Tata Punch, which is currently the best seller in the B1-segment SUV space.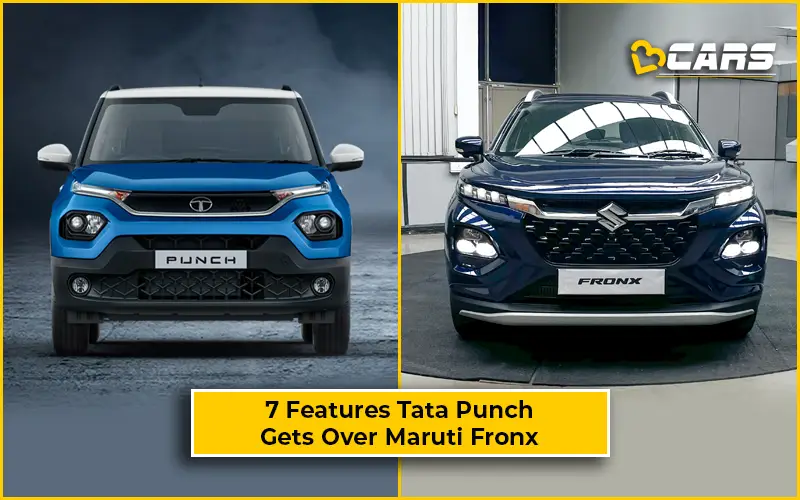 In this article, we share the features that are missing in the Fronx but available in the Tata Punch.
1. Cornering Lamps
The Punch comes with cornering lamps that are incorporated within the fog lamps. The Fronx, on the other hand, doesn't get cornering lamps or fog lamps. Hence, the Punch will light up the road better than the Fronx, especially while turning or cornering.
2. Automatic Wipers
The Punch offers automatic headlamps and wipers in its top variants. While the new Fronx gets automatic LED headlights, it lacks automatic or rain-sensing wipers.
3. Drive Modes
The Punch offers eco and city drive modes that alter the engine response to improve either efficiency or performance. The Fronx, on the other hand, offers an L mode with the automatic transmission that comes in handy while lugging heavy items or driving up a steep hill or road.
4. Rear Armrest
The Punch offers a rear armrest to improve comfort for the rear passengers. The Fronx, on the other hand, doesn't offer a rear armrest.
5. Puddle Lamps
The top variant of the Punch also offers puddle lamps mounted on the ORVMs. They light up the car's surroundings to help you watch your step while getting in and out. The Fronx lacks this feature even in its top variants.
6. Cooled Glove Box
The Tata Punch offers a cooled glove box that keeps your beverages cool. The Fronx, on the other hand, doesn't offer a cooled glove box. A cooled glove box helps retain the temperature of your cool drinks on the move.
7. LCD Display
The top variant of the Tata Punch offers a semi-digital instrument cluster that incorporates a 7-inch full colour LCD display. The Fronx, on the other hand, offers a conventional twin dial setup with a colour muli-information display (MID) in the middle.
Also Read: 11 Features Maruti Suzuki Fronx Gets But Tata Punch Doesn't