August 2023 Tata Car Sales Analysis - YoY, MoM Change, 6-Month Trend | V3Cars
In this August 2023 Tata car sales analysis article, we'll look at the car sales of Tata Motors for the last month. We'll also compare the YoY and MoM change to find out which Tata cars' sales improved and which ones declined. Lastly, the table with monthly sales for the last 6 months will give you an idea about the 6-month sales trend of all Tata cars.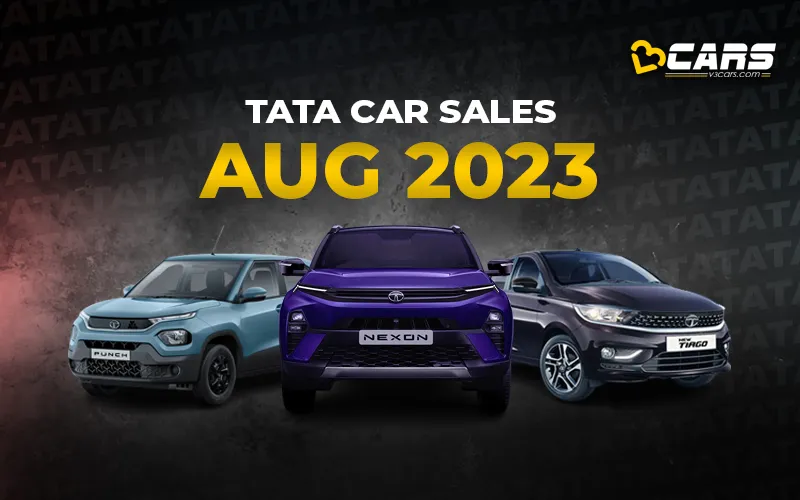 August 2023 - Tata Car Sales Figures - YoY Change
Over half the cars in Tata's portfolio reported a decline in sales numbers in August 2023 compared to August 2022.
Speaking of losers, Nexon and Safari were at the bottom with a decline of 46.64% and 44.01%, respectively, in the YoY comparison analysis for August 2023. They were followed by the Harrier D1-SUV with a 34.94% drop in sales numbers.
The other loser was the Tigor, which reported a decline of 15.46%.
The Altroz was the top gainer, with about 57.51% YoY growth, which was followed by the Tiago, with a 31.27% growth, and Punch, with a 21% YoY rise.
The Punch is the only car in Tata's portfolio with a 5-figure monthly sales figure in August.
August 2023 - Tata Car Sales Figures - MoM Change
Sales of Nexon and Safari dropped by 35% and 39.60% respectively, even in the MoM comparison analysis.
The Punch SUV reported an impressive growth of 21% and was the top MoM gainer in the August MoM comparison analysis for Tata Motors.
The Punch was followed by the Tigor, whose sales grew by 9.80%.
The other cars and their MoM gains are:

Tiago (5.36%)
Altroz (0.10%)
Note: Check your Car EMI with our - Car EMI Calculator
Tata Motors — 6-Month Sales Trend (March 2023 - August 2023)
You can use our Fuel Cost Calculator to see how much any petrol, diesel or CNG car will cost to run based on the latest fuel price in your city.