Auto Expo 2020: Maruti Suzuki Reveals Auto Expo Lineup
Maruti Suzuki just confirmed that its Auto Expo 2020 lineup will include 17 vehicles. The list includes new Vitara Brezza, new Ignis, Swift petrol hybrid and Futuro-E electric SUV concept. In addition, the Celerio, S-Presso, WagonR, Swift, Dzire, Ciaz S, Baleno, Ertiga, S-Cross and XL6 will also be present at the Maruti Suzuki's pavilion.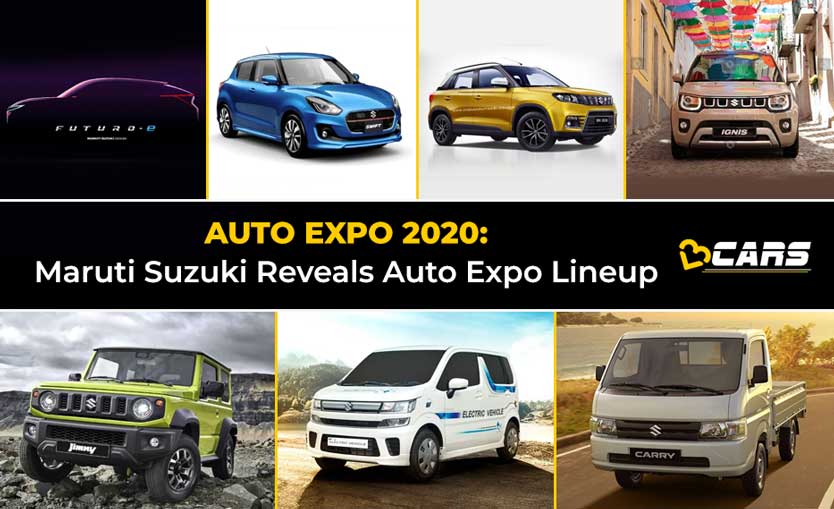 Futuro-E Electric Coupe SUV
This is expected to be a big SUV with its size comparable to the Hyundai Kona and MG ZS. The electric SUV could offer 200-300km range options if it goes on sale in a couple of years time. It'll be the most affordable coupe-style SUV this side of Rs. 50.0 lakh not just with an electric powertrain but all powertrain. So, this will offer a unique style option for SUV buyers, who are currently limited to options that don't stand out all that much.
Swift Petrol Hybrid - Japan Spec
The Swift petrol hybrid comes with only a CVT automatic and delivers a very diesel-like 27.4kmpl of fuel efficiency as per the Japanese test cycle. Its 1.2-litre engine alone is capable of churning out 91PS of power at 6000rpm and 118Nm of torque at 4400rpm. The electric motor further adds a modest 3.1PS of power at 1000rpm but a substantial 50Nm of torque at 100rpm. Thus, it helps the car pull much better at lower revs and it charges the batteries when the car is driving at higher RPMs.
New 2020 Vitara Brezza Petrol
The 2020 Vitara Brezza will come with a petrol engine as Maruti Suzuki has started discontinuing diesel engines from its lineup ahead of the BS6 deadline. The Brezza is likely to include a 1.5-litre petrol engine, which already powers the Ertiga and Ciaz. This engine is available with mild-hybrid tech and makes 105PS at 6000rpm and 138Nm of torque at 4400rpm. This engine comes with a 5-speed manual and a 4-speed torque converter automatic transmission.
Besides a new design, for 2020, the new Vitara Brezza could also include more features like a sunroof and LED projector headlamps.
New 2020 Ignis
The Ignis is also in for a facelift and it'll get a grille similar to that of the S-Presso to become instantly recognizable as a Maruti Suzuki SUV family member. The feature list could get shuffled around to make the lower variants like Zeta and Delta better value options. Without the LED DRLs and projector headlamps, all but the Alpha variant look barely palatable. However, without auto AC controls and touchscreen infotainment, the dashboard of the Zeta, Delta and Sigma variants looks downright ugly.
There's no engine or transmission update expected for the Ignis. It'll continue with a 1.2-litre normal petrol engine with the option of either a 5-speed manual and a 5-speed AMT automatic.
Other Cars
Besides these, the existing lineup of cars including Celerio, S-Presso, WagonR, Swift, Dzire, Baleno, Ertiga, Ciaz S, S-Cross and XL6 will also be present at the Maruti's Auto Expo 2020 pavilion.
That still leaves us with 3 cars that Maruti Suzuki hasn't declared yet. Let's guess what these cars could be:
Jimny
The Jimny has created a lot of buzz in India when it launched in the international markets. Being an off-roader with 4-wheel drive and low range, it certainly is a niche car with few takers. But, it offers a unique proposition. Currently, you have 2 categories of cars under Rs. 20.0 lakh - one that looks like SUV but can't go off-road and one that's so good off-road that it sucks on-road. The Jimny's off-road prowess may not match that of Mahindra Thar or Force Gurkha but it does match the refinement and on-road behaviour of most soft-roaders. It's the SUV you can live with every day and one that you can take off-road too. A car like that doesn't exist in India
WagonR Electric
The camouflaged WagonR with no tailpipe that we've been seeing testing on Gurugram roads for over a year could come to the Auto Expo as a surprise.
Carry
Maruti Suzuki's attempt at making a 2-cylinder 0.8-litre diesel engine work in the passenger car segment failed big time. But this engine succeeded in the commercial segment with the Carry, where refinement (or the lack of it) isn't a concern for potential buyers. It's only natural to expect Maruti Suzuki to showcase its first commercial pickup at the Auto Expo 2020.