B2-Segment SUVs Quarterly Car Sales Analysis - YoY, QoQ Change, Q4 2022 | V3Cars
In this Q4 2022 B2-segment SUVs quarterly cars sales analysis article, we'll look at the car sales of B2-segment SUVs for the previous year. We'll also compare the YoY and QoQ change to find out which B2-segment SUVs cars' sales improved and which ones declined.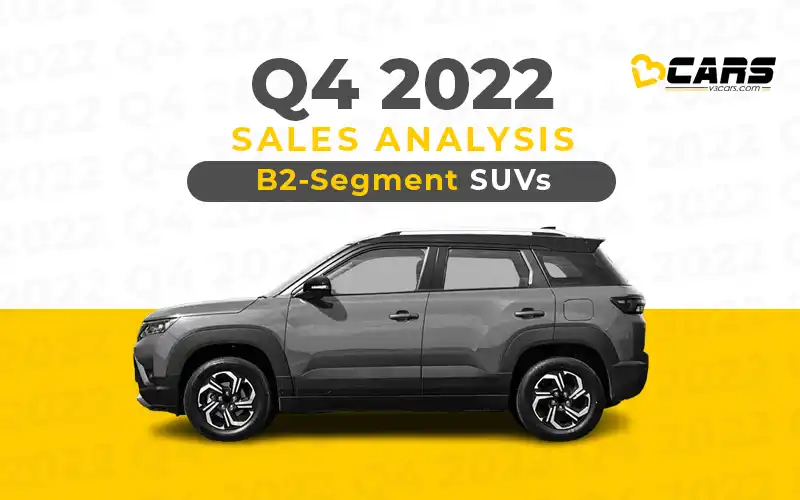 Q4 2022 - B2-Segment SUVs Quarterly Car Sales Figures - YoY Change
Among B2-segment SUVs, the Nexon took the top spot in the segment in terms of sales in Q4 2022 and formed a considerable lead of over 9,000 units in Q4 2022
Although WR-V saw the best growth in the comparison, it still remains the least selling car in the B2-segment SUV category
Mahindra Bolero was the second biggest gainer in Q4 2022 YoY comparison, with a growth of 40% compared to Q4 2021
Nissan Magnite was the only clear YoY losers in the Q4 of 2022 with 13% decline in sales numbers
Although Hyundai Venue saw a decline of 0.83% in Q4, we can consider its sales consistent as it sold only 238 unit less in Q4 2022, where it sold much over 28,000 units in Q4 of 2022 and 2021
The other car that saw a loss in numbers in Q4 of 2022 was Toyota's Urban Cruiser which has been discontinued by Toyota
Q4 2022 - B2-Segment SUVs Quarterly Car Sales Figures - QoQ Change
Tata Nexon was the top-selling car in the category, despite a decline of nearly 5% Q4 2022, registering over 41,000 dispatches
Most cars in the category saw a decline in dispatches, with Magnite topping the losers chart with over 26% decline over the month of October
Magnite was followed by Brezza, with 20% decline in dispatches and Venue with 17% decline in dispatches in the Q4 over Q3 of 2022
The only gainers in the QoQ comparison analysis were Citroen C3 with 6.16% and Mahindra XUV300 with 4.26% growth
B2-Segment SUVs — Quarterly Sales Trend (Q1 2022 - Q4 2022)
Note: Check your Car EMI with our - Car EMI Calculator
You can use our Fuel Cost Calculator to see how much any petrol, diesel or CNG car will cost to run based on the latest fuel price in your city.