Citroen C5 Aircross To Get 3% Pricier From Jan 1
Price hikes continue in the Indian car market. After Maruti Suzuki, Audi, and a few other carmakers, Citroen are joining in on the price hike phenomenon. The French carmaker will increase the prices of the C5 Aircross by 3% from January 1, 2022. This will make the SUV dearer by about Rs. 1.0 lakh come the new year.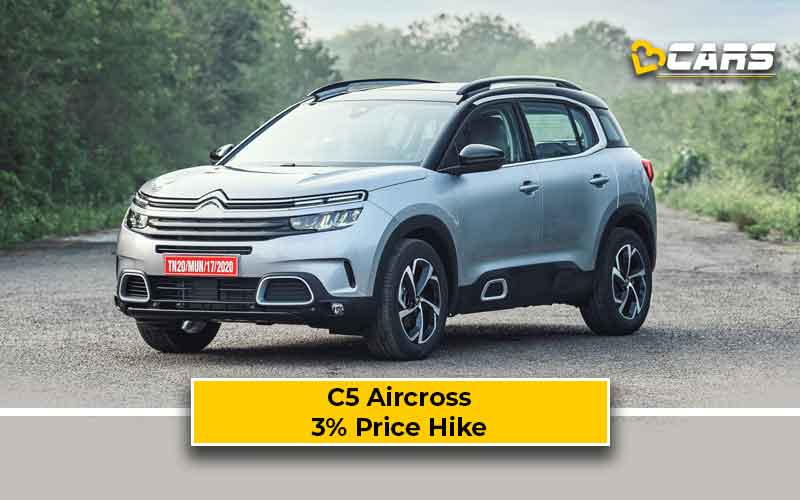 Here's an estimated price increase for the C5 Aircross variants:
Also read: Maruti Suzuki Price Hike For 2022
The C5 Aircross is already among the costliest SUV in its segment. For this upcoming price hike, Citroen blame the increase in commodity prices and international freight costs or the transportation expenses.
Also read: Audi Price Hike For 2022
Other factors, which are giving carmakers an excuse to increase the car prices are:
Global pandemic

Semiconductor chip shortage

Supply chain issues and higher costs

Increase in costs of raw material

A drastic increase in demand

Limited production capacity
For December month, Citroen are offering their customers some benefits like insurance at Re. 1, a complimentary smart care package that includes free minor repairing for 1 year, and EMI options starting from Rs 33,333 per month.
Citroen C5 Aircross competes with Jeep Compass, Hyundai Tucson and Volkswagen Tiguan, which was launched yesterday.
Also read: 2022 Volkswagen Tiguan launched At Rs. 32.0 Lakh