Hyundai Promote Sustainability, Technology And Innovation Through The 'Beyond Mobility 2.0' Campaign | V3Cars
Hyundai Motor India are back with their Beyond Mobility campaign to spotlight their effort towards sustainability, innovation and developing intelligent technology. The Beyond Mobility 2.0 campaign focuses on developing cars that are sustainable and future-ready. Let's talk more about the campaign and its initiatives.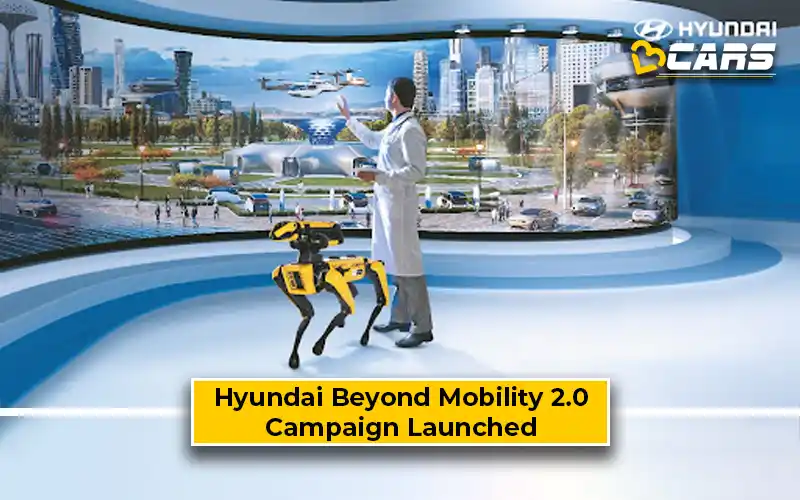 Sustainability
Hyundai Motor India are always at the forefront in terms of sustainability. Hyundai's manufacturing plant in Chennai runs on 89% renewable energy, but they aim to be completely self-sufficient in terms of their energy needs. Hyundai will make this possible by installing a 10MW solar power plant and harnessing up to 35,000 tons of energy from their 3 rain water harvesting ponds. They plan to achieve the RE100 goal of 100% renewable energy by the year 2025.
The Ioniq 5 EV is one of the cleanest cars by the carmaker. The electric vehicle has eco-processed leather seats, plant-based material for headlining and carpets and flower-based paints. Hyundai have not limited their sustainability initiatives to their manufacturing plants but also encourage the same across their dealership network. The Dry Wash program and using LED lights in their cars is a step in the same direction.
Note: Check your Car EMI with our - Car EMI Calculator
Technology
Hyundai have always offered class-leading technology in their cars such as the new SmartSense level-2 ADAS technology that provides a convenient and safe driving experience.
The carmaker also plans to launch the Ioniq 5 EV in India soon. Hyundai's new offering is developed on the BEV (Battery Electric Vehicle) E-GMP (Electric Global Modular Platform). This platform offers features like fast charging, V2L (Vehicle to load) and improved driving range. The Kia EV6 is also developed on the same platform.
Innovation
Hyundai have a long list when it comes to their innovation initiatives. The V2L (Vehicle-to-Load) technology that is offered in the Ioniq 5 EV is a prime example. It enables you to charge your appliances on-the-go or even power your home when stationary.
Hyundai are also developing their new PBV (Purpose Built Vehicle) concept. The PBV is based on AI (Artificial Intelligence) and optimal routing. It offers a fully autonomous driving function that has a multitude of applications that could range from a public shuttle to something as small as a skateboard.
Not just the ground, but Hyundai are also aiming for the skies. In collaboration with Uber, Hyundai under the UAM (Urban Air Mobility) program is working to develop PAVs (Personal Air Vehicles). This is an effort to make urban transportation fast and convenient.
Apart from vehicles, Hyundai are also active in the robotics realm. Hyundai's Spot is a 4-legged walking robot that can navigate different terrains seamlessly and allows you to automate routine inspection tasks and capture accurate data.
Note: Check your car's fuel cost with Fuel Cost Calculator India
Hyundai aim to bring about a revolution in the automobile, robotics and urban transportation industries. Their vision towards sustainability, innovation and intelligent technology will benefit them as well as bring about a change in the way people travel.