Hyundai Could Acquire GM Talegaon Plant — Term Sheet Signed | V3Cars
Hyundai have revealed their plans to acquire General Motors' (GM) Talegaon manufacturing plant. Hyundai have already signed the term sheet ahead of a possible acquisition. Read on to know the possible benefits of the proposed acquisition.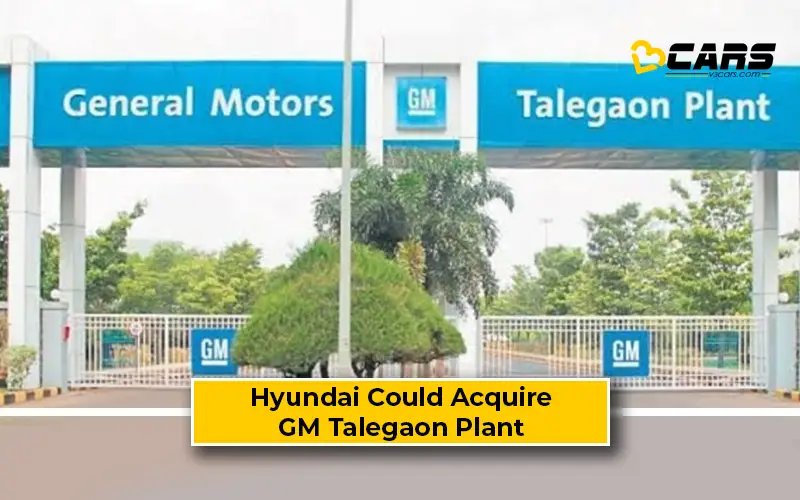 Hyundai Likely To Take Over GM Talegaon Manufacturing Plant
The term sheet signed by Hyundai covers the potential acquisition of land, buildings and certain machinery and equipment for vehicle manufacturing situated at the GM's manufacturing plant in Talegaon near Pune. General Motors India (GMI) pulled the plug on their sub-brand – Chevrolet – back in 2020. Since then, the Talegaon manufacturing plant is lying idle.
Note: Check out the list of Electric Cars in India
China's largest SUV maker – Haval – were in talks with GM to acquire the Talegaon manufacturing plant but the deal was called off after Haval pulled out their investment in India. Haval's move has opened the door for Hyundai to acquire the Talegaon manufacturing facility and we expect more details regarding the take over to roll out soon.
Benefits Of Hyundai's Likely Takeover Of GM's Talegaon Plant
Currently, Hyundai have 2 manufacturing plants in Tamil Nadu, at Irungattukottai and Sriperumbudur. While both manufacturing plants are working at optimum manufacturing capacity, Hyundai may require more production capacity for their future EV plans for India. Hyundai have pledged to launch 6 electric vehicles in India by 2028 with an investment of Rs. 4,000 crores. Hence, it is safe to assume that Hyundai could make use of the GM Talegaon plant for electric vehicle manufacturing and exports as well.
Note: Check your car's fuel cost with Fuel Cost Calculator India
The release shared by Hyundai Motor India reads, "The proposed acquisition is subject to the signing of the 'Definitive Asset Purchase Agreement' and fulfillment of conditions precedent and receipt of regulatory approvals from relevant Government Authorities and all the stakeholders related to the acquisition."
At the height of GM's operations in India, the 300 acre Talegaon manufacturing facility was equipped to produce 1.65 lakh vehicles and 1.60 lakh engines annually. Another brand that has shut its manufacturing operations in India in the last few years are Ford and their plant has been acquired by Tata Motors for EV manufacturing.
Also Read: Tata To Buy Ford's Manufacturing Facility In Gujarat