Hyundai And Shell Join Hands To Setup EV Chargers | V3Cars
Hyundai India have signed a memorandum of agreement with Shell India Markets Private Limited to set up EV chargers across 36 EV dealerships. Read on to know more details about Hyundai India's EV infrastructure expansion plans.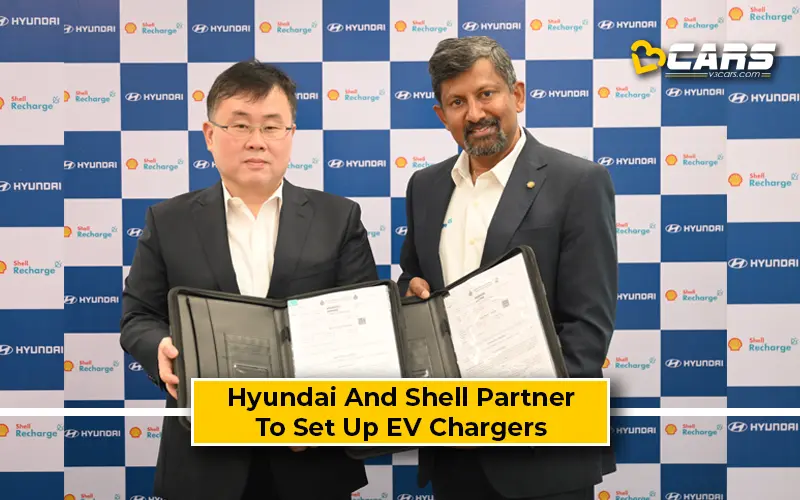 Hyundai To Setup More Charging Stations
Under the agreement, Shell India will set up 60kW DC fast charging stations across 36 Hyundai dealerships. Furthermore, Shell will also consider installing 120kW ultra fast DC charging stations at some dealerships in place of 60kW DC fast chargers, if found feasible.
Note: Check out the list of Electric Cars in India
Currently, Hyundai have 72 EV dealerships in India with supporting electric vehicle charging stations. With the introduction of 36 new EV dealerships, Hyundai aim to expand the reach of their electric vehicles across the country by tapping into new locations.
Recently, Hyundai also laid out their 10-year roadmap for the Indian market, which consists of an investment of up to Rs. 20,000 crore in Tamil Nadu. Over the course of the next 5 year roadmap, Hyundai promise to set up over 100 charging stations across the country, including ultra fast dual chargers and DC fast chargers.
Also Read: Hyundai To Boost EV Adoption And Vehicle Manufacturing With Rs. 20,000 Crore Investment
Commenting on the announcement, Mr. Unsoo Kim, MD & CEO, Hyundai Motor India, said, "As a customer centric organization, we are constantly striving to enhance customer convenience and pursue strategic partnerships that would support the government's vision of clean mobility. We are glad to announce our partnership with Shell India to further expand Hyundai's EV ecosystem in India and enhance our BEV charging network. Such strategic partnerships are fundamental in accelerating the adoption of Electric Vehicles by customers to achieve the national goal of carbon neutrality. This partnership will power-up the nations' electric mobility mission by offering end-to-end EV charging infrastructure at HMIL Dealerships."
Note: Check your car's fuel cost with Fuel Cost Calculator India