June 2023 Toyota Car Sales Analysis - YoY, MoM Change, 6-Month Trend | V3Cars
In this June 2023 Toyota car sales analysis article, we'll look at the car sales of Toyota for the previous month. We'll also compare the YoY and MoM change to find out which Toyota cars' sales improved and which ones declined. Lastly, the table with monthly sales for the last 6 months will give you an idea about the 6-month sales trend of all Toyota cars.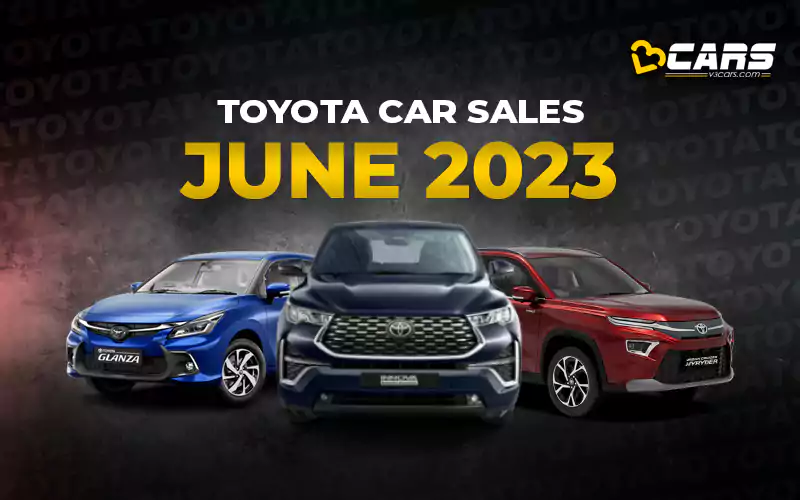 June 2023 - Toyota Car Sales Figures - YoY Change
Urban Cruiser dispatches declined over the last few months and in November for the first time, Toyota dispatched zero units of B2-segment SUV. It was discontinued by the carmaker soon after.
Among the mass-market offerings from the carmaker, the Glanza was the top YoY gainer, with a growth of 207.09% in the YoY comparison analysis.
Innova sisters reported a growth of 23% in June YoY comparison analysis, whereas Fortuner SUV reported a 1.5% YoY drop in June.
Speaking of low-volume Toyotas, the Hilux saw an unusual YoY growth of 1771% in June 2023 comparison, followed by Camry premium sedan, which saw over 100% growth in sales numbers.
Vellfire luxury MPV dispatches dropped to 0 in June 2023 from 48 to June 2022.
Also read: Toyota Rumion MPV Based On Maruti Ertiga Likely To Launch In September | V3Cars
June 2023 - Toyota Car Sales Figures - MoM Change
Most mass-market cars from Toyota saw a growth in MoM sales comparison for June 2023, with the exception of the Glanza hatchback and the Urban Cruiser Hyryder SUV.
Glanza reported the worst MoM drop with a 33% decline in June over May 2023 and was followed by Hyryder with an 8.71% MoM drop.
The Innova sisters witnessed an MoM sales growth of about 7.52% and was the top gainer amongst the high-volume cars, whereas the Camry reported a 30% growth in MoM comparison analysis and was the top-gainer for the low-volume cars.
Note: Check your Car EMI with our - Car Loan EMI Calculator
Toyota — 6-Month Sales Trend (Jan 2023 - June 2023)
You can use our Fuel Cost Calculator to see how much any petrol, diesel or CNG car will cost to run based on the latest fuel price in your city.