Kia EV9 Electric SUV Concept Unveiled
Kia recently unveiled their EV9 electric SUV concept at the LA Auto Show 2021. This concept is likely to go on sale in 2024.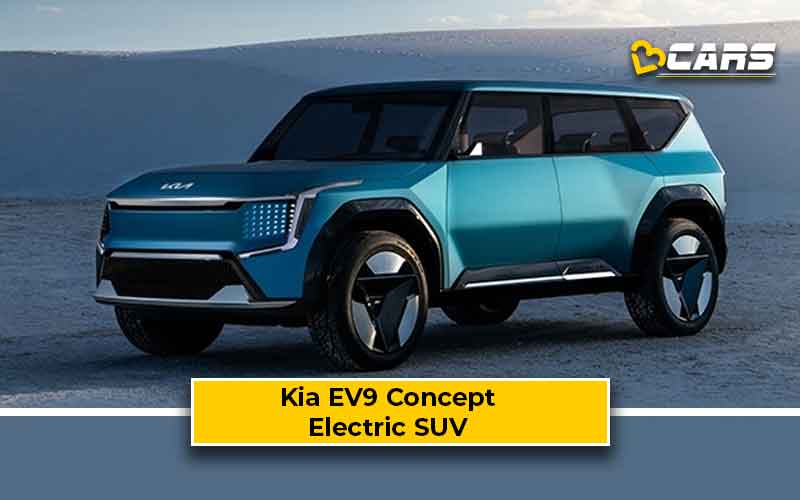 The concept is based on the E-GMP platform, which also underpins the EV6, Hyundai Ioniq 5 and the Hyundai Seven concept. This concept measures 4930mm long, 2055mm wide and 1790mm high. The wheelbase is 3100mm which is 100mm less than 7's but 200mm more than Telluride's 2900mm wheelbase, which is Kia's flagship 3-row SUV.
The boxy silhouette of the SUV is similar to Telluride's. It has an upright stance and a flat roof. The front gets a nearly-identical design to maintain the brand resemblance. The hood vent duct area is used for a solar panel that can help as an alternative source for charging. The DRL are slim and vertical. The front also gets hidden LED star-like lights. The alloy wheels have a geometrical design giving it a futuristic look. The roof rails are also retractable that help in aerodynamics. The car gets coach doors or suicide doors similar to Hyundai SEVEN. It also gets cameras that work as ORVMs. The rear is minimal with vertical LED taillights and a Kia logo.
It gets a lounge-like interior similar to Seven. The dashboard features a 27-inch HD touchscreen that can control media, AC and comfort features.
The steering wheel is retractable similar to Seven, which can be retracted to take manual control or remain hidden in autonomous mode. The interior gets 3 sitting modes. A default 'Active' mode when the vehicle is moving and Pause and Enjoy, which can be switched on to experience a first-class lounge when the SUV is not moving.
Kia also aims at sustainability and keeping that in mind, the concept is made up of recyclable material. Kia claim that the EV9 will have a driving range of 300mi or 483km. Its battery can charge from a DC fast charger with up to 350kW and juice up from 10 to 80% in 20 minutes.
You can know more about their EV launch schedule here:
Hyundai And Kia Electric Car (EV) Launch Timeline