Mahindra Thar 4WD 5-Door Expected Price With Logic | V3Cars
In this article, we'll try to estimate the expected ex-showroom price of the upcoming Mahindra Thar off-roader with 5-door layout and a 4-wheel drivetrain. We'll also explain the logic behind our assumptions and calculations to give you a better understanding of how manufacturers approach the pricing of a product.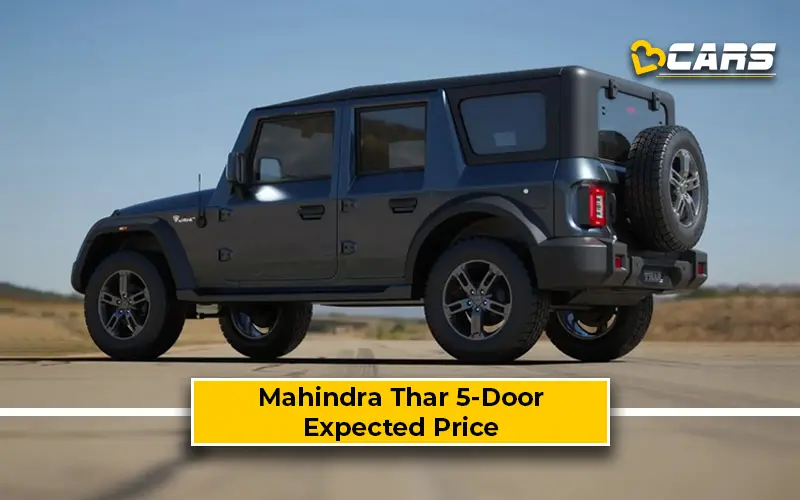 The details about the Thar 5-door are still not out but there's little left to speculate about it. The Thar 5-door will most likely get the same powertrain and transmission options as the Thar 3-door with 4-wheel drive. The most notable difference will remain its 2 extra doors along either side. For this convenience, the carmaker may charge about Rs. 50,000 to Rs. 70,000 more. This price increase will not only include the extra doors but also 2% of additional tax.
Also Read: Mahindra Thar 2WD More Details Emerge — Official Pictures
Note: List of Upcoming Mahindra Cars
The extra tax will add to the ex-showroom price because of its length, which will shoot past the 4.0 metre mark. Besides the easier ingress-egress for rear-seat occupants, the Thar 5-door will also offer a slightly better road presence because of its length. So, all things considered, a Rs. 50,000 to Rs. 70,000 price hike seems reasonable for the Thar 5-door over the Thar 3-door 4WD variants.
Here are the current ex-showroom prices of the Mahindra Thar 3-door 4WD:
We don't expect the Thar 5-door to come in all variants. We believe that Mahindra may reserve the 5-door for the LX variant. Here are the expected prices of the Thar 5-door:
Also Read: 2023 Auto Expo: SUVs You Can Expect To See
Note: Check your car's fuel cost with Fuel Cost Calculator in India