May 2022 Car Sales Analysis - 20 Top-Selling Cars | V3Cars
In this May 2022 cars sales analysis article, we'll look at the YoY and MoM change for the 20 top-selling cars of May 2022. Based on the data, we'll also share our observations and possible reasons for big improvement or massive decline where applicable.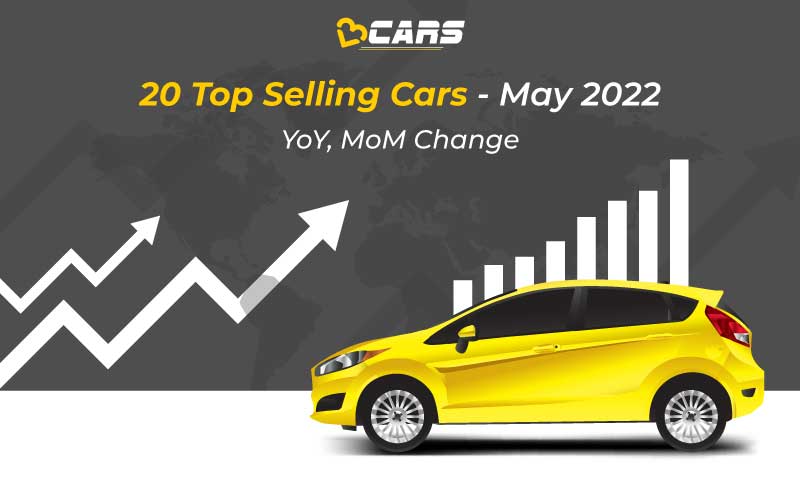 May 2022 - 20 Top-Selling Cars YoY Change
The top 10 best selling cars in May 2022 are all above 10,000 units a month
10 models on the top 20 bestselling list in May 2022 are from Maruti Suzuki, as they were in April as well.
The Celerio has the best YoY improvement of 3924%. This would be a ridiculous figure normally, but it is evident from the table, most cars show over a 100 percent growth from May 2021. This is because sales were incredibly low considering the second wave of COVID-19 in India and the plant shutdowns in May 2021.
Considering the unusual circumstances in May 2021, cars that show a low percentage change in sales sold more consistently during the second wave as they would have done in normal times. For example, WagonR shows a growth of 700% and Seltos only shows a YoY growth of 39%. This is because Maruti only sold only 2,086 units of WagonR in May 2021 while Kia sold 4,277 units of Seltos, which is more in line with the car's typical performance.
Just going by numbers, XUV300, Ignis and Eeco showed a YoY change of 1900%, 967.73% and 856.39%, respectively.
Carrying on with the theme of anomalies, there were no declines in sales in May 2022 compared to May 2021.
Hyundai and Mahindra have 3 cars in the May's top 20 list while Tata and Kia have 2. In May 2022, Toyota lost their spot in the 20 top-selling cars. (April 2022 Car Sales Analysis - 20 Top-Selling Cars)
May 2022 - 20 Top-Selling Cars MoM Change
MoM change numbers for the month of May are more realistic, including some sales declines.
In terms of MoM change, the Swift is the top gainer with almost 59% improvement.
The second best performer in MoM improvement comes from the Sonet posting a 46.17% better figure in May compared to the April performance.
Seltos, Ertiga and Creta are the top 3 losers posting a decline of 20.69%, 17.89% and 13.26%, respectively.
Venue saw a negligible decline of 1.1% and Grand i10 saw a nominal rise of 0.16%, so these cars performed fairly flat.
WagonR keeps its top spot despite a decline of 952 sales and remains a consistent money maker for Maruti Suzuki.
Note: Check your Car EMI with our - Car Loan EMI Calculator
You can use our Fuel Cost Calculator to see how any petrol, diesel or CNG car will cost to run based on the latest fuel price in your city.