May 2023 Car Sales Analysis - Segment-Wise YoY, MoM Change, 6-Month Trend | V3Cars
In this May 2023 car sales analysis article, we'll look at the segment-wise sales figures along with the YoY and MoM change for each carmaker in India. Where applicable, we'll include our observations based on the sales data and possible reasons behind a massive increase or drop in sales. Lastly, the table with monthly sales of all body-styles for the last 6 months will give you an idea about their 6-month sales trend.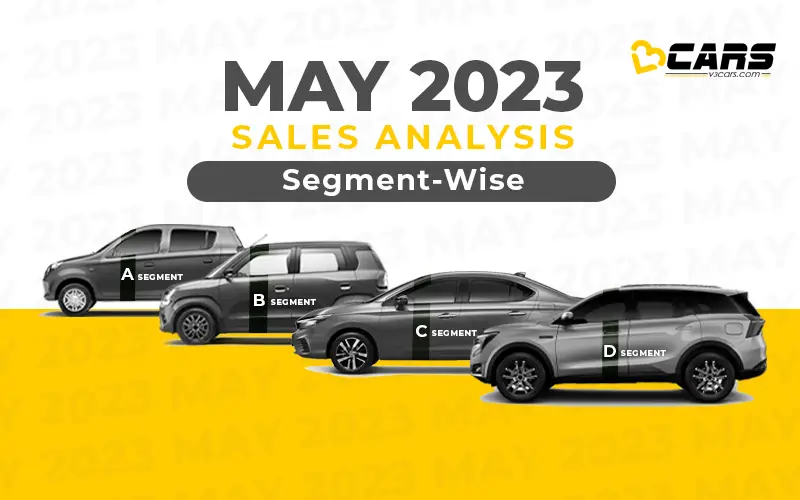 Segment-Wise May 2023 Car Sales - YoY Change
In terms of YoY change, the D2-segment was the biggest gainer, posting a YoY growth of over 100%.
The D2-segment was followed by the D1-segment, with a YoY growth of 69.70% in May 2023.
Next on the rankings was the C1-segment which witnessed a YoY growth of 27.50% in our May 2023 comparison analysis against the numbers from May 2022.
B1 and B2-segment cars saw a YoY rise of 19.37% and 6.48% respectively in May 2023 comparison analysis.
A-segment reported a decline in YoY comparison in May. The A-segment reported a drop of 24.34% in May whereas the C2-segment remained consistent with May of last year with a miniscule drop of 0.01%.
Segment-Wise May 2023 Car Sales - MoM Change
Out of 7 segments in the Indian car market, only A and B1-segments saw a drop in dispatch numbers in MoM comparison analysis.
B1-segment saw an MoM drop of 8.83% in May comparison analysis, making it the top losing car segment in India, whereas the A-segment saw an MoM drop of nearly 5% in May compared to April.
Speaking of MoM gainers in May comparison, C1-segment reported a 9.76% MoM growth in May making it the top growing segment, whereas D1-segment was close second and saw a 9.33% MoM rise.
The D2-segment saw a rise of 6.11% in the May MoM comparison analysis.
Both, B2 and C2-segments saw an MoM growth of around 2.50% in May comparison analysis.
Segment-Wise — 6-Month Sales Trend (Dec 2022 - May 2023)
Note: Instantly Sell Your Old Car With V3Cars Sell Used Car Platform