MG Hector Plus MT, CVT, Diesel MT Claimed Fuel Efficiency Revealed | V3Cars
The MG Hector Plus is one of the most popular D1-segment SUVs in the country thanks to its long list of features and built-in tech. However, fuel efficiency isn't one of its strongest suits. In this article, we share the claimed fuel efficiency of the Hector Plus petrol-manual, petrol-CVT and diesel-manual.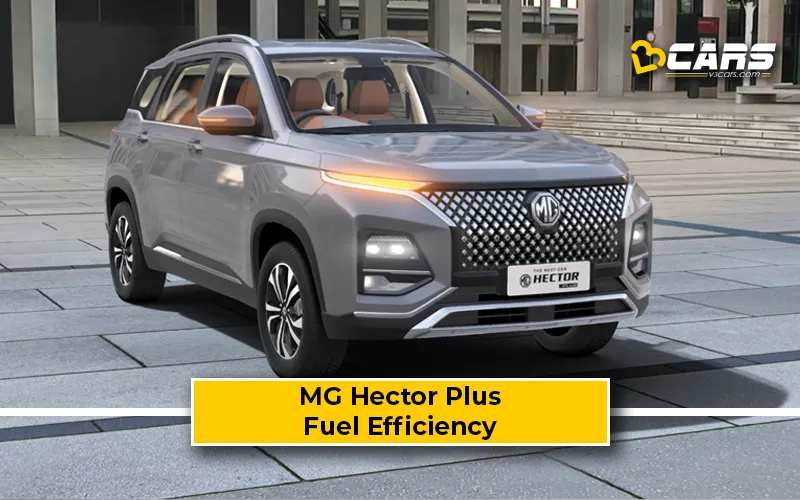 MG Hector Plus Fuel Efficiency Revealed
Take a look at the MG Hector Plus fuel efficiency:
Note: Instantly Sell Your Old Car With V3Cars Sell Used Car platform
As you can see in the table above, the Hector Plus diesel manual is the most fuel efficient powertrain of the SUV. The petrol manual takes the second spot whereas the petrol CVT is the least efficient of the three powertrain options available.
MG Hector Plus Powertrain Specifications
Take a look at the engine specifications of the MG Hector Plus:
Note: Now Find Out The Fuel Price In India Using V3Cars
MG Motor India offer the Hector Plus with 2 engine options — 2.0L turbo diesel and 1.5L turbo petrol. The 2.0L turbo diesel engine is borrowed from Jeep India and it comes with a sole 6-speed manual transmission only. The 1.5L turbo petrol engine, on the other hand, comes with a 6-speed manual as well as a continuously variable transmission.
Also Read: BMW iX1 India Launch Date Confirmed