Maruti CNG Hatchbacks Now Cost Only 90k More - Punch CNG Effect? | V3Cars
Maruti Suzuki recently revised the prices of their cars. With the price change, we noticed that their smaller CNG cars are only Rs. 90,000 pricier than the comparable petrol variants. About a year ago, Maruti Suzuki had increased this price gap from Rs. 90,000 to Rs. 95,000 across the board. This time, the price gap of Rs. 90,000 is only applicable to hatchbacks. CNG variants of the Dzire, Ertiga, XL6 and Grand Vitara continue to carry a premium of Rs. 95,000 over the comparable petrol variants.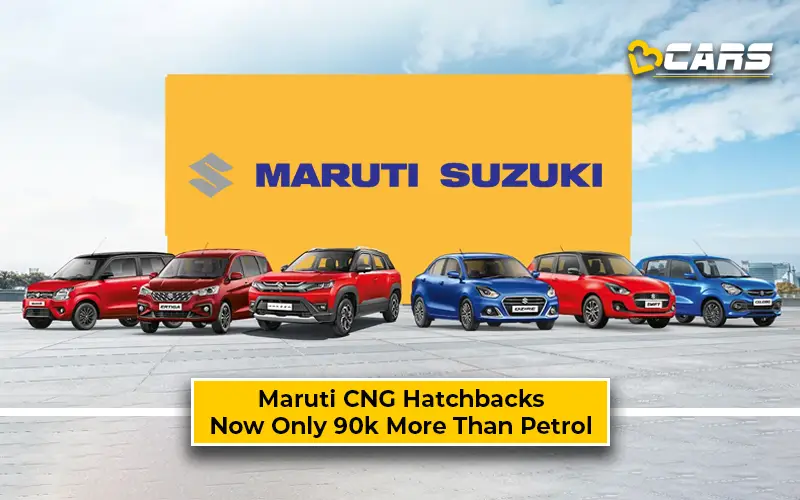 Following are the Maruti Suzuki CNG cars, which now have this lower price gap over petrol variants:
Alto 800
Alto K10
S-Presso
Celerio
WagonR
Swift
Baleno
Also Read: Jan 2022 - Maruti Suzuki CNG Cars Now Carry Higher Premium
Note: Check your Car EMI with our - Car Loan EMI Calculator
Is It Because Of Tata Punch CNG, Altroz CNG?
Tata Motors currently charge Rs. 90,000 for the CNG kit in cars like the Tiago and Tigor CNG. Maruti Suzuki have a clear advantage with a significantly better mileage figure whether you drive on CNG or on petrol. But Tata's CNG cars also have an advantage of convenience. Unlike other CNG cars, which have to start in petrol every time and then switch to CNG while the engine is running, you can directly start a Tata car with CNG.
Now, Tata are bringing another sledge hammer in the form of usable boot space. They showcased the Punch CNG and Altroz CNG at the Auto Expo with their latest 'twin-cylinder technology'. Instead of using a single 60-litre CNG cylinder, the Punch CNG and Altroz CNG get two 30-litre cylinders. Moreover, moving the spare wheel to under the boot helps them liberate 150 litres of boot space.
Note: Check your car's fuel cost with Fuel Cost Calculator in India
150 litres of storage may not sound like much but in CNG cars, which don't have any usable cargo volume, 150 litres is plenty. In fact, we believe it could be the reason why Maruti Suzuki dropped the price gap between their CNG and petrol cars. Now, if Tata charge Rs. 95,000 for the Punch CNG and Altroz CNG, then Maruti Suzuki will maintain an upper hand with a smaller price gap and higher mileage figures.
Also Read: Tata Punch CNG Expected Price Calculation - With Logic
Auto Expo 2023: Tata Solved Boot Space Problem With CNG Cars
Why Some Maruti CNG Cars Like Dzire, Ertiga, XL6, Gr. Vitara Still Cost Rs. 95,000 More?
For now, only the hatchbacks have a real threat from Tata's upcoming Altroz and Punch CNG. The Tigor CNG is not getting the twin-cylinder technology any time soon. So, the Dzire CNG doesn't feel this threat. On the upper end, the CNG variants of the Grand Vitara, XL6 and Ertiga don't have a direct competitor from Tata Motors. So, the price gap remains at Rs. 95,000.
Also Read: Tata At Auto Expo 2023 - All Cars Showcased