February 2023 Car Sales Analysis - 20 Top-Selling Cars - 6 Months | V3Cars
In this February 2023 Cars Sales Analysis article, we'll look at the total and average sales figures of the 20 top-selling cars in the last 6 months ending February 2023. We'll also share the monthly sales figures of each of these 20 cars for the last 6 months.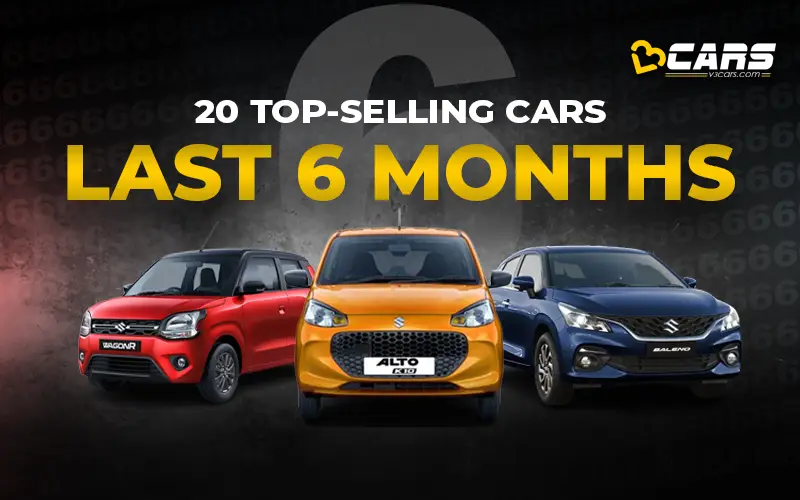 September 2022 - February 2023 – Top-Selling Cars – 6-Month Total & Average
Maruti Suzuki retained its massive lead over other carmakers, with 7 out of the top 10 best-selling cars.
The Tata Nexon continues to be the best-selling non-Maruti car on the list, month after month. Only the Hyundai Creta came close to matching the Nexon's numbers. However, it is unlikely to beat the Tata Nexon in the near future.
Top 5 cars based on the 6-month average sales rankings are Maruti's Alto and Alto K10 twins, Baleno, WagonR, Swift and Tata Nexon at the 5th spot.
Other notable brands that didn't make it to this list are Nissan, Renault, Volkswagen, Skoda and Honda.
The top 3 selling cars' combined dispatches over the past 6 months roughly equal the combined dispatches over the past 6 months of the last 6 cars in the top 20 ranking. This shows the market hold Maruti cars have over others.
Here's a look at the monthly sales of the top 20 best selling cars for the last 6 months starting September 2023:
Note: Check your Car EMI with our - Car EMI Calculator
You can use our Fuel Cost Calculator to see how much any petrol, diesel or CNG car will cost to run based on the latest fuel price in your city.