Toyota Urban Cruiser Hyryder Set To Become India's First CNG SUV | V3Cars
The Toyota Urban Cruiser Hyryder CNG is the first C-segment CNG SUV in India. Toyota offer the Hyryder CNG in 2 variants and has already started accepting bookings across India. This article explains the specifications of the new Hyryder CNG and the features of each variant.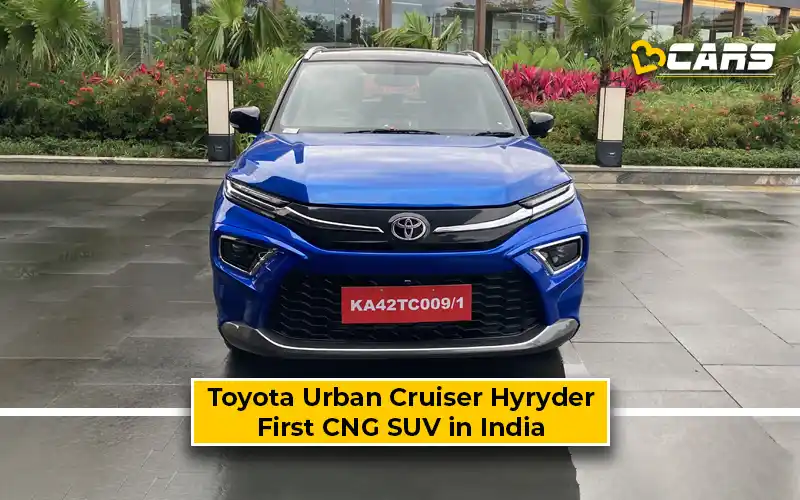 Toyota Urban Cruiser Hyryder CNG Engine Specifications
The Urban Cruiser Hyryder CNG comes with only 1 engine-transmission option, that is the 1.5L CNG engine with 5-speed manual transmission (MT). It is important to note that this is a petrol-CNG engine and does not get Toyota's hybrid system.
Toyota Urban Cruiser Hyryder CNG Price
The tentative ex-showroom prices of the Toyota Hyryder CNG are:
Note: Check your Car EMI with our - Car EMI Calculator
Toyota Urban Cruiser Hyryder Features
The new Hyryder CNG is available in 2 variants, S and G, which offer a lot of features. Having 2 variants also allows more flexibility for potential car buyers in terms of budget. The G variant offers the following safety, functional and style-related features over the base S variant.
Also, Toyota offer the following features only in the Hyryder Petrol variants. These features are not available in the Hyryder CNG.
The Toyota Urban Cruiser Hyryder, being India's first CNG SUV, is likely to get an overwhelming response. This is mainly because of the rising petrol prices and also the absence of a CNG SUV in the Indian market.
Note: Check your car's fuel cost with Fuel Cost Calculator India
Also Read: Upcoming CNG SUVs In India 2022