20 Years Of Toyota Kirloskar Motors In India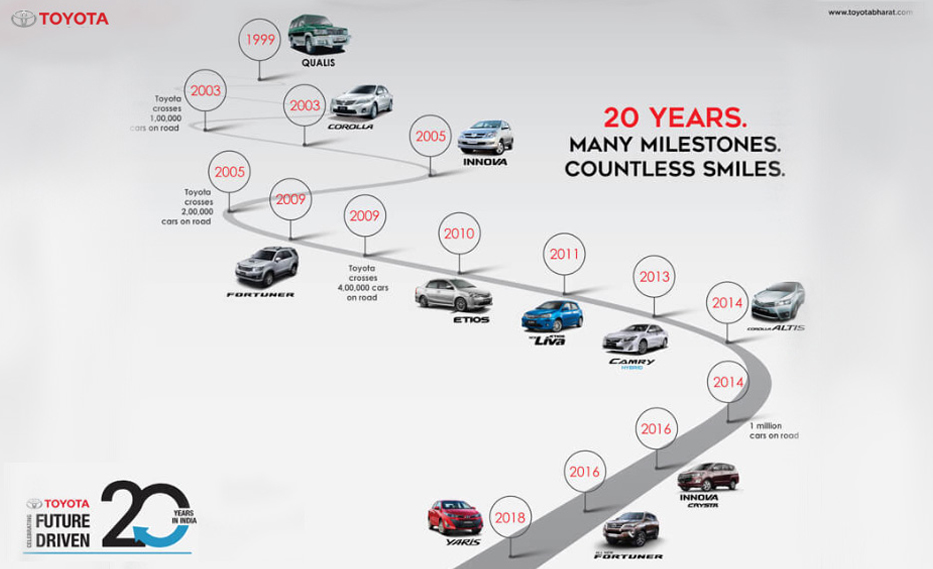 Toyota Kirloskar Motor is commending 20 years of offering ever better vehicles to the clients of India. Toyota's concentration in India has been relentless towards maintainable development and to stay focused with best of wellbeing, comfort, extravagance, quality and after deals administrations, through all around acclaimed models, to additionally enhance client trust and certainty. Toyota has been winning hearts with its incredible portion driving items like Qualis, Innova, Fortuner and Corolla supported by the worldwide QDR reasoning. Toyota Kirloskar Motor's vision, rationality and rules are genuine impressions of its responsibility for a manageable future.
Commenting on the completion of 20yrs in India, Masakazu Yoshimura, Managing Director, Toyota Kirloskar Motor said "We would like to thank our customers, our vendors, our people and the Government for the relentless support and trust in the company over all these years. The inspiration from all our partners has been instrumental in our growth in India. Toyota globally believes in creating a smart mobility driven society with integrated approach connecting People, Vehicles and the Society. At Toyota, we are constantly challenging ourselves to create new ways to move and connect our customers. India is a very important market for us; we have been continuously striving to bring in newer innovations and technology to cater to the discerning taste of customers. All through this long journey, our products have stood the test of time being appreciated for the value it offers to customers.
Toyota's renowned reputation of Quality Durability and Reliability (QDR) has led our steady growth in the Indian automotive market. We are proud to declare that over 1.5 million Indians are part of the ever growing Toyota family. We also strive towards developing a more sustainable future and being pioneers in the Hybrid Technology is our first step towards this movement. Through initiatives focused on education, community development and the environment, we aim to create a company that works in harmony with nature and society. "
Toyota essentially centers around unraveling bigger issues looked by the country than simply producing world class vehicles. This reasoning way drives their creation framework, items and administrations, national crusades and every single day by day activity guaranteeing low emanations, fuel sparing, vitality protection, wellbeing as an essential.
'Client First Philosophy'
Toyota has been tuning in to clients and continually assessing the quickly changing requirements of Indian Car clients to offer the correct item to the Indian market. Since the dispatch of its multi-reason vehicle the 'Qualis' in India in 2000, the organization has been concentrating on developing client goals in India. The Company has been always updating its items and presenting more up to date developments and advancements in the Indian Market. Toyota has consistently sought after to be Number One in Customer Satisfaction with each item achievements 'Dispatch of Toyota Camry in 2002', 'Dispatch of Corolla in 2003', Launch of Innova in 2005, Launch of Fortuner in 2009, Launch of Etios in 2010, Launch of Innova Crysta in 2016 and Launch of Yaris in 2018. With differing item lineup, Toyota has attempted to improve its benchmarks as far as giving the best quality, unbeaten wellbeing, execution, eco-friendliness and unmatched solace in each portion.
Client First has been the key core value for Toyota in its fruitful adventure in India, to guarantee a sheltered, advantageous and bother free driving knowledge to clients Toyota Kirloskar Motor propelled TOYOTA CONNECT INDIA, in 2017 a PDA application based associated administrations which takes into account client's portability and possession needs in a customized way. TOYOTA CONNECT INDIA is a completely incorporated cloud based associated administration stage bolstered by a devoted and concentrated call focus, Toyota's seller systems and specialist organizations.
'Wellbeing Leaders'
In light of a quick increment in car crashes in urban regions of India and organizing Customer Safety, Toyota is the primary vehicle maker to have institutionalized airbags over all evaluations in all models in India in 2015. Further, ABS and EBD has been institutionalized [with the dispatch of new Platinum Etios and Liva, since Sep 2016], reestablishing the significance of security. With Yaris, Toyota Kirloskar Motor [TKM] has supported duty to security by being the first in the portion to offer 7 SRS airbags – (D+P airbags, Side airbags, Curtain Shield Airbags (CSA) and knee airbag) over all variations in the new Yaris in 2018. Toyota constantly endeavors to create propelled security innovation and apply them in its vehicles. Lining up with Toyota's worldwide rationality – Toyota Kirloskar Motor being a Safety Leader, have actualized different security activities by drawing in with partners – Employees, Dealers accomplices and Supplier accomplices through a 3-measurement idea of Manufacturing Safe Cars, Developing Safe Drivers and Building Safer Environment.
There is one lethal mishap in India at regular intervals which implies that 1.4 lakh such mishaps happen each year. To make a sheltered driving society in the nation Toyota propelled its first driving school in Kochi in 2015. Toyota Kirloskar Motor has propelled 11 other driving schools at Kochi, Lucknow, Hyderabad (two), Chennai (two), Kolkata, Faridabad, Vijayawada and Surat. As a feature of the brand's 'Most secure Car with Safest Driver' mission for street wellbeing, it intends to have 50 such schools crosswise over India by 2020.
;
'Eco - Consciousness'
Notwithstanding making ever better vehicles, Toyota is submitted towards a greener tomorrow and setting up a future society in agreement with nature. Toyota being a pioneer in the natural stewardship began its adventure towards greening its vitality source since 2015-16 and has influenced significant advance to up throughout the years. Guided by Toyota's 'Worldwide Environmental Challenge' 2050 in accordance with the United Nations Sustainable Development Goals, till January '19 [in FY 2018-19] – Toyota Kirloskar Motor (TKM) effectively sourced 87% of power from inexhaustible wellspring of vitality for its tasks in Bidadi office. Toyota has been perceived for its reasonable development with its center conviction "Ever-Better Cars with Ever-Better Technology for an Ever-Better Environment".
'Green-Manufacturing'
TKM sources clean vitality and embraces keen assembling frameworks towards Toyota's definitive worldwide mission of 'Zero Carbon Emission through different activities like appropriation of invert refrigeration framework, brought together control of chillers, reception of brilliant ACs, TKM has been diminishing critical amount of Co2 discharges throughout the years. Perceiving these endeavors on decrease of emanation in TKM's assembling plant with key patron being streamlining of sustainable power source, TKM was perceived as a "Demonstrate Plant". TKM has set up their Plant 2 with an ECO industrial facility idea and executed ECO neighborly advancements like Servo press (40% vitality decrease), Water based painting innovation (Reducing VOC discharge by half). Through its reasoning of "KAIZENS", TKM drives ceaseless improvement in its natural execution with dynamic interest of representatives in bringing the change.
'Vitality Security'
The organization has likewise been vesting gigantic endeavors to decrease its vitality utilizations through controlling and diminishing everyday vitality utilization in every one of the operational procedures ingraining stringent and methodical observing to follow vitality uses. In FY 2018-19, 76% of the Water devoured in the Manufacturing Facility was reused water and just 7% of new water was expended. As spearheaded creators of eco-autos driving the path for a superior tomorrow, Toyota as of late propelled The All New Camry Hybrid Electric Vehicle. Toyota's solid crossover innovation not just goes for making amicability with man, nature and machine, yet additionally situated as the fate of eco-versatility. The Camry Hybrid or self-charging electric vehicle is a solid crossover and the main half and half which is privately made at Toyota Kirloskar Motor's second plant situated at Bidadi [Bangalore, Karnataka] in India.
Stay tuned to V3cars.com for further updates from Toyota.
;

ABOUT THE AUTHOR

A diverse bilingual (English and Hindi) Copywriter and Content Creator based in New Delhi, India. With a degree in Journalism, I always had an inclination towards writing.
As a writer, I have worked on content related to automobile, technology, travel, lifestyle, photography and many more.
Previous
Next
---
Related Car News