4 Cars Launching In India In January 2020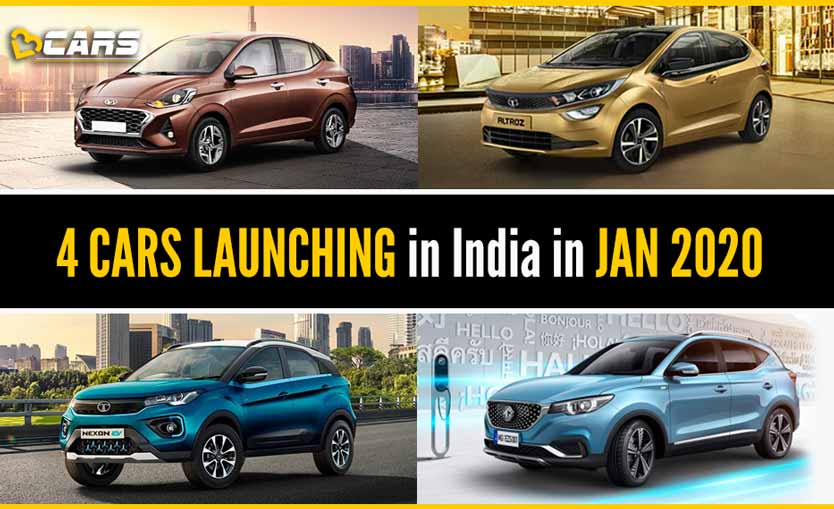 Hyundai Aura
On January 21, Hyundai is bringing its new sub-compact sedan based on the Grand i10 Nios. The Aura, however, has a trump card up its sleeve - its 1.0-litre turbo petrol engine. It should give the 2020 Hyundai Aura an impressive power- and torque-to-weight ratio. Perhaps enough to give the performance-focused cars a tough competition.
But, if you're not looking for a particularly fast (and potentially less reliable) compact sedan, then you still have the option of picking up the 1.2-litre turbo diesel and normal petrol engines. Besides a 5-speed manual transmission, both of these engines also come with a 5-speed AMT automatic. Bookings for the Aura are open and the deliveries will commence on January 21, 2020.
Also Read - Hyundai Aura vs Maruti Dzire - Specs, Dimensions & Features Comparison
Hyundai Aura vs Honda Amaze - Specs, Dimensions & Features Comparison
Tata Altroz
The Tata Altroz will go on sale on January 22, 2020. The Altroz is Tata's first car in the premium hatchback segment ever. And besides the size and performance, it has the features to justify its positioning. The Altroz gets some unique features like 7-inch full-colour LCD instrument cluster, ambient lighting, umbrella holder, multiple driving modes and cruise controls.
On the powertrain side, the Altroz misses out on an automatic transmission. Both the 1.2-litre normal petrol and 1.5-litre turbo diesel engines come with a 5-speed manual transmission only.
Also Read - Tata Altroz vs Maruti Suzuki Baleno - Specs, Dimensions & Features Comparison
Tata Altroz vs Hyundai Elite i20 - Specs, Dimensions & Features Comparison
Tata Nexon Electric
The 2020 Tata Nexon electric might share its structure with the regular Nexon, but it still looks quite unique. And, it gets features like an electric sunroof and 7-inch full-colour LCD instrument cluster. Tata claims that the Nexon electric can go for 300km on a full charge. The Nexon EVs accompanying charger can take about 8 hours to take it from 20% to 100%. It's also DC fast charge compatible and can bring the battery charge capacity back to about 80% in under an hour. It makes 129PS of power and 245Nm of torque. But, despite this high power and torque output, it doesn't get the cruise control feature for highways. Perhaps it's because the electric Nexon isn't meant for the highways as high speeds could drain the battery much faster and significantly reduce the driving range. Or it could be because Tata Motors doesn't expect Nexon EV owners to be driving on the highway due to limited charging infrastructure.
The Nexon electric SUV could cost between Rs. 15.0 and 17.0 lakh (ex-showroom). The exact launch date for this car isn't available yet but it's expected to go on sale by the end of January 2020.
MG ZS Electric
We don't know exactly when the MG ZS electric will go on sale but it will sometime in January 2020. The MG ZS is a bigger car than the Nexon and will carry a bigger price tag as well. But for that extra price, it gets you a more powerful electric motor and longer range. The MG ZS electric makes 150PS of power and 350Nm of torque. It has a claimed driving range of 340km on a single charge. It competes with the Hyundai Kona, which is less power but more torque and advantage of 100km on the driving range front over the MG ZS.
Based on the claimed driving range, the MG ZS is the least efficient electric SUV. It's capable of driving only 7.6km on 1kWh (1 unit) of electric charge. The Nexon can go 9.9km/kWh while the Kona is the most efficient - delivering 11.5km/kWh. MG is also rewarding the early adopters of the ZS electric SUV free fast charging for a limited period. That should compensate for the lower efficiency figures of the car. The ZS electric is expected to cost about Rs. 22.0 lakh before insurance and registration expenses.
ABOUT THE AUTHOR

Mahesh is a fan of compact, quirky and underrated vehicles that punch above their weight. Multix, Nano, Strom R3 and Navi are his favorites.
Previous
Next
---
Related Car News